Revit 2024 is here and is full of new features, bug fixes, and general updates that should be of interest to just about everyone who uses Revit.
Our team has been digging in to get an up-close look at the new Revit 2024 release. Here are the top features and updates we think are most exciting about the new version.
1. Toposolids
2. 2D Element Draw Order in 3D Families
3. Dark Theme
4. Textures Visual Style
5. Add Multiple Views and Schedules
6. Resize All Schedule Rows
7. Color Book Browser
8. Search in Project Browser
9. Open Sheet Directly from Drawing Area
10. My Insights in Revit Home
11. Enable Floor Based Element on Toposolid
12. Enable Split with Gap for MEP Segments
13. New ribbon icons
14. Export IFC Element Mapping UX
What's New in Revit 2024
1. Toposolids
Previously in Revit, when you'd think of System Families, you'd think of Walls, Floors, Ceiling, Roofs, and Curtain Walls. You'd never really think of Topography as a system family - mostly because it didn't have all the same options or capabilities. But Revit 2024 has created Toposolids, which take advantage of all of the System Family capabilities.

You can now add layers with thickness and materials - just like other system families. You also have the options for "Coarse Scale Fill Pattern" and "Coarse Scale Fill Color". In addition to that, there are also new Contour Display options.

One thing to note: right now you need to use voids to cut out sections of the Toposolids. There will hopefully be a new tool in the future to be able to handle cuts in Toposolids in a better way.
Our team is certainly looking forward to being able to host families on toposolids. Revit has made it so floor-based families and railings are able to be hosted onto them, which is definitely something that can be used in a variety of projects.
2. 2D Element Draw Order in 3D Families
After years of workarounds and being really specific on which annotation item to draw first in a family, Revit has added the ability to dictate the order of annotation items in a 3D family.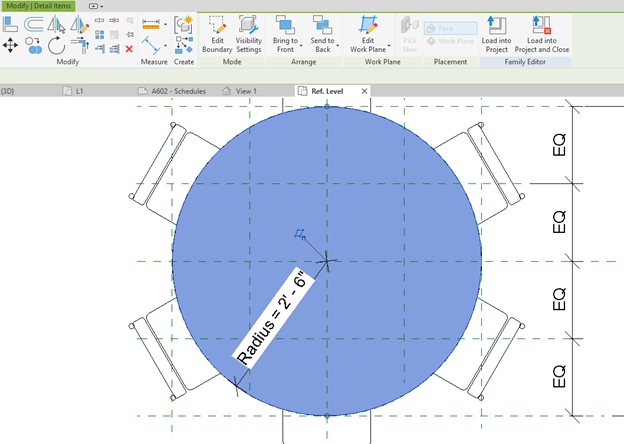 There are two new buttons in the Modify tab when you select an annotation item: "Send to Front" and "Send to Back". Both of these buttons have an arrow for additional options. These options have been available in a project file for annotation items and work the same as they do in the .rvt.
We will definitely be using this feature to arrange the annotation files when creating families. It might take a while to get the hang of how it works but it seems like a good addition.
3. Dark Mode in Revit
Dark Mode has been added to Revit! For those of us who used to work in AutoCAD, not having a dark theme in Revit always took a while to get used to. Well: those dark days are over (couldn't help it)! We finally have a dark theme in Revit and it does very much seem worth the wait.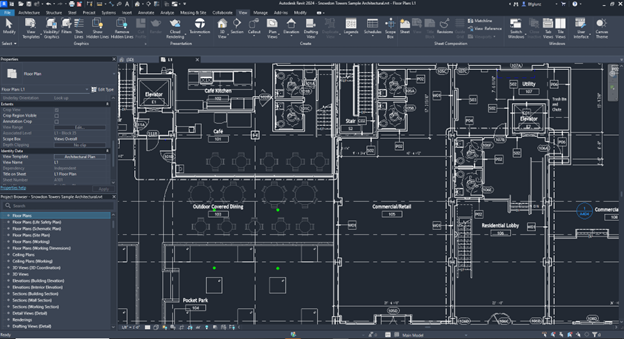 It has several options to really customize it. To turn it on, you will need to navigate to the File tab in the upper right and then select the Options button. There is a new tab in this property box named Colors. In this tab, you will be able to set Dark Theme or Light Theme with the dropdown. The rest of the colors can be customized in each theme using RGB colors. Our team is hoping Autodesk adds a "Reset Default Colors" button to this feature as we were really quick to start messing around with colors just to find out we were not able to quickly reset them to the original colors and found ourselves tweaking RGBs for a few minutes.
After making the change to Dark Theme, the UX and drawing area will go dark. The nice thing is that the drawing area can be controlled separately. Autodesk added a button in the View tab named "Canvas Theme" which will allow you extra control in just the drawing area. This is a really nice feature for those that like dark theme in the UX but still want the white background in the drawing area. You will find that some property boxes will still be in Light Theme. Autodesk will likely get to all of these properties boxes in future, but this is certainly a great start.
4. Textures Visual Style
A new Visual Style has been added named Textures. This new visual style is in between Consistent Colors and Realistic.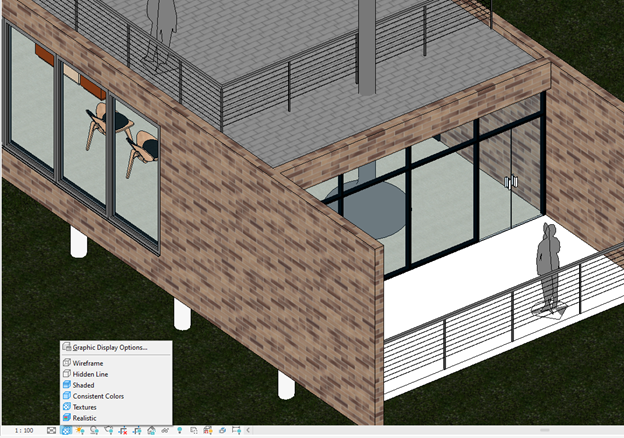 It's a step further than just colors as it uses the Images applied to materials in Appearance Tab but it's not as heavy as Realistic as it doesn't use the rest of the settings in the Appearance tab or use any shading.
It's going to be really nice to have this view style to be able to show materials with the material images without taking so much processing power on your computer. If there is no image applied to the material, the Texture visual style will simply use the RGB color on the graphics tab.
5. Add Multiple Views and Schedules
You have always been able to drag one view from Project Browser to a Sheet, but now Revit has added the ability to do multiple at a time. In the Project Browser, you can select multiple views by holding down SHIFT while making the selections. Once you have all the views selected, you can drag them into the sheet. You can also do this from the View tab by selecting the View icon, which will open a window that will also allow you to select multiple views at a time.
There does seem to be some logic to how these get placed, but it doesn't seem to pick up what is already in the sheet so you will most likely need to reorganize after placing. But, overall this is a really nice feature and a time saver.
6. Resize All Schedule Rows
We always like seeing schedule updates in new Revit releases and this one is a nice one. Revit has added the ability to resize all rows in a schedule.
It's an option in the properties box once you select a schedule. You do have the option to do it to "All" rows or just "Image Rows". Once turned on, you will be able to place a dimension for "Row Height". This is going to be nice to quickly adjust the height of the rows all at once.
One thing we did notice when we first turned on the feature for All rows is that it took the height of the smallest row in the schedule. In our case, it looked like nothing happened as the rows with larger heights were still the same size as before. But after adjusting the height to the larger size, it's easier to see the change as the smaller height rows then get adjusted.
7. Color Book Browser
Revit has added Color Books to their Material window in color selection. AutoCAD users might be familiar with Color Books as CAD has had this option for a while. A Color Book is a library (or book) of premade colors that can be quickly added to your material.
The new button has replaced the Pantone button on the Color window, but the nice thing is they added all the Pantone colors as Color Books so you will not lose anything.
The one thing we do hope they add soon is a search bar in the Color Books window. They do have a Color field but we have found that you have to be pretty specific for it to work. The nice thing about Color Books is that there are some available out there to download and use since they have been around for so long. For example, we added PPG Voice of Colour library to mine by adding the .acb file to this location: C:\ProgramData\Autodesk\RVT 2024\Colorbooks
8. Search in Project Browser
Once you use this new feature you will wonder what took Autodesk so long to add it. It's amazing and will make it really easy to find things in projects.
In the Project Browser box, you will see at the top a Search bar. This will allow you to search anything in this property box, incluing all the views, schedules, sheets, families, groups, Revit Links, and basically anything else loaded into the project.
The search is super responsive – it will start the search as soon as you start typing and is pretty fast and smooth.
9. Open Sheet Directly from Drawing Area
In the last few years, Revit has added more connections between views and sheets. This year they added another one with the Open Sheet command. In a view, you can right click in drawing area to see there is a new command named "Open Sheet". If you click on that it will open the sheet the view is placed on.
You can also do this from the project browser by right-clicking on a view in the Project Browser list and then selecting Open Sheet.
This also works if you select multiple views. Revit also added a nice warning window in case you do select a lot of views that would open up several sheets to give you a chance to rethink how much time you have to wait until all the sheets are open.
10. My Insights in Revit Home
From the Revit Home screen, users will now see a tab for "My Insights." This tab will presumably provide a variety of "cards" with data-driven insights about your Revit usage.
The feature has icons for positive or negative feedback, intended to help the software better customize the cards shown to you.
This feature does not appear to be immediately available at the time of publishing, which may indicate the need for it to gather some usage data.
11. Enable Floor Based Element on Toposolid
Revit has added the ability to use Floor Based Families on Toposolids. This is really great feature, especially for those that have been using Floors as a workaround to place families onto a site. You can now use those floor-based families on the toposolid.
They have also added the ability to add voids on toposolids, which then can be added onto floor-based models. We're interested to see all the new approaches to Site this will open up.
12. Enable Split with Gap for MEP Segments
For the longest time, MEP drafters have been watching Architectural drafters use the Split with Gap tool and thought "One day that will be us."
Well, MEP drafters, your time has come! Revit has added Split with Gap tool for MEP components. This includes:
• Duct
•

Pipe

•

Conduit

•

Cable Tray

•

Straight segments of MEP Fabrication Ductwork

•

MEP Fabrication Pipework

•

MEP Fabrication Containment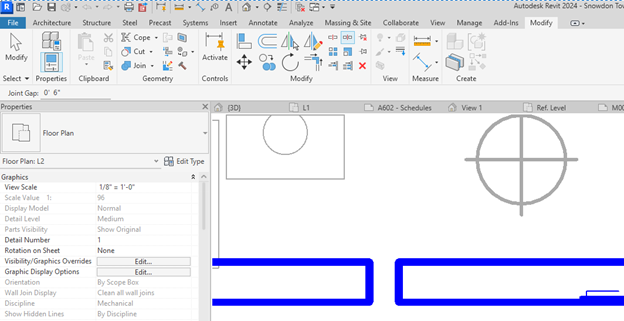 You are able to dictate the gap amount in the Joint Gap field (1/16"-1"), then select the duct work to split. They said this one came specifically from a user request, so whoever it is that requested it: the MEP Revit community is forever grateful to you!
13. New Ribbon Icons
All the icons in the Revit UX have been updated. Although some updates are very small and others just add colors, it is cool to see all the new icons. The UX will now be a lot more colorful, likely in part due to the addition of Dark Theme.
14. Export IFC Element Mapping UX
Last up for Revit 2024, Autodesk has added IFC Mapping. This is a great feature for those who are having to manage Revit and IFC exports. All components now have a new IFC Parameters section in Instance Properties. By clicking in the "Export to IFC As" field it will open a window that allows you to select the IFC Entity for that component.
Once the mapping for the components is set up, there is an option in IFC Export to select the entities to export. To navigate to it you will need to select Modify Setup and then the Advance tab.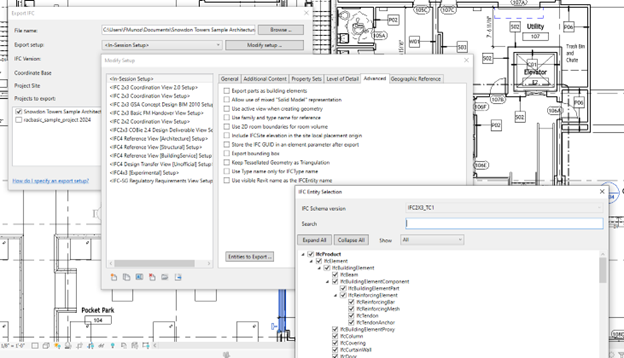 Revit 2024 Recap: The Highlights from Autodesk
And finally, here's the recap of Revit 2024 from Autodesk.
Not going to update to Revit 2024 just yet? Check out our other overviews of What's New in Revit 2023, Revit 2022, Revit 2021, and Revit 2020.
BIMsmith is a free cloud platform for architects, designers, and building professionals to research, select, and download building product data. Search, discover, compare, and download free Revit families on BIMsmith Market, or build complete, data-rich Revit wall, floor, ceiling, and roof systems faster with BIMsmith Forge.