Designing With Your Ears
Presented by Armstrong Ceiling & Wall Solutions – April 22, 2020 – 1:00pm ET/12:00pm CT– AIA 1 LU/HSW
DESCRIPTION
An introduction to the power of sound in built environments and the new possibilities for acoustic design.
SPEAKER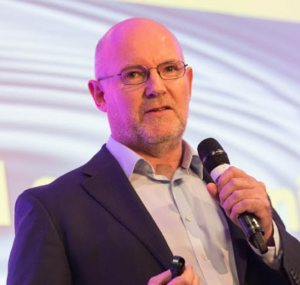 Julian Treasure is CEO and Chairman of The Sound Agency and a presenter for Armstrong Ceiling Solutions. His five TED talks have been watched more than 100 million times. One of his talks is in the top 10 TED talks of all time and listed as one of the best TED talks by Oprah Magazine. Julian is regularly featured in the world's media, and has guested on dozens of top podcasts.
PROGRAM LEARNING OBJECTIVES
At the end of this course, participants should be able to:
1. Explain the positive and negative effects of sonic environments on people and wellness
2. Understand and appreciate the issue of noise in society and a range of common built environments that can affect health & safety, and welfare of occupants
3. Define basic acoustical terms and concepts and be able to apply this knowledge to make informed design and product specification choices
4. Appreciate new possibilities for acoustic treatments that combine acoustic effectiveness with aesthetic appeal and elevate the human experience
Register below for this event.

New to BIMsmith Coffee Club?
Stuck at home? BIMsmith Coffee Club is bringing continuing education credits to wherever you are. Join the Club to receive weekly invitations to free virtual CEU sessions provided by building product manufacturers.
– Get AIA CEU credit for each session
– Join once, attend unlimited sessions
– Completely virtual
– Free now and forever
--
BIMsmith is a free cloud platform for architects, designers, and building professionals to research, select, and download building product data. Search, discover, compare, and download free Revit families on BIMsmith Market, or build complete, data-rich Revit wall, floor, ceiling, and roof systems faster with BIMsmith Forge.