Centralized mailbox systems provide an easy and effective way to properly distribute mail in larger developments. However, not all mailbox systems are alike. As an architect or builder, there are a few key considerations to take into account that can make selecting the right mailbox system for your next project easy and headache-free.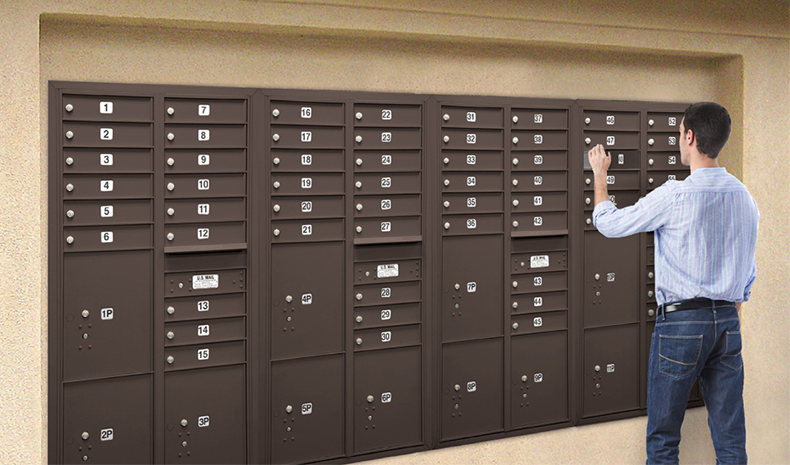 Image Source: Mailboxes.com
Centralized Mailbox Systems: Three Key Considerations
At a basic level, one doesn't need to look too far to see the inherent value in a centralized mailbox system. Condensing a project's mail delivery into one central location can provide an immense savings of space – a cause which architects, builders, and owners can all get behind.
But the value of the right centralized mailbox system goes beyond just spatial efficiency. When selecting the proper mail system for your project, it's essential to choose a system that properly addresses postal service compliance, security, and accessibility.
1. USPS Compliance
While accessibility is one concern, the federal postal service also has its own list of regulations to be met by mail systems.
In 2006, the U.S. Postal Service released the STD-4C document, which regulates how centralized mailbox systems should be standardized in functionality, accessibility, and security. STD-4C is a 34-page-long, single-spaced description of how mailbox systems should appear, be constructed, and be accessed. It covers everything from water-tightness to allowable paints and finishes.
Without a USPS stamp of approval on a mailbox system, compliance can be difficult or impossible to achieve. Whether replacing an existing mailbox system or implementing it into new construction, it's important to choose a manufacturer that is approved by USPS from the very beginning.
For example, Salsbury Industries has earned official USPS licensure to manufacture cluster box units (CBUs). For architects and owners, that essentially means that all talk of USPS compliance during design can be skipped – which is certainly a happy scenario.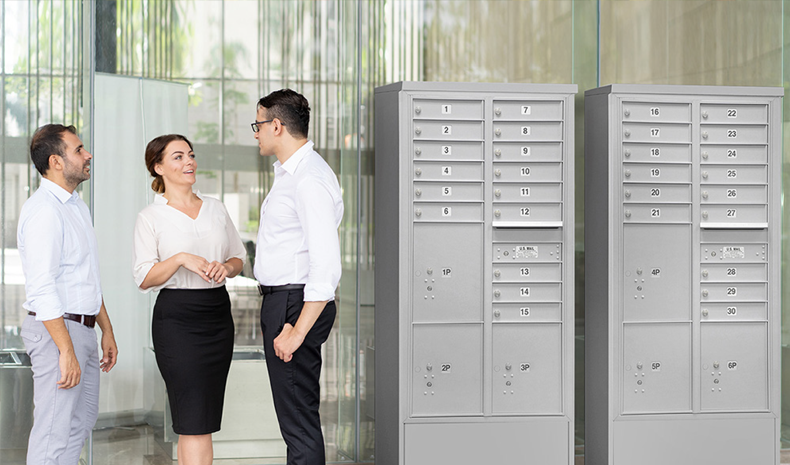 Image Source: Mailboxes.com
2. Security & Convenience
Finally, the right centralized mailbox system should be more than just compliant – it should address the real concerns of the end user: convenience and security. From the durability and beauty of the materials (like stainless steel and heavy-duty aluminum) to the performance and longevity of locking mechanisms, design matters.
Part of a system's security is in its materials – your system should be made of components that deter tampering and destruction (whether willful or not). Then there are the actual locking mechanisms, which should minimally be double-cam locks that can only be accessed by the user and the postal service.
Convenience ties in directly with security, as a recipient in today's world should never have to wonder when it comes to the prompt and secure delivery of their mail. Secondarily, they should never need to doubt the structural integrity of the system that holds their private correspondence, or whether their key will function properly and easily.
Image Source: Mailboxes.com
3. Accessibility & ADA Compliance
Design for the modern building project always requires a hard look at accessibility. In the United States, the primary governing regulations for accessibility fall under the Americans with Disabilities Act (ADA). Especially when replacing an older system or retrofitting an existing space, achieving ADA compliance can be a real challenge during the design process.
ADA accessibility guidelines dictate that wheelchair reach limitations be set, making sure that the vertical locations of mailbox units "above the finished floor" (AFF) provide an adequate quantity of tenant mail compartments that comply with reach requirements. There is both a forward reach and a side reach requirement, but both ensure that a mailbox be accessible between 15" and 48" inches.
Requirements like these are by no means impossible, but do require a centralized mailbox system that have been designed with accessibility requirements in mind. Choosing a system that incorporates ADA requirements from the start is typically the best way to take the burden off of the project designers and ensure smooth inspections further down the road.
Seamless Integration
When implementing a centralized mail system, ensuring compliance, security and convenience ought to be top of mind for architects, contractors, and building owners. Therefore, the most logical path is to select systems that meet or exceed all requirements from the beginning. That way, designers can focus on what they do best – design – and the end users can rest assured that their futures hold a convenient, worry-free mail experience. Learn more at www.mailboxes.com.