In November 2017, construction began on the new $1.8 billion Allegiant Stadium, the new home of the Las Vegas Raiders. Allegiant Stadium is a domed stadium located in Paradise, Nevada. It will serve as the home stadium for the National Football League's Las Vegas Raiders and the University of Nevada Las Vegas (UNLV) Rebels college football team.
Allegiant Stadium: Design
The stadium is a 10-level domed stadium with a transparent ETFE (Ethylene Tetrafluoroethylene) roof, silver and black exterior light strips, and large retractable curtain-like side windows facing the Las Vegas Strip.
The north endzone area in front of the retractable windows contains a large torch that houses a flame in honor of Al Davis, the late long-time owner of the Raiders. The torch will be 85 feet tall, and when completed will be the largest 3D printed object in the world.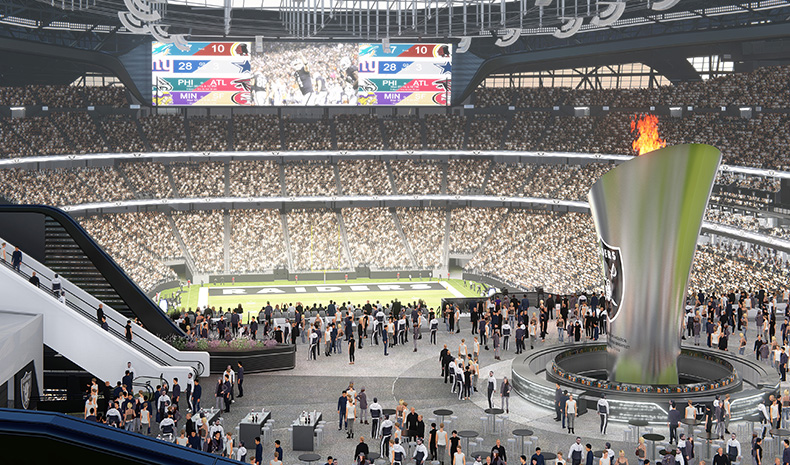 The stadium has roll-in natural grass, and while the Raiders will play on the grass field, UNLV prefers to play on an artifical turf surface. The artificial turf will be placed directly on the stadium's concrete floor, and the tray holding the grass field is being designed so that it can roll in and out without disrupting the turf underneath it.
The stadium has a capacity of 65,000 seats for football games, which can be expanded to 72,000 seats, with an additional 128 executive suites For soccer games, the stadium will have a capacity of 61,000 seats.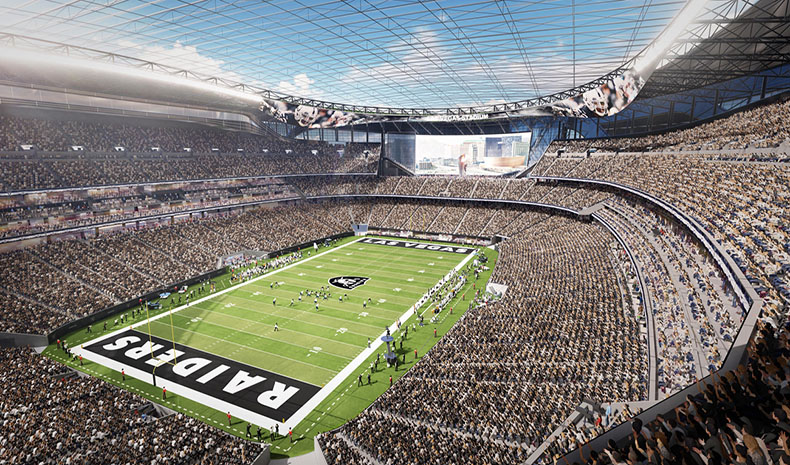 Video Tour: Las Vegas $1.8 Billion Mega Stadium
About Manica Architecture
Manica Architecture is a Kansas City, MO-based architecture firm. Their specialty is designing sports and entertainment facilities. Some of their key projects include:
- Chase Center, San Francisco, USA - Golden State Warriors (2019)
- Camp Nou, Barcelona, Spain - FC Barcelona (Renovation)
- Lusail Iconic Stadium, Doha, Qatar - 2022 FIFA World Cup (2022)
- Hospital for Special Surgery Training Center, Industry City, Brooklyn, USA - Training Facility, Brooklyn Nets (2016)
- Allegiant Stadium, Las Vegas, USA - Las Vegas Raiders (2020)
Upcoming Events for the New Allegiant Stadium

Allegiant Stadium will be the site for different events during the 2020 and 2021 calendar year. These events range from the 2021 NFL Pro Bowl to the first live concert performance since the COVID-19 pandemic began. Some of the major events include:

Pac-12 Football Championship Game

On July 24, 2019, the Pac-12 Conference announced that the 2020 and 2021 Pac-12 Football Championship Game would be played at Allegiant Stadium.

NFL Pro Bowl

On June 16, 2020, the NFL announced Las Vegas and Allegiant Stadium as the home of the 2021 Pro Bowl.
Concerts
On March 3, 2020, it was announced that Garth Brooks would headline the major concert at Allegiant Stadium, doing so on August 22, 2020. According to Brooks's website, all 65,000 seats sold out in 75 minutes.
--
Dylan Kleintop
BIMsmith is a free cloud platform for architects, designers, and building professionals to research, select, and download building product data. Search, discover, compare, and download free Revit families on BIMsmith Market, or build complete, data-rich Revit wall, floor, ceiling, and roof systems faster with BIMsmith Forge.