The BIMsmith Best is back.
Every year, the BIMsmith team of architects and designers reviews new and up-and-coming building products for a look at what the building design community should be aware of as they design for the coming year.
The spotlight of the annual BIMsmith Best Awards falls each year on the International Builders Show (IBS) and Kitchen and Bath Industry Show (KBIS). As one of the largest industry shows in the world, IBS/KBIS provides the perfect opportunity for our team to get their hands on the newest and best products on the market for the coming year.
The team of architect and designer judges from BIMsmith explored the 2022 IBS/KBIS show floor and delivered ten awards across a variety of building product categories. From sinks to air purifiers to home battery reserves, this year's awards represent a diverse but exciting selection of leading products to consider designing with in 2022 and beyond.
Here are this year's winners of the 2022 BIMsmith Best Awards.
2022 BIMsmith Best Award Winners
The Gallery by Shaws®
The Gallery by Shaws provides beautiful design options for Shaker and Lancaster apron-front sinks that enhance kitchen decor of all varieties. Imagery is fired into the sinks in specially-designed kilns and glazed to smooth perfection.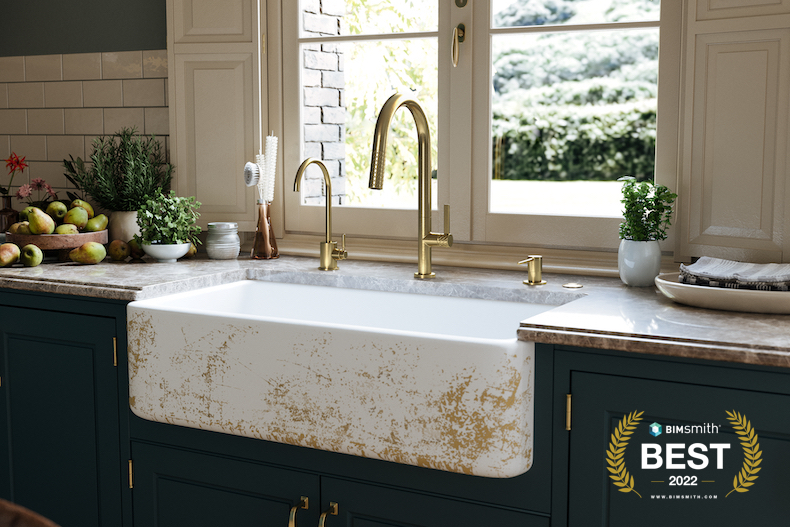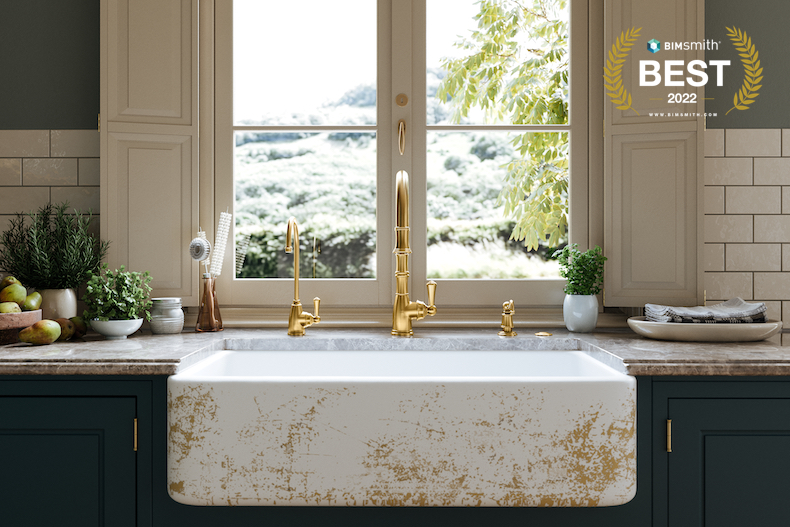 The fireclay sink is embellished with graphic elements, from blooming natural eucalyptus to organic lines with the abstract symmetry of modern art, with patinas and metallics that impart a unique character to each. All are statement-making styles that give kitchens a fresh perspective.
Hardie™ Architectural Collection: Seagrass
by James Hardie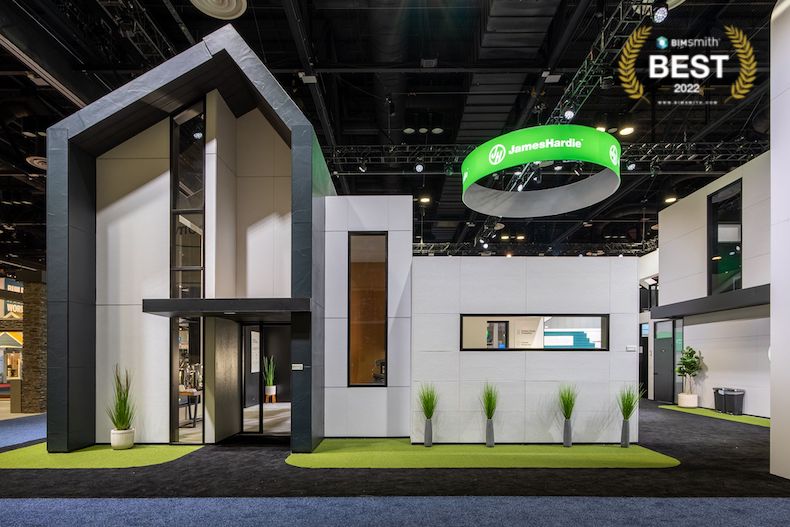 Contemporary textures and architectural lines make the Hardie™ Architectural Collection a winning product for just about any project. Debuting at the 2022 International Builders Show was the Seagrass texture, a material characterized by long & thin waving lines.
With horizontal and vertical orientations providing surprising contrast, the Seagrass texture from James Hardie makes for a tasteful and durable addition to just about any project exterior.
KOHLER Power Reserve
by KOHLER Power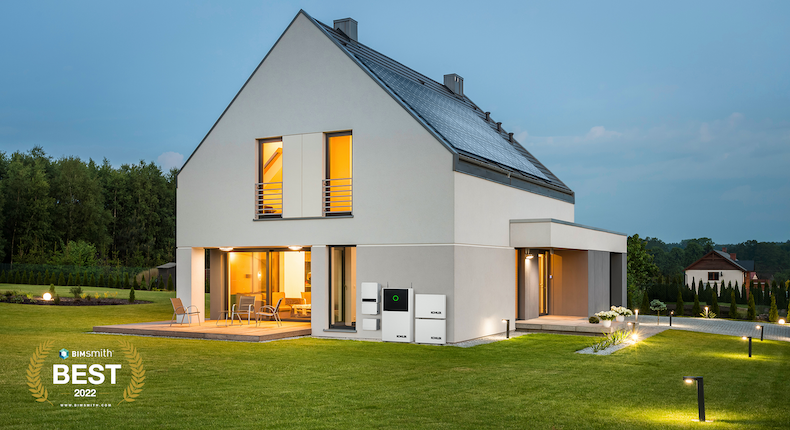 The new KOHLER Power Reserve Energy Storage System offers homeowners a modular backup system to store and access the clean energy produced by their home's solar systems. Kohler offers both AC- and DC-coupled units, allowing installers and dealers to service all customers with a single, reliable brand and for users to access the type of power source/output required for their homes without purchasing additional accessories.
"The new KOHLER Power Reserve product line allows us to support customers who have invested in solar energy for their homes by offering them a smart storage solution to efficiently optimize their home's power usage."

– Kyle Brandemuhl, Kohler Power General Manager of Residential and Power Products
Additionally, homeowners can access and manage their stored solar power in the KOHLER Power Reserve system through an intuitive app that provides insights into real-time power flow for the home, a timeline of power information for the day, historical statistics for the system, and allows users to choose the operation mode for their system (back-up, self-supply, time-of-use or custom) to personalize their battery's storage and output.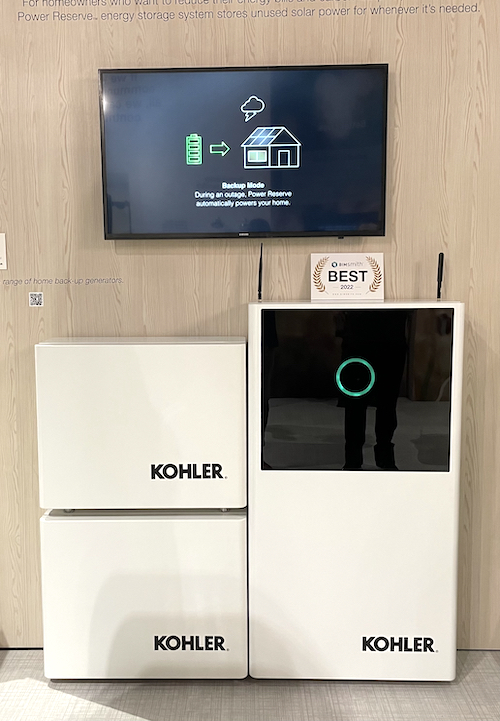 For non-solar powered homes, the KOHLER Power Reserve energy storage system offers a way to store energy from the grid during times of lower rates and then rely on the batteries for power during peak rate periods while providing the home with back-up power in case of a power outage.

EXACOR™ Panels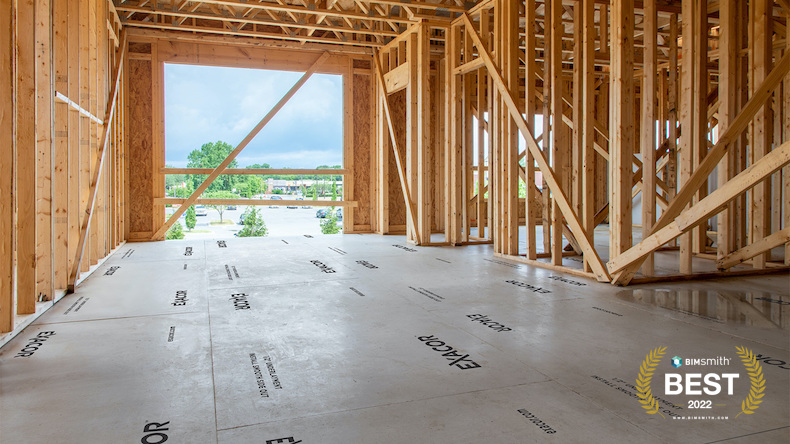 EXACOR™ panels are the latest product released by Huber Engineered Woods, the makers of ZIPsystem™ and Advantech™. EXACOR was created to address structural, acoustical, fire-rated, and dimensional stability performance needs of today's job site. Made of magnesium oxide (MgO) and an integrated mesh core, EXACOR panels offer a smooth base for floor coverings. Because EXACOR panels are installed by framers, it can eliminate the need for gypsum underlayment applications, streamlining multiple processes into one.
"EXACOR™ has the industry abandoning gypsum underlayment."
EXACOR panels can be used as both a subfloor underlayment over traditional OSB or plywood (UL 263 L528) and as a structural subfloor (UL263 L601).
Swidget - Future-Proof, Modular Smart Outlets and Switches
by Swidget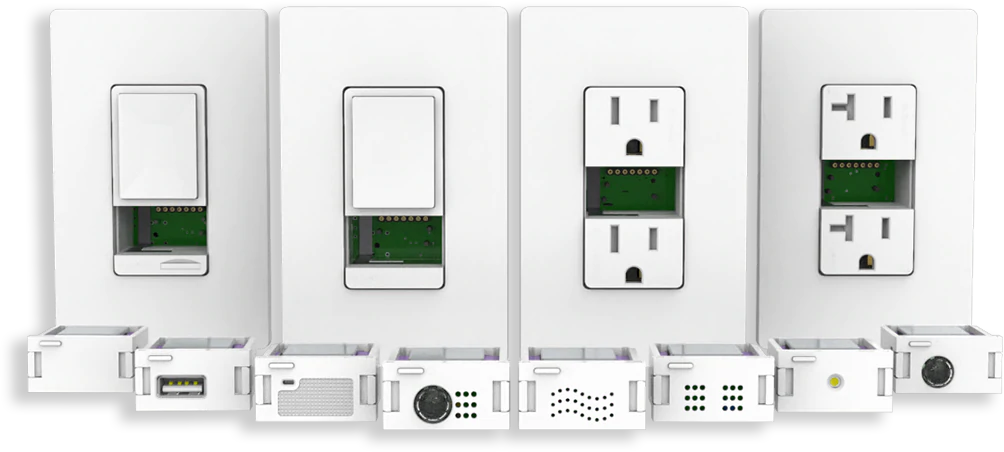 Swidget is a modular wiring device that enables a variety of smart capabilities in a standard household switch or power outlet. With interchangeable sensors, switching between smart functions does not require any additional wiring from an electrician. Users can choose from a variety of smart inserts including USB power, Wi-Fi control, and smart sensors that monitor indoor air quality, temperature, humidity, and motion, and can simply swap them out when technology or needs change. The sensors enable users to connect to a mobile app for monitoring and to set up custom workflows like turning on a ventilation system if the humidity reaches a certain threshold.
Swidget has an exclusive partnership with Panasonic, making a logical pairing between the smart switch and Panasonic's line of indoor air quality products.
Frigidaire Gallery Combination Wall Oven with Total Convection
by Electrolux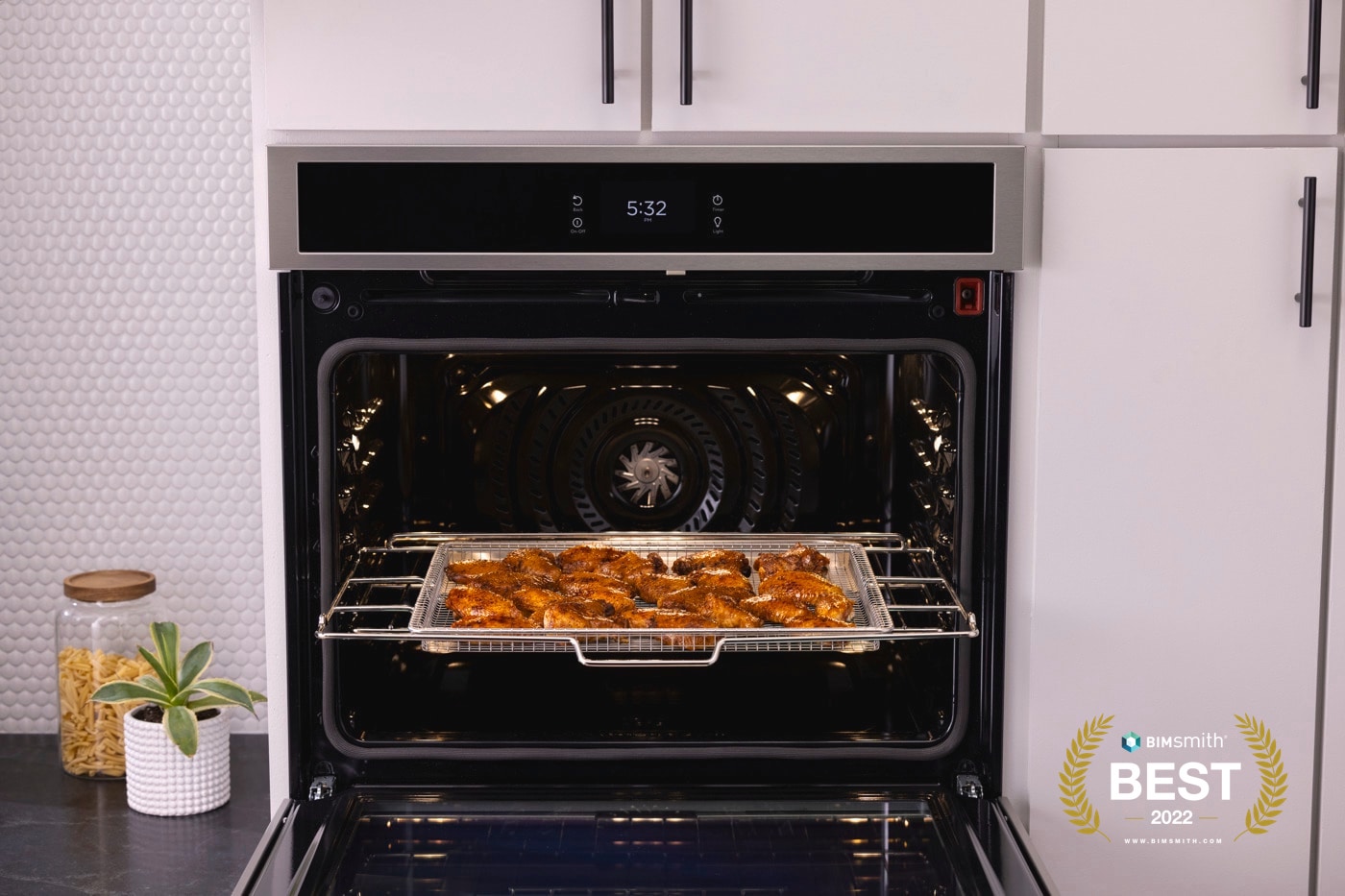 Everyone seems to love a good air fryer combination gadget these days. But the Frigidaire Gallery Double Electric Wall Oven with Total Convection puts just about all others to shame.
Placing the convenience of a countertop unit into a built-in double oven, the Frigidaire Gallery Electric Wall Oven brings a variety of options to the kitchen, including Air Fry, No Pre-Heat, Slow Cook, Convection Bake, Steam Bake, Convection Roast, Steam Roast, Air Sous Vide, Bread Proof, Dehydrate and more.
It also looks the part.
Invisacook Outdoor Cooktop
by Danver and Invisacook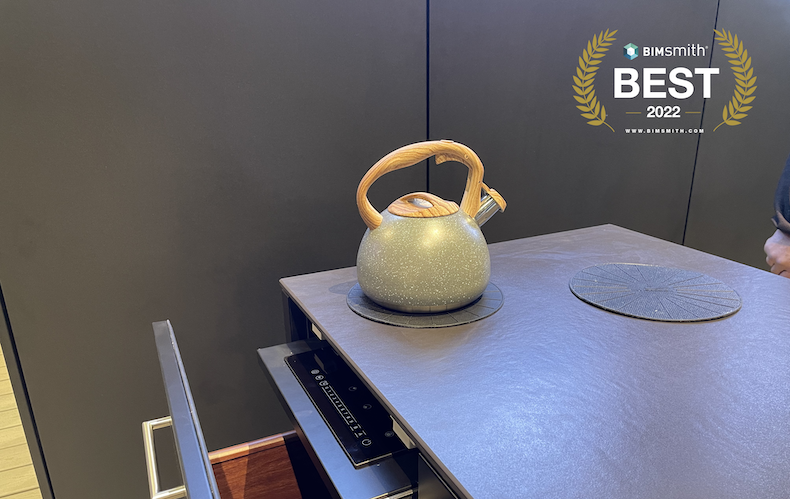 It's the time of year to begin dreaming about backyard barbecues, and Danver's outdoor kitchen products are a terrific place to start. The BIMsmith Best award here is a result of a partnership between Danver and Invisacook that creates a sleek and functional outdoor cooktop where the user can cook directly on the countertop.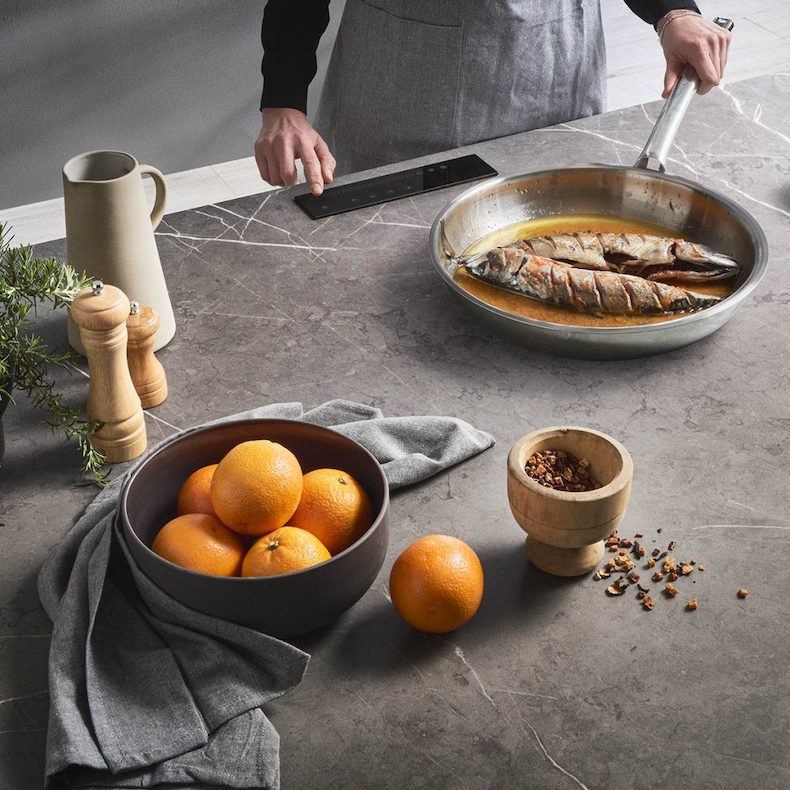 This setup utilizes an induction hob that can be positioned just under the kitchen countertop and heats the pans through the surface. The innovative technology from Invisacook combines a functional cooking surface with a luxury design in just about any outdoor kitchen space utilizing Danver products.
Whisper Air Repair
by Pansonic Ventilation and Indoor Air Quality Solutions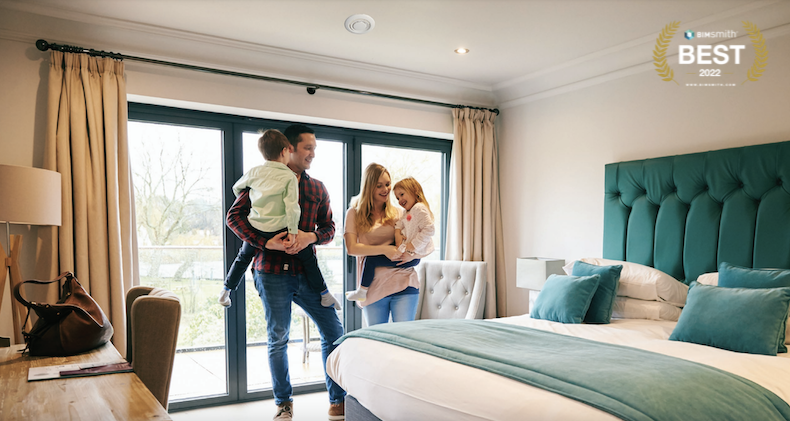 WhisperAir Repair is a compact ceiling-mount spot air purifier that keeps indoor air clean and fresh around the clock.
The purifier utilizes Panasonic nanoe™ X technology, the next generation of Panasonic's exclusive nanoe™ air purification system. Nanoe™ X is generated from moisture in the air that contains highly reactive components known as hydroxyl (OH) radicals, which have been proven effective at suppressing airborne pollutants, bacteria and odors.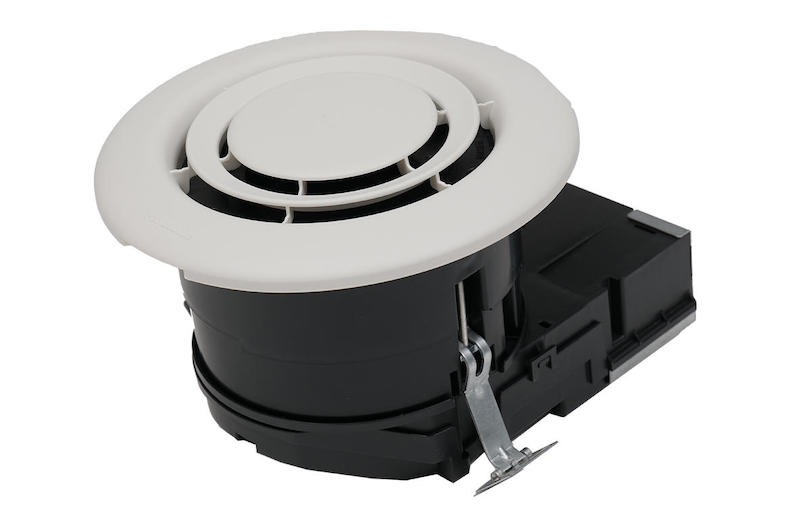 Until recently, Panasonic's exclusive nanoe™ X air purification technology was available only in Panasonic HVAC systems. Now, with a compact offering, WhisperAir Repair is an ideal way to spot purify a space during off-hours when the HVAC system is not operating, or for use in tight spaces like conference rooms.
Plus, Panasonic has an exclusive partnership with Swidget (see above), so any WhisperAir Repair device can interact intelligently with sensors from Swidget smart outlets.
Integrated Gas Burners
by Pitt Cooking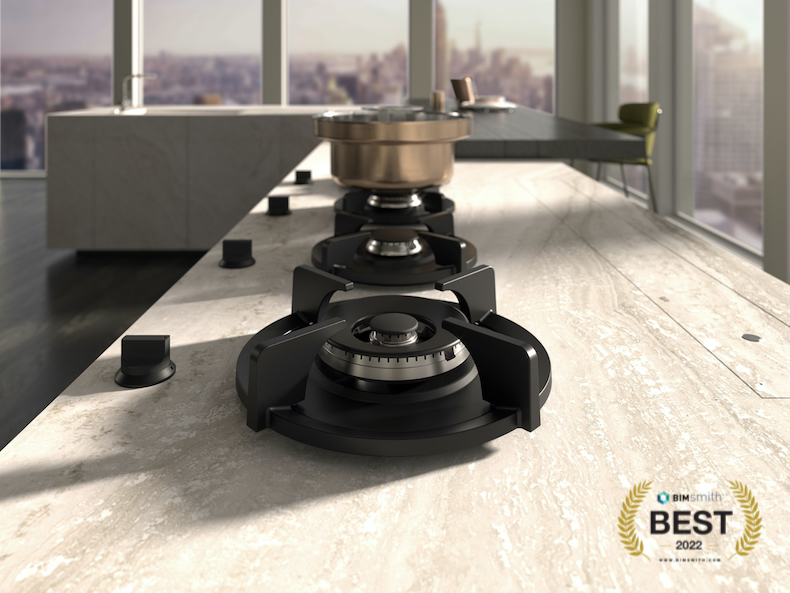 Pitt Cooking manufactures gas burners that integrate seamlessly into a countertop of any material. Black cast iron burners fit into just about any kitchen and give a timeless, elegant feel to a countertop.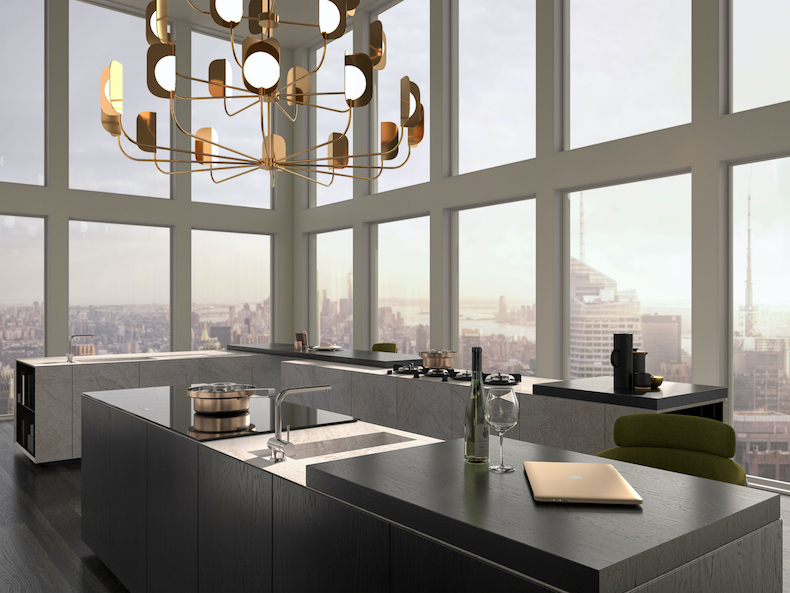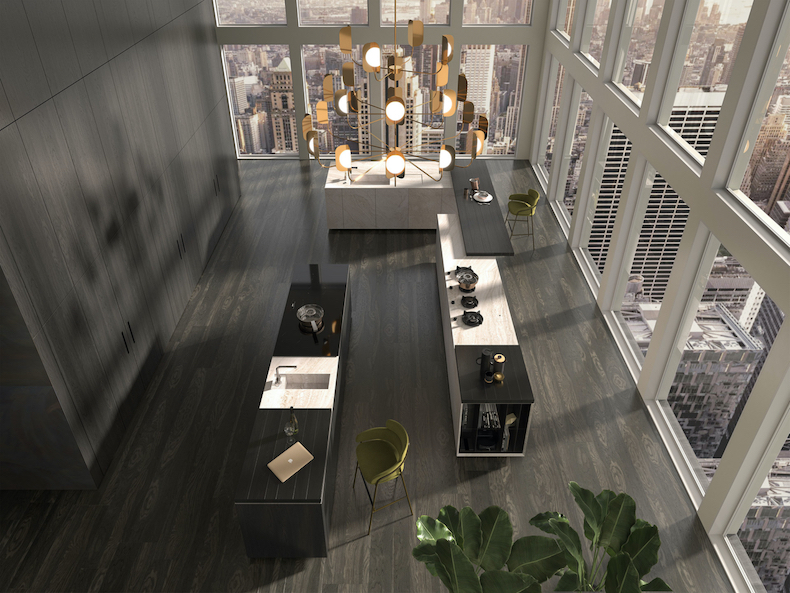 Inspired by the limitations of a traditional cooktop, Pitt Cooking products offer an efficient, space-saving cooktop with beautiful results.
Collier by Sean Lavin
The Collier by Sean Lavin catches the eye as a luxurious and sophisticated addition to any room.
Understandably also known as "The Necklace," Collier features solid-faceted crystal that fully encapsulates integrated LED modules interlocked by solid brass connectors. Creating an incredible light sculpture with stunning illumination, the fixture is available in multiple length strands for easy customization.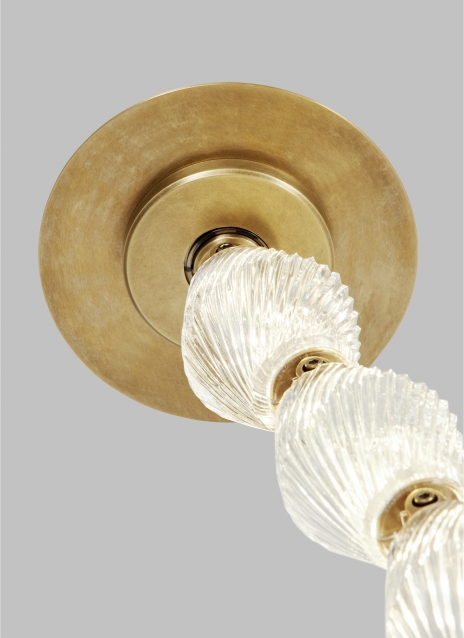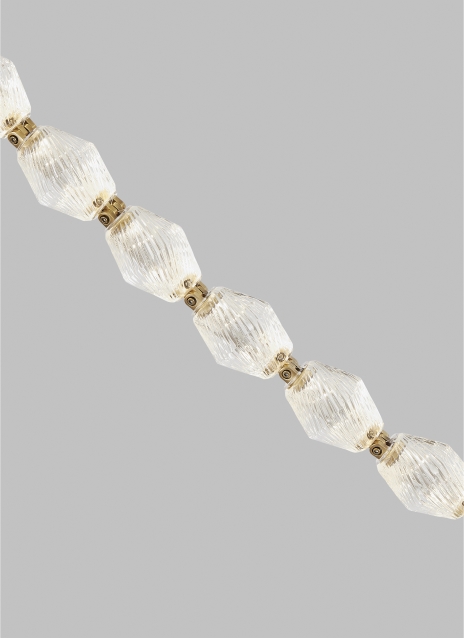 Collier is available with remote or surface-mounted driver options. Since it's made of natural brass, the fixture has a living finish that will patina and warm with age which adds richness to the material.
Congratulations to the Winners of the 2022 BIMsmith Best Awards
This year's IBS/KBIS show was the first in-person event in two years, with the 2020 event taking place just weeks before most of the country shut down during the first wave of Covid-19 closures. While hesitation around public gatherings may have limited attendance slightly, the event fulfilled its promise of making an enthusiastic step toward its old scale.
On behalf of the judges from the BIMsmith Team, we extend sincere congratulations to all of this year's winners. See you next year!
Learn more about the BIMsmith Best Awards.
--
BIMsmith is a free cloud platform for architects, designers, and building professionals to research, select, and download building product data. Search, discover, compare, and download free Revit families on BIMsmith Market, or build complete, data-rich Revit wall, floor, ceiling, and roof systems faster with the free BIMsmith Forge Revit configurator.