The following is a guest article from TrueGrid Pavers. Submit your own article or building project to be featured on the BIMsmith Blog.
Parking lots are included in the blueprints for almost every commercial business out there. However, while most architects simply gravitate to traditional materials such as asphalt and concrete for parking lot design, these are no longer the most efficient or effective materials for building parking lots.
One alternative material that's gaining steam lately is permeable pavement. High-quality permeable plastic pavers can easily meet and exceed commercial paving standards while providing a host of additional benefits that any business owner or architect should be interested in.
In case you were unaware of this innovative new paving option, let's take a look at what permeable pavers bring to the table and how they can benefit a commercial business operation.
1. Built-In Drainage
Most commercial business parking lots are paved with impermeable materials like asphalt and concrete. These materials do not allow for the effective and safe management of stormwater, so they require additional materials and adjustments such as stormwater detention ponds, drainage grates, and sloping of the parking lot itself.
With permeable pavers, on the other hand, stormwater simply drains right through them and into the soil below. This is a much more metered and eco-friendly way to approach stormwater management.
Not only that, but the long-term costs of maintaining traditional costly drainage systems can be quite high. Permeable pavers require almost zero maintenance, yet will continue meeting commercial paving standards for decades to come.
2. Fast Installation Time
Time is money. Asphalt and concrete both take days, if not weeks to install. Not only does this push back the opening date of a commercial business, but it also lengthens the amount of time you have to pay an hourly crew for installation. With all that heavy equipment and labor-intensive work, you could find yourself paying quite a lot in comparison to the permeable paver installation.
Permeable pavers require only a basic excavation and installation process that can be completed in as little as one day. There's no need to wait for materials to dry and no extended wait-times.
A basic excavation of about 8 to10 inches is required before a thin filter fabric is laid at the bottom of the lot to keep a separation between the underlying soil and base rock. Gravel, generally clean washed aggregate, is then used to fill the excavated area. Then, the permeable pavers are snapped into place like LEGO blocks over the top of the gravel, and more aggregate is poured into and compressed into the pavers. That's the entire process. If there is no detention needed the process is even faster.
3. Durability
One of your main focus points as an architect will be to ensure the parking lot meets commercial parking lot paving standards. This means, among other things, that the lot needs to be able to handle a certain level of weight, traffic, and pressure without becoming compromised.
Not only do permeable plastic grid pavers meet these standards, but they also exceed the durability of both concrete and asphalt. In addition to meeting these standards and requiring almost no maintenance, some permeable pavers are designed specifically for commercial and industrial traffic and heavy loads and to far outlast hardscape pavements. Choose the correct permeable plastic grid paver and your lot will last a lifetime under any load or traffic conditions.
4. Eco-Friendliness
Many permeable pavers are made from 100% recycled plastic, making them one of the most eco-friendly paving materials you'll find. TRUEGRID pavers, for example, take it a step further and are made-in-the-USA from 10% post-consumer recycled plastic, diverting millions of pounds of plastic from the oceans and landfills. There's also minimal heavy equipment required in the installation process, and the fill material can be easily acquired from a local source. That means less driving time and carbon emissions required in the shipping process.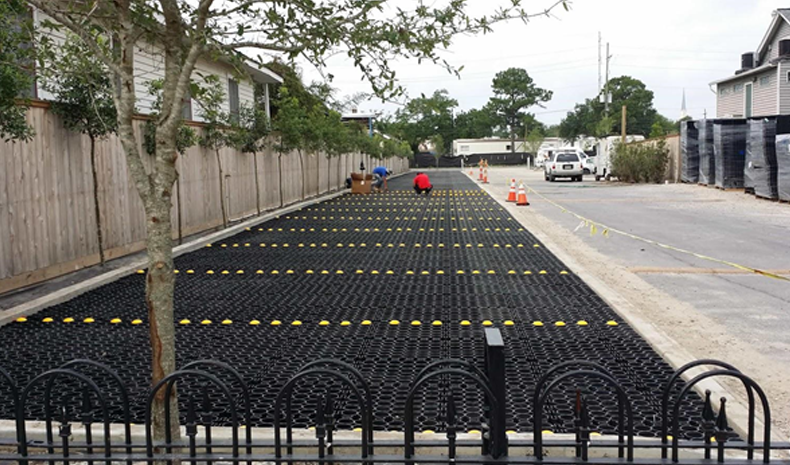 5. Cost-Effectiveness
Permeable plastic pavers typically cost less per square foot or concrete and are competitive with asphalt when the land savings due to built-in permeability and detention is considered. 100 % use of a site's land, instead of separate areas for detention, is often the biggest benefit to plastic grid pavers. They also cost less to install, less to transport, and less to maintain.
Land usage is far more efficient with permeable pavers, as you can turn previously dedicated drainage space into additional parking spots. Using permeable pavers will save you money across the board, in both the short-term and the long-term.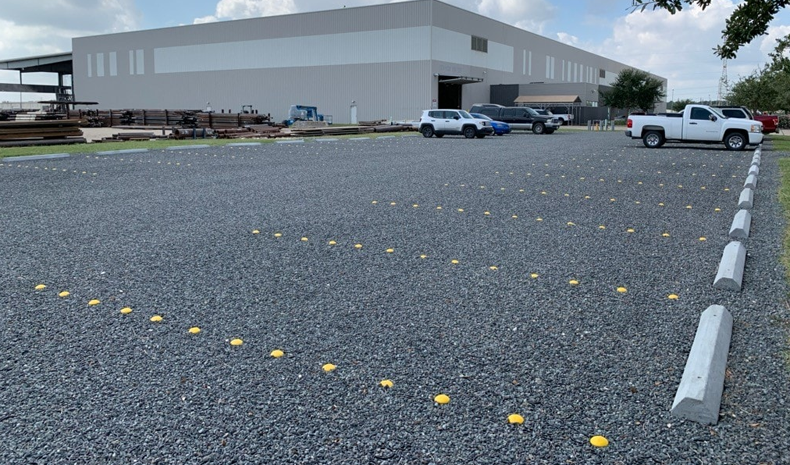 6. Stylistic Diversity
Despite being incredibly affordable and eco-friendly, architects and business owners have to sacrifice nothing in the way of style to attain these benefits. Permeable pavers can be trimmed to fit into any area you want them in, and there are plenty of colorful options for the aggregate fill.
Not only that, but some companies offer high-visibility parking markers and reflectors for all your lot line needs. Indeed, a properly installed permeable paver parking lot can look just as, if not more stylish and professional than a concrete or asphalt lot.
Revolutionize Your Commercial Parking Lot Layout with Permeable Pavers
Instead of opting for a traditional asphalt or concrete lot on your next project, consider going with permeable plastic pavers instead. They look great and easily meet commercial paving standards while potentially saving you serious money. Permeable pavers are eco-friendly, low-maintenance, durable, and cost-effective.
If you want a stylish parking lot that makes better use of your land and can be installed much faster than asphalt or concrete, look no further than a permeable paving solution.
Download Permeable Pavers for Revit
TrueGrid offers its most popular, high-durable pavers as Revit-ready BIM objects. View and download paver Revit families on BIMsmith Market for your next project.