The world's tallest wooden skyscraper is currently being built in the Swiss city of Winterthur, about 12 miles northeast of Zurich.
The 328-foot Rocket&Tigerli tower has been designed by Danish firm Schmidt Hammer Lassen and will be part of the development called Lokstadt, which translates to "locomotive town."
Expected to be completed in 2026, the Rocket&Tigerli tower will accommodate 32 floors and 255 apartments. The base of the structure will include student housing and a hotel.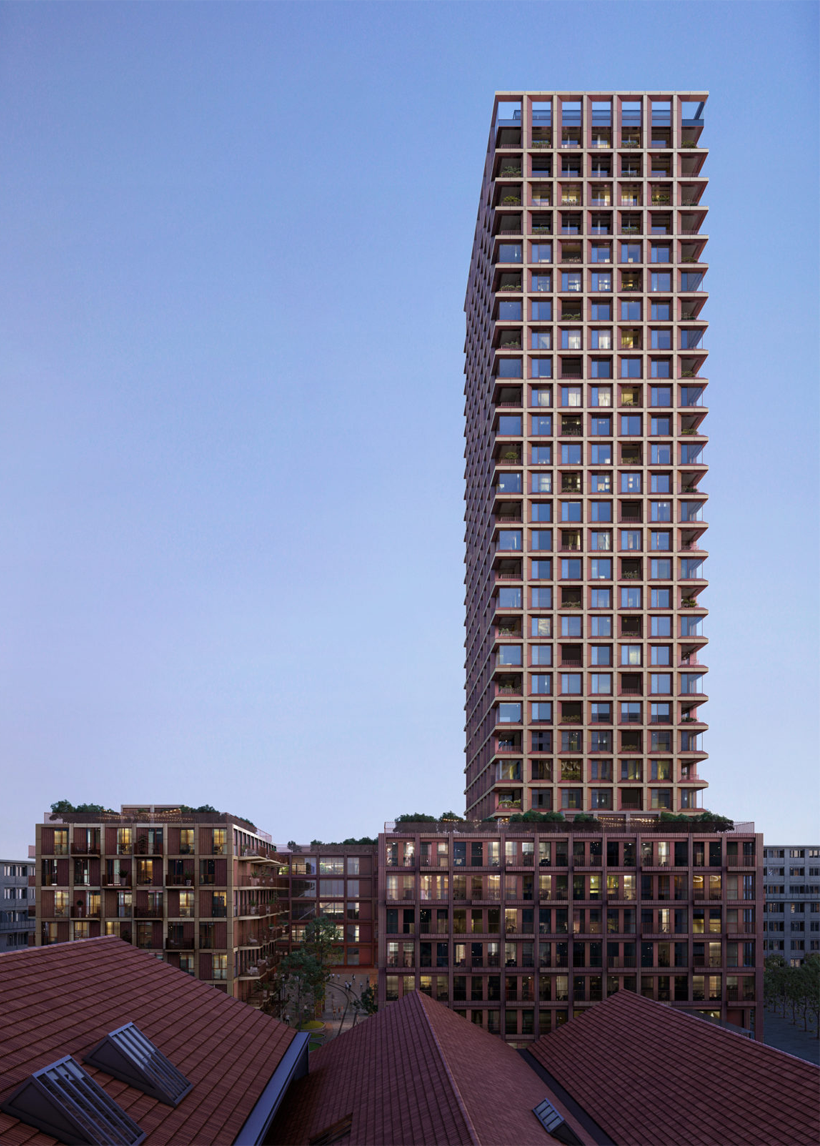 Image source: SHL
Locomotive Town
As might be expected in a place called "locomotive town", all of the building names come from old locomotives. The Rocket is famous for winning a competition for the new railway line between Liverpool and Manchester in 1829, while the Tigerli was a locomotive built by SLM in the early 20th century.
Other buildings in the Lokstadt development will include Crocodile - the name of a type of electric locomotive with a long, flat front - and Elephant, the name of a powerful SLM locomotive built between 1913-1917.
Rocket&Tigerli
Rocket&Tigerli will consist of four buildings that mix regular housing, student housing, a restaurant, retail spaces, a sky-bar, a spa, and a hotel.
Each building will have its own identity to help create a strong sense of belonging amongst the residents. By using the four buildings to frame the landscape, urban space will be composed of sequences. Together, with the retail and a restaurant, passages and green spaces at the street level will create an active neighborhood.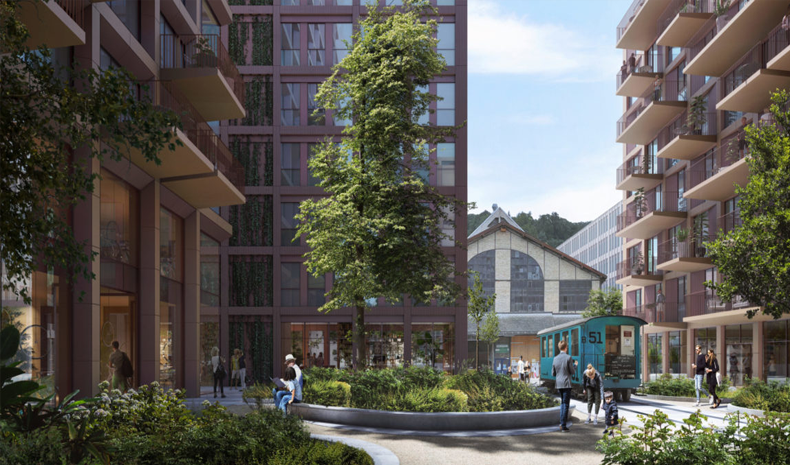 Image source: SHL
In the design of the residential units, SHL challenges the classical high-rise by focusing on the integration of daylight and spaciousness. This will result in apartment spaces being showered by natural light with double-height windows. All residential units will be angled to make the most of the natural light.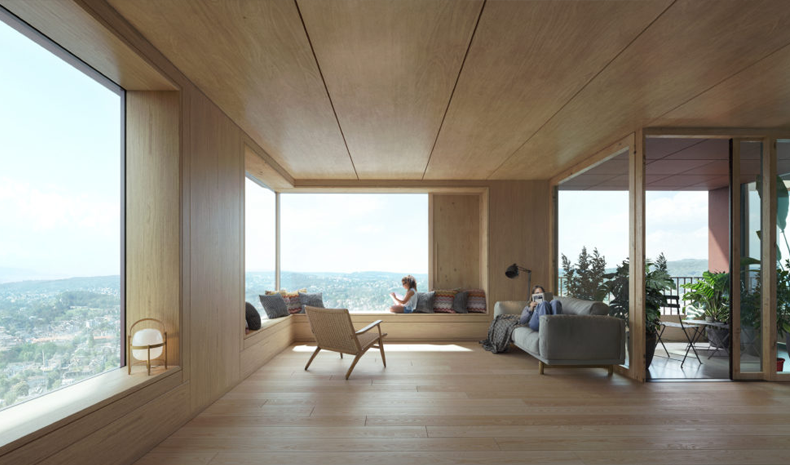 Image source: SHL
The facade of the structure will be covered in dark red and yellow terracotta bricks, combined with details in dusty green.
Wood as a Natural Material
Naturally, wood is a lighter material than concrete and generally consumes far less energy during construction. It is also considered a much better material for the environment due to its renewable nature.
This project helps to mark a milestone in the construction of timber buildings by introducing an innovative construction system that examines wood as a natural replacement for concrete. The Swiss company Implenia and the Swiss Federal Institute of Technology of Zurich, ETH, have worked together in developing the new system, which aims for the safe construction of taller timber buildings.
The concrete core gets replaced with wood, resulting in individual beams coming in at a lower weight. This makes it possible to build taller buildings, while at the same time ensuring that the entire building achieves a lower amount of embedded carbon.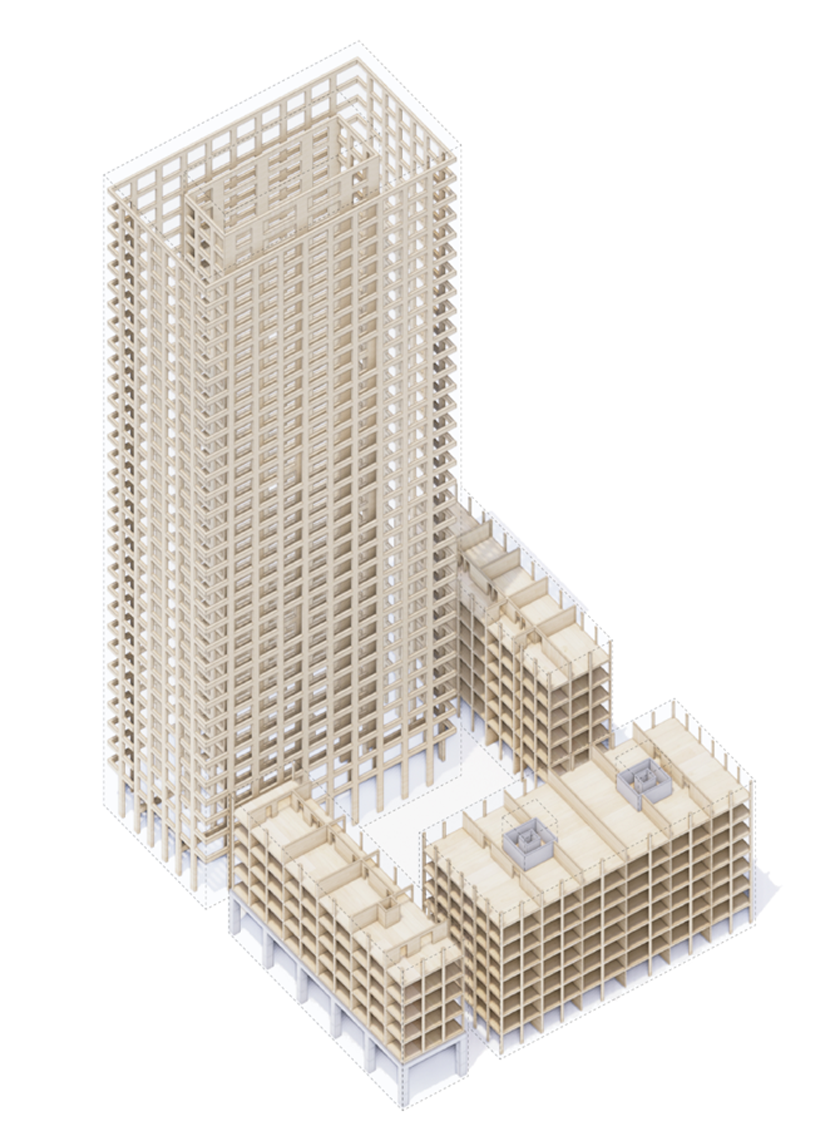 Image source: SHL
Wood is now beginning to be treated with a focus on its eminent qualities in relation to a building's total energy consumption. Innovative construction technologies are allowing wood to join the mainstream built environment - both when it comes to all timber construction and hybrids between timber and concrete construction.
--
Dylan Kleintop
BIMsmith is a free cloud platform for architects, designers, and building professionals to research, select, and download building product data. Search, discover, compare, and download free Revit families on BIMsmith Market, or build complete, data-rich Revit wall, floor, ceiling, and roof systems faster with BIMsmith Forge.