You've heard of tree houses, but what about tree skyscrapers?
Bosco Verticale, also known as the "Vertical Forest" is a pair of residential towers in Milan, Italy conceived as a "home for trees that also houses humans and birds."
Designed by Stefano Boeri Architects and completed in 2014, Bosco Verticale received international recognition and accolades for its innovative design and masterfully executed sustainability. It continues to inspire green-minded architects around the world.
Planting a Forest in the City
Boeri proposed the towers back in 2007, envisioning "a new format of architectural biodiversity" that focuses on the relationship between human beings and other living things, rather than prioritizing human needs. He aimed to improve the quality of life for city residents while reducing the environmental impact of high rise buildings. So strong was his belief in the project's widespread benefits that he never registered copyrights for the designs, hoping the completed building would prove concept and be replicated in other cities.
In 2009 the project received funding from the curious Italian government and broke ground in 2010. The building, formerly the site of an artist-occupied industrial building, was completed in 2014 and opened to residents in 2015. One major time-consuming activity of the construction process: determining the delicate alchemy of vegetation. Over two years of observation and testing yielded the ideal selection of hearty trees and plants able to withstand the very unique living conditions.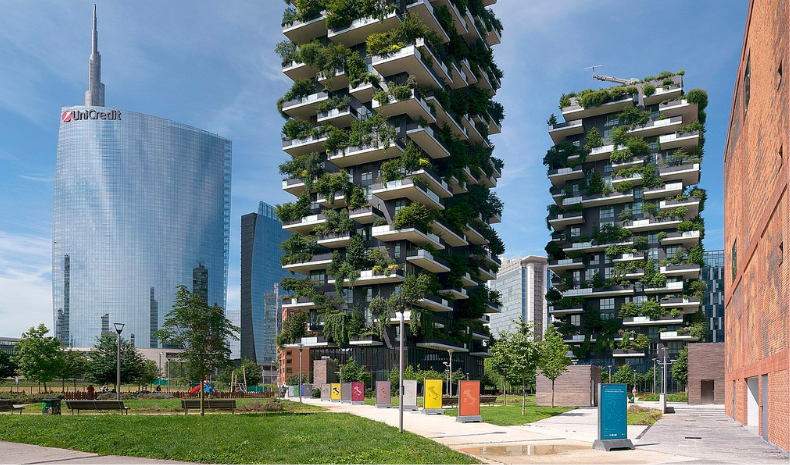 The towers stand 361 feet and 262 feet tall and between them house 800 trees, 15,000 plants, and approximately 900 people (not to mention over 1600 species of birds and butterflies). It became the first building of its kind to have this level of tree integration, equivalent to more than 215,000 square feet of forestland. The vegetation helps create a "green curtain" that regulates humidity, produces 19 tons of oxygen, and absorbs 30 tons of Co2 and microparticles each year.
A truly remarkable building feat is the advanced and energy-reducing irrigation and ventilation systems. Mountaineering arborists known as "Flying Gardeners" scale the buildings and tend to the vegetation once a year, pruning and removing any struggling plants. Otherwise, the plants are monitored remotely and digitally.
Source: Stefano Boeri Architecture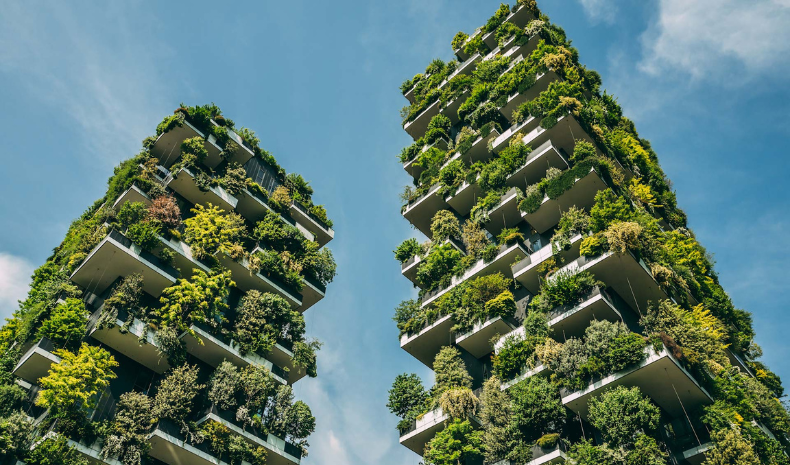 Source: We Build Value
The Poster Child for Green Architecture
Boeri can't claim building the first ever green high rise, but his work on Bosco Verticale did secure him the title of "the most famous name in green architecture," according to Architectural Digest. Since Bosco Verticale's completion, tens of green-clad structures have sprung up in major cities around the globe. Boeri himself has designed dozens more plant-festooned high rises. As of 2020, he's working on a Smart Forest City in Cancun, Mexico.
Leveraging the authority that Bosco Verticale's legacy has bestowed upon him, Boeri has also penned an "Urban Forestry Manifesto," calling on architects, urban planners, and real estate developers, among others, to multiply the presence of forests and trees in our cities through new parks, community gardens, and, of course, legislature.
As for now, Bosco Verticale has achieved the goal that Boeri set before it: a beautiful and steadfast prototype to usher in a future of architecture harmonious with nature. "There will be architects and urban planners who realize buildings, with the same philosophy, that will be better than what we've done," he said. "It's already happening. I'm very happy to see that."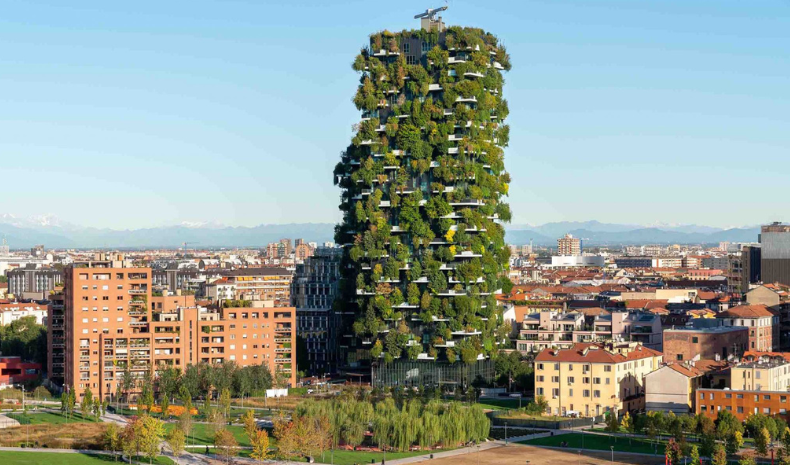 Source: Stefano Boeri Architects
Sources:
https://www.international-highrise-award.com/en/best-high-rises/20142015/
https://www.archdaily.com/569706/bosco-verticale-the-world-s-most-beautiful-and-innovative-highrise?ad_source=search&ad_medium=projects_tab&ad_source=search&ad_medium=search_result_all
https://www.stefanoboeriarchitetti.net/en/project/vertical-forest/?_gl=1*n89r26*_up*MQ..*_ga*MjU2NzA3ODExLjE2ODM3NTI0NzU.*_ga_89E6VGV00E*MTY4Mzc1MjQ3NC4xLjEuMTY4Mzc1Mjk5MC4wLjAuMA..
https://www.stefanoboeriarchitetti.net/en/urban-forestry/
https://www.cnn.com/style/article/riba-vertical-forest-stefano-boeri/index.html
https://www.architecturaldigest.com/story/how-milans-bosco-verticale-has-changed-the-way-designers-think-about-sustainable-design
https://www.international-highrise-award.com/en/best-high-rises/20142015/
https://www.architecture.com/awards-and-competitions-landing-page/awards/riba-international-awards/riba-international-awards-2018/2018/bosco-verticale
https://www.webuildvalue.com/en/infrastructure-news/vertical-forest-milan.html