The architecture of a nation's government is often a significant piece of its pride and heritage.
This is especially true of many legislative or parliamentary buildings since they often represent the very seat of modern government and democracy.
These buildings represent places of unity, community, and original ideas that reflect where a country has been and where it is going.
Here are some of the most inspiring examples of parliamentary architecture from around the world.
The Beehive - Wellington, New Zealand
The Executive Wing of the New Zealand Parliament Buildings, commonly known as The Beehive, got its name from its many ascending layers resembling a skep or beehive.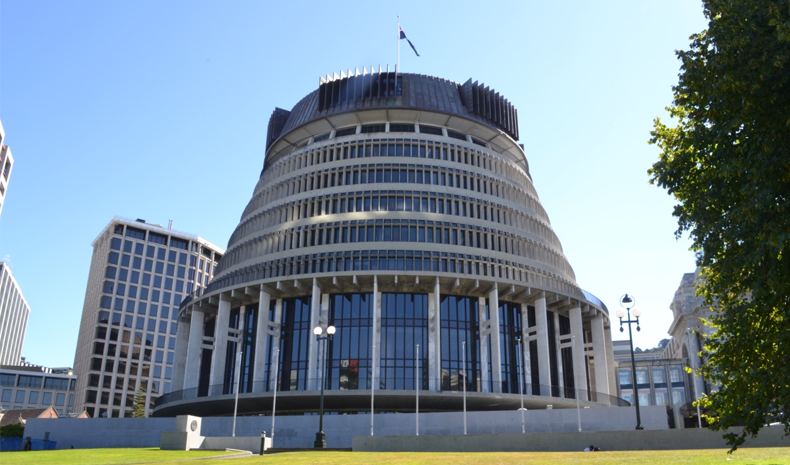 Image source: Wellington City Heritage
Scottish architect Sir Basil Spence provided the original design of The Beehive in 1964 and construction started in 1969. When the initiative was first released, it was met with several mixed reactions; however, many agreed the building would be a "source of national pride and international interest."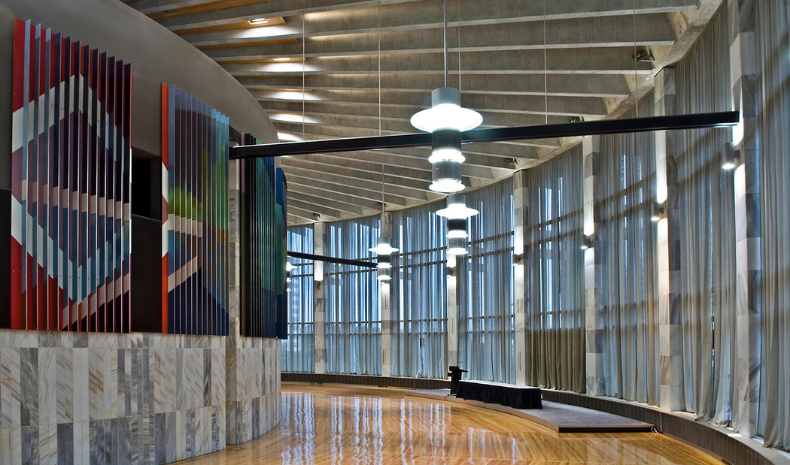 Image Source: Parliament
The Beehive is connected to the Bowen House, which holds offices for members of Parliament and Ministers.
Secretariat Building - New Delhi, India
Image source: Re-thinking the Future
Secretariat Building New Delhi is home to the Cabinet Secretariat, one of the most important ministries of the Cabinet of India, and was designed by British architect Herbert Baker in the 1910s. Baker is known for creating many of New Delhi's government buildings including Rashtrapati Bhavan and Parliament House.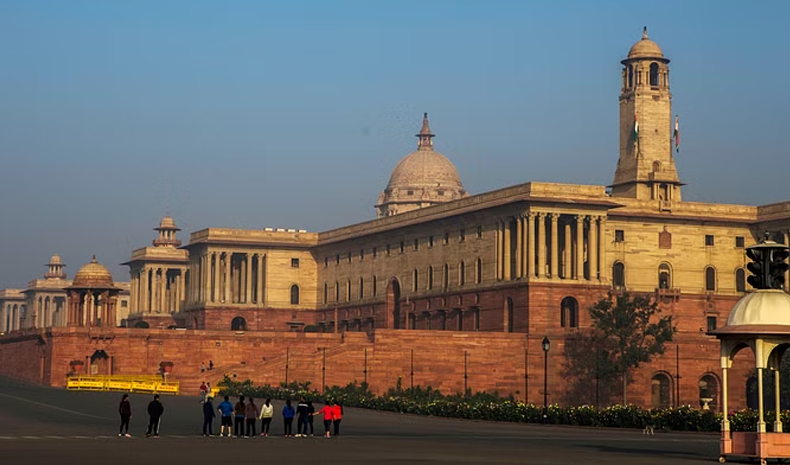 Image Source: BQ Prime
The building uses perforated windows called jalis and decorative windows called jharokhas to represent Rajasthani forts. The jalis create patterns from being in the constant sun and also provide relief from heat and rain. The main entrances of each building are in the dominion columns of Canada, South Africa, Australia, and New Zealand. Each of the British colonies gifted each column to represent unity.
New York State Capitol Building - New York, United States
Image source: Flickr
After 32 years and five architects, the completion of the New York State Capitol Building resulted in a variety of styles, including Romanesque and Italian Renaissance. This can be seen as an odd pair, but came to be as a result of the constantly changing teams of architects.
Image Source: Empire State Plaza
British architect Thomas Fuller began the design and was later replaced by American architects Leopold Eidlitz and Henry Hobson Richardson. The Assembly Chamber, the building's largest room, was designed by Eidlitz, and the Senate Chamber, hallway, and Great Western Staircase were all designed by Richardson.
Palace of the Parliament - Bucharest, Romania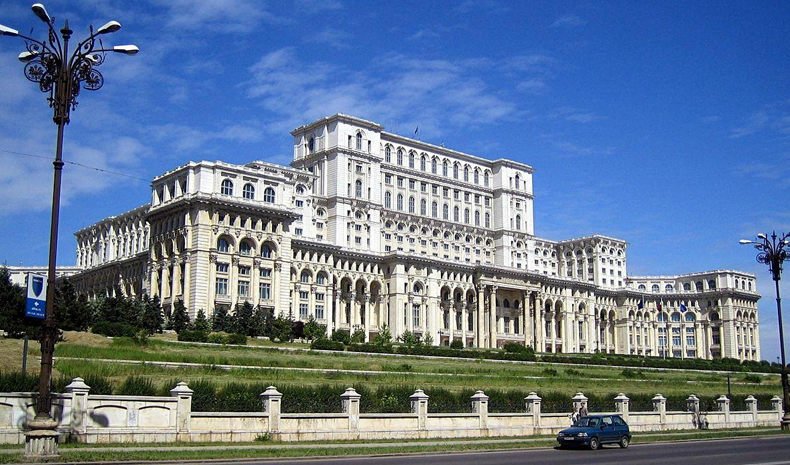 Image source: TripAdvisor
The Palace of the Parliament was started in 1984 and remains unfinished. However, it is still the second-largest administrative building in the world after the United States Pentagon at 330,000 square meters (about 3.6 million square feet). At the peak of construction, there were over 20,000 workers, 5,000 soldiers, and 700 architects working at one time.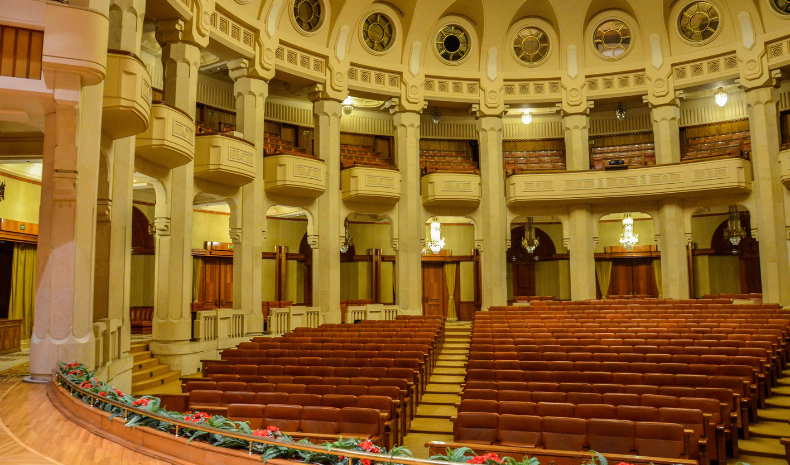 Image source: Romania Tour Store
The building holds the record of being the heaviest building in the world with 1.5 billion pounds of steel and bronze, 7.7 million cubic feet of glass and crystal, 32 million cubic feet of wood, and 35 million cubic feet of marble. There are also 2,800 chandeliers throughout the building, one of which weighs 11,000 pounds.
Union Buildings - Pretoria, South Africa
Image Source: SA History
Built and designed by Herbert Baker, the Union Buildings are South Africa's architectural masterpiece. The Union Buildings house the administrative offices, and offices of the President of South Africa, and is the official seat of government.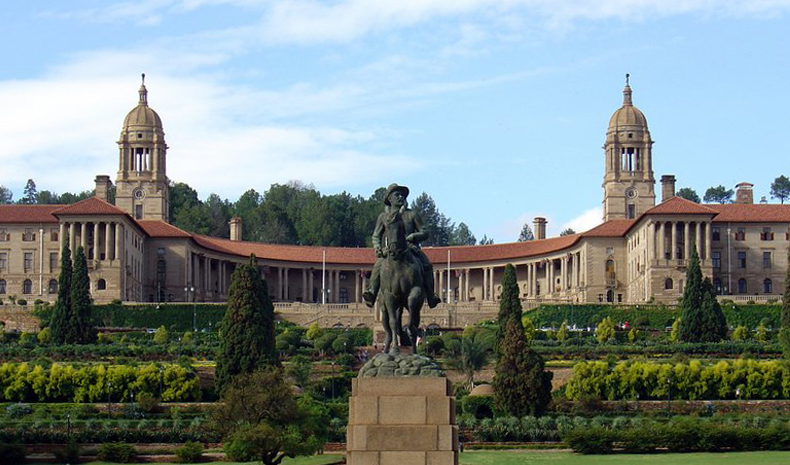 Image source: Wikipedia
The Union Buildings were built in a semi-circle with two wings on either side. The wings represent the union of formerly divided languages: English and Afrikaans. The inner court was designed to symbolize the Union of South Africa.
A statue of Nelson Mandela was unveiled in December 2013 to remind the country to maintain its values: unity, reconciliation, compassion, and ubuntu.
Palacio da Alvorada - Brasília, Brazil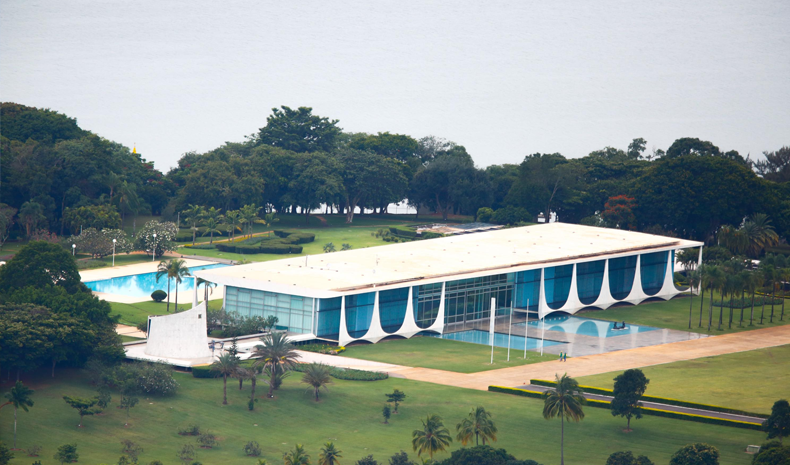 Image source: Poder360
Built on a peninsula that overlooks the Paranoa lake, Palacio da Alvorada is a symbol of modernism and cultural and technological advancements in Brazil. Architect Oscar Niemeyer designed and built the Palacio da Alvorada, along with several other government offices and a cathedral in Brasília. All of these buildings were designed in a modernist style as a master plan to transform Brasília into a modern city.
Image source: Alluring World
Palacio da Alvorada has an area of 75,000 square feet and is the official residence of the President of Brazil. The palace was constructed using minimal materials including marble, glass, and water. The body of water surrounding the building is used as a mirror, reflecting the marble columns and glass facade. The Palacio da Alvorada appears to be floating as a result of each column touching the ground at a sharp, singular point.
BIMsmith is a free cloud platform for architects, designers, and building professionals to research, select, and download building product data. Search, discover, compare, and download free Revit families on BIMsmith Market, or build complete, data-rich Revit wall, floor, ceiling, and roof systems faster with BIMsmith Forge.