Security and access control are crucial components of the built environment. In fact, despite how little we wish it was the case, security technology is booming amidst rising tides of interpersonal, intercultural, and international hostility. From active shooter situations to traditional secured entry, architects, designers and contractors today more than ever have a responsibility to make security a high priority in the design process.
For that reason, we want to highlight 7 noteworthy innovations in building security products that were on display at the 2019 Global Security Exchange in Chicago.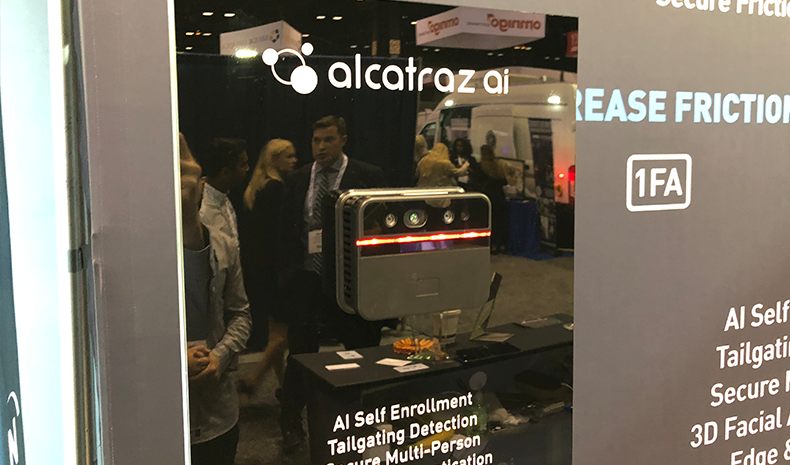 Alcatraz AI Rock
Alcatraz AI
The Alcatraz AI Rock aims to replace traditional badge entry with advanced applications of facial recognition, 3D sensing, and artificial intelligence. The goal: "frictionless" entry into a secure facility by hyper-fast, secure facial identification.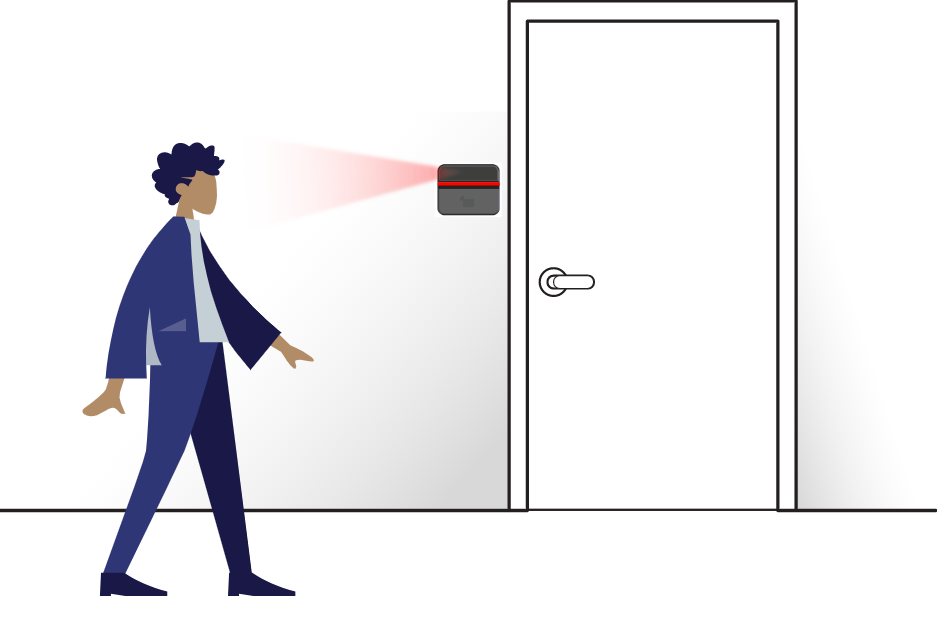 Alcatraz's Rock integrates with a variety of security systems and features multiple configurations, including 1-, 2-, and 3-factor authentication. But maybe coolest about this piece of hardware is the onboarding AI that enables the Rock to initially learn the faces of authorized personnel as they continue to use their standard badge entry – and then keep learning as time goes on.

Alvarado SU4500 Optical Turnstile
Alvarado
Alvarado's SU4500 optical turnstile packs a lot of functionality into a sleek, slim exterior. With user-customizable colors and transition effects, acceptance of all types of credential and biometric readers, and available operation from PC, tablet or smartphone, the SU 4500 brings all of the functionality you need with all of the style you would want in an access security solution.
More Info | Alvarado BIM Library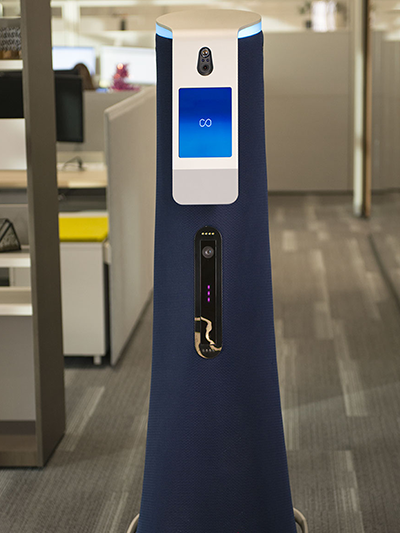 Cobalt Access
Cobalt Robotics
Cobalt Robotics, manufacturer of robotic security technology, recently unveiled Cobalt Access – a new feature set for its robotic assistants that allow robots to pass through secured doorways without human assistance or intervention.
Using its own secure wireless credential, a Cobalt robot transmits a signal to a door's access control reader using proprietary technology. Just like human personnel presenting a badge, the control recognizes the signal and opens the door for the robot to pass through.
Note: Cobalt refers to its business model as Robots-as-a-Service (RaaS?). What a world we live in.

Centry®
Code Blue
New to Code Blue, the company that has facilitated emergency communication for over 30 years through those iconic blue towers, Centry® is a compact IP help point and surveillance device in one. With an IP color camera, LED station beacon light, ring lit piezo buttons, and tactile raised lettering, Centry brings lobbies, concourses, entryways, and hallways a multifaceted Help Point® and security device all in one.
Force Multiplier
Compliant Technologies
The Force Multiplier is a piece of non-lethal weaponry produced by Compliant Technologies. Iterating on the flagship G.L.O.V.E. (Generated Low Output Voltage Emitter), the Force Multiplier enables security professionals and authorities to use non-lethal means for security. Designed for law enforcement, corrections, and security agencies, the G.L.O.V.E. is non-threatening and de-escalating, and affordable with little to no operating costs.
Note: There's not much relevance to building design here. But that doesn't mean it's not cool. (Just keep them away from your kids.)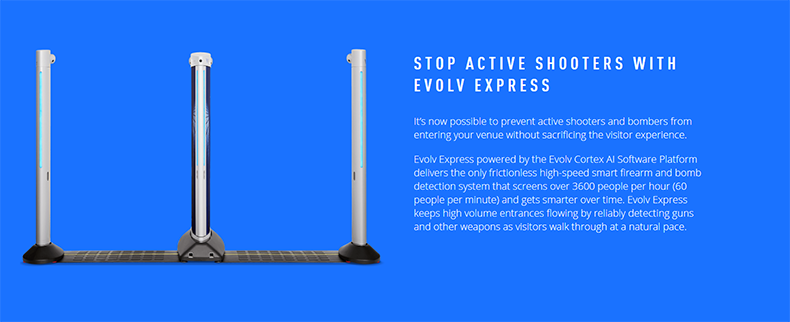 Evolv Express
Evolv Technology
Evolv Express™, by Evolv Technology, is designed to prevent intruders and active shooters from ever reaching their targets. Called "the first free-flow smart threat detection," Evolv Express is a high-throughput weapon sensing system that keeps crowds flowing at minimal to no slowdown while reliably detecting firearms and metallic IEDs. The technology can screen over 3,600 people each hour with no stopping, no emptying pockets, and no inspection of bags.


Nexkey Core
Nexkey
Nexkey Core helps eliminate outdated access control hardware and cluttered wiring by turning mechanical, non-smart (i.e. dumb) locks into smart locks within minutes. With a years-long battery life and widespread applications – from gates, to closets, to private offices – Nexkey Core is making facility management and security easier – and smarter.
Orion Secure DoorGuard™
Orion Entrance Control, Inc.
Orion's DoorGuard is an ultra-accurate tailgate detection system that uses solid state LiDAR technology to determine invalid entry attempts by unauthorized personnel.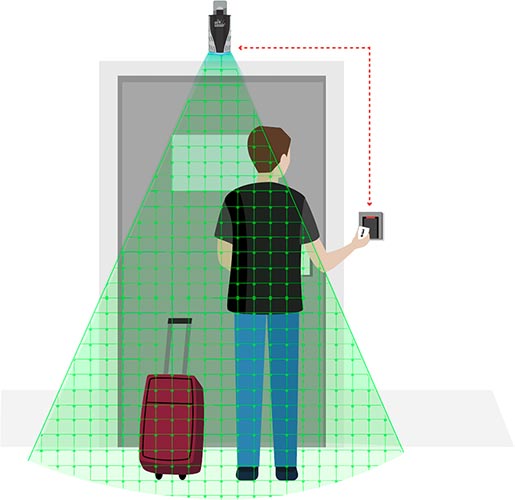 DoorGuard can be concealed within a ceiling or mounted directly over an entryway, and those it leverages the latest in advanced LiDAR, presents cost savings over traditional access security solutions like turnstiles.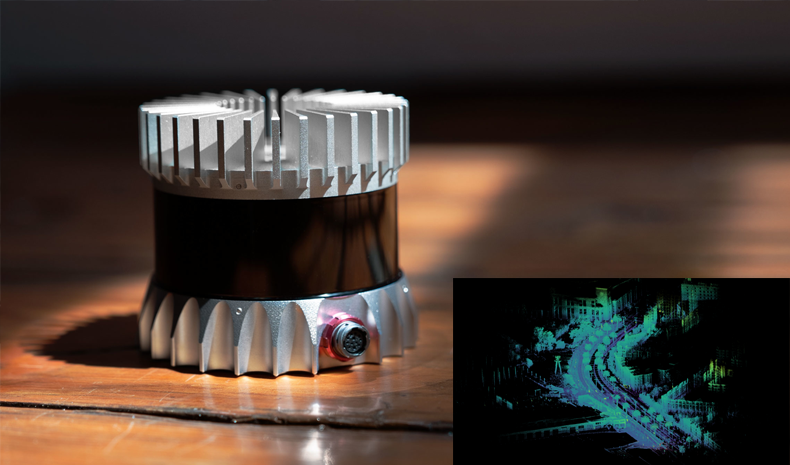 OS-1-64 Lidar and Object Tracking
Ouster
Ouster's OS-1-64 Lidar and Object Tracking sensor uses advanced LiDAR technology to constantly detect, track, and alert authorities to threats in a secure area.
The OS-1-64 brings 360º vision, 24/7 night vision, reliability in the most challenging of weather conditions, and the lowest price of any sensor of its kind. Ouster, a startup out of Silicon Valley, CA, won the Judge's Choice for the GSX 2019 Innovative Product Awards.
--
Ethan Adams
BIMsmith is a free cloud platform for architects, designers, and building professionals to research, select, and download building product data. Search, discover, compare, and download free Revit families on BIMsmith Market, build complete, data-rich Revit wall, floor, ceiling, and roof systems faster with BIMsmith Forge, or bring them both into your Revit workflow with the BIMsmith Revit Plugin.