The time has finally come to announce the winners of the #BIMsmithWinterWonderland Holiday Revit Family Competition!
We asked the BIMsmith and Revit communities to put some creativity into the 2020 holiday season by creating holiday-themed Revit families! We received a tremendous number of submissions and are thrilled to announce the winners of the 2020 competition. Both the winners and semifinalists will have their entries published for free download on BIMsmith Market.
Without further ado, here are the winners of this year's competition.
First Place - Garland
Creator: Laura Taylor
Company: ASD | SKY - San Francisco
The parameters on this garland created by Laura Taylor allow it to stretch to any length and the draped ends can be toggled on/off to fit that stair railing or mantle just perfectly. One of the coolest features about this family is as the size of the garland increases, it will automatically fill with leaves.
Second Place - Neon Sign
Creator: Philip Chan
Company: The Beck Group
Philip Chan came up with his idea for this 2020/2021 neon sign on New Year's Eve to celebrate and welcome the new year. This sign in a face-based Revit family and the material and visibility of the numbers are instance-based.
Third Place (Tied) - Elsa (Frozen)
Creator: Simon Yew
Company: VIA Architecture
Simon Yew decided to build this family from the ground up using adaptive modeling. The only added parameter was the material texture, where the user can change the material for skin, eyes, and cloth.
Third Place (Tied) - Snoopy, The Winter Baron
Creator: Brian Nickel
Company: Allied BIM, LLC
Brian Nickel decided to create the classic character Snoopy. The scene would not be complete without his famous dog house. Brian used two Revit families and designed this to the specifications of what Snoopy's house would be in real life.
Honorable Mention - Decorative Pendant
Creator: Parisa Sadeghi
Company: IBI Group
BIMsmith user Paris Sadeghi created a fully adjustable, scalable, honeycomb decorative pendant.
Congratulations to the 2020 Winners
This year's competition was a highlight around the BIMsmith office for the last month and a half and we appreciate everyone's participation. With this competition's great success, we can say for sure that we will bring it back next year – and who knows, we may up the ante! Thank you all again, and have a Happy New Year!
Want to use these Revit families in your own projects? Download for free on BIMsmith!

Recap: 2020 BIMsmith Winter Wonderland Semifinalists
Snow Globe
Creator: Allison Harper
Company: Hord Coplan Macht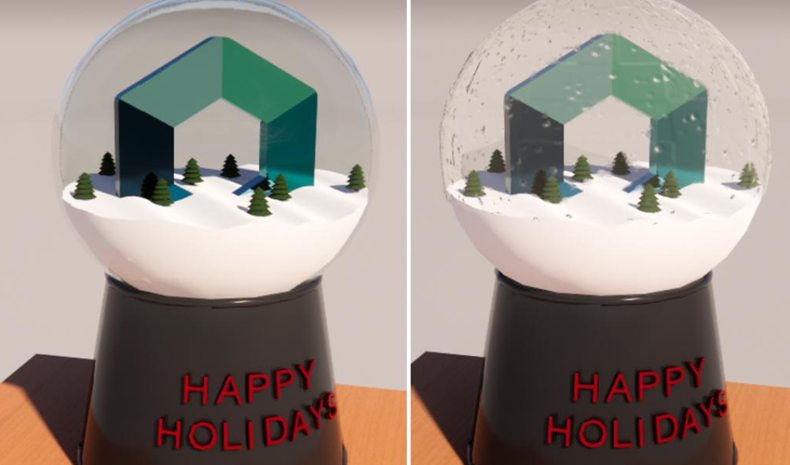 Allison Harper created a custom snow globe using the BIMsmith logo. The logo inside the snow globe can be changed to any company logo. One of the coolest features about this snow globe is it can either be still or shaken!
Letters for Santa
Creator: Carolyn Cressman
Carolyn Cressman, a BIMsmith user, decided to make a Christmas-themed mailbox, to honor all the postal workers that worked hard to deliver the crazy amount of packages this year. She also wanted to honor the USPS's Operation Santa which helped deliver Christmas to everyone!
Christmas Tree
Creator: Keegan Holdorf
Keegan Holdorf designed this intricate Christmas Tree. The tree offers the use of various model-in-place objects. The artificial-based design entails intricate details, such as its assembly (metal branches, base, and trunk), individual pine leaf groups, presents with various wrapping and bow styles, colored ornaments, tree star topper, and a string of lights with LED material to glow up the scene.
Storage Totes
Creator: John Pierson
Company: Parallax Team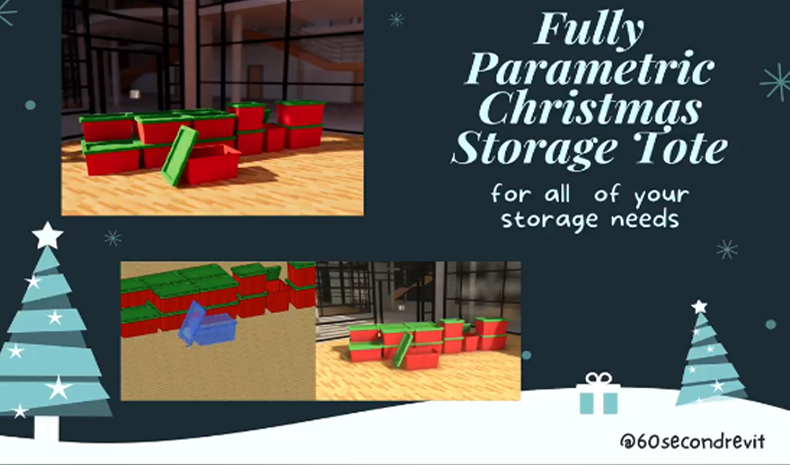 John Pierson created a fully parametric Christmas storage tote. The lid of the storage tote opens with a 3D grip handle that can slide in 3D views. The "slider" grip handle has visibility options to turn it on or off, and is also bounded to where it will not break if slid too far. The lid can be turned on or off as well.
RPC Tree with Lights
Creator: Paul Aubin
Company: Paul F. Aubin Consulting Services/Author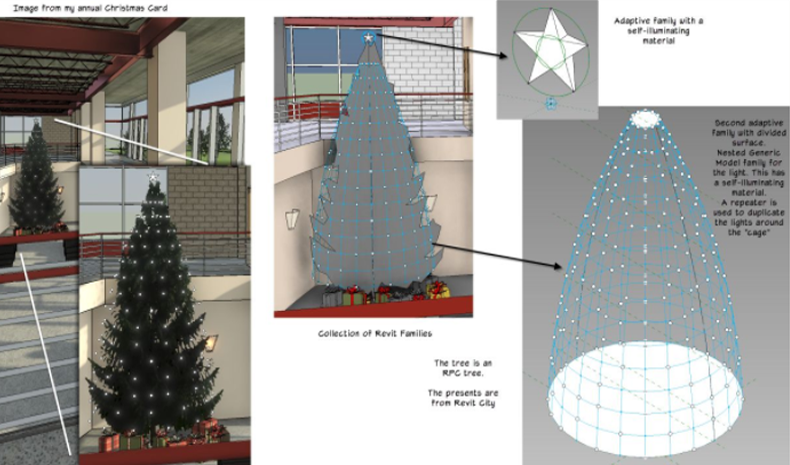 Paul Aubin created an RPC tree using a collection of Revit families. The star on the tree is an adaptive family with a self-illuminating material. There is a Nested Generic Model family for the lights, with self-illuminating material. A repeater is used to duplicate the lights around the "cage" of the tree.
Tiny House in a Snow Globe
Creator: Andrei Triffo
Company: O'Connell Mahon Architects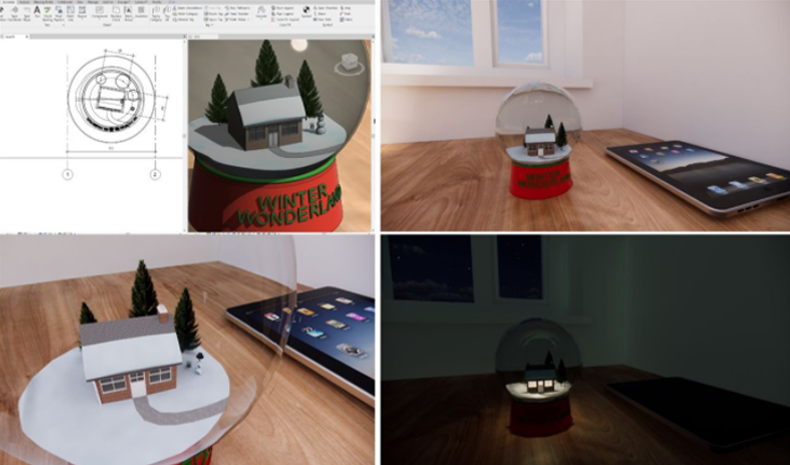 With possibly the tiniest house ever modeled in Revit, Andrei Triffo created this 35x29mm house inside of a snow globe.