The BIMsmith Best is back!
Every year, the BIMsmith team of architects and designers reviews new and up-and-coming building products for a look at what the building design community should be aware of as they design for the coming year.
The focus of the annual BIMsmith Best Awards falls each year on the International Builders Show (IBS) and Kitchen and Bath Industry Show (KBIS). As one of the largest industry shows in the world, IBS/KBIS provides the perfect opportunity for our team to get their hands on the newest and best products on the market for the coming year.
The team of architect and designer judges from BIMsmith explored the 2023 IBS/KBIS show floor in Las Vegas, Nevada and delivered awards across a variety of building product categories. From decorative lighting to stone façades, kitchen faucets, and fireplaces, this year's awards represent a diverse but exciting selection of leading products to consider specifying in 2023 and beyond.
Here are this year's winners of the 2023 BIMsmith Best Awards.
2023 BIMsmith Best Award Winners
Crosby Large Chandelier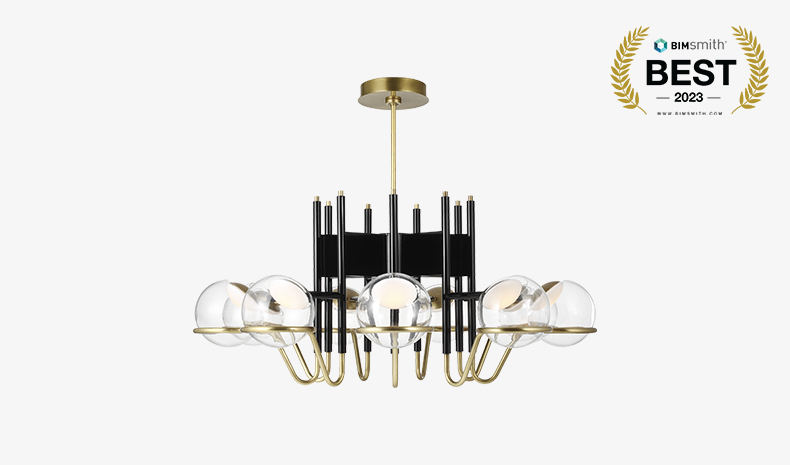 The Crosby Large Chandelier by AvroKO blends the radiance of 1970's Italian flair with a striking yet simple design. The glossy black metal armature yields to an elegant brass "harp" holding a glass globe dispersing light fluidly and illuminating any space with balance.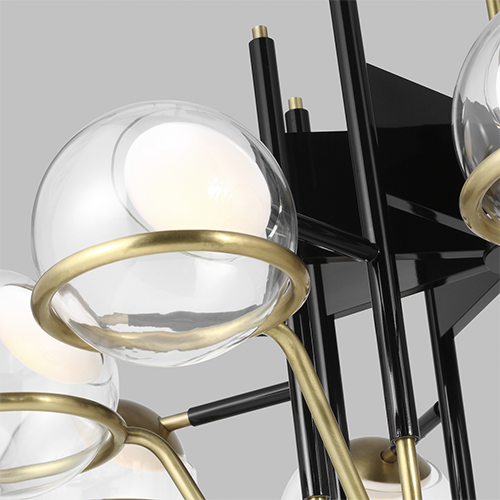 The chandelier includes 42.8 watts and 3368 total delivered lumens in 2700K LED modules.
Key stats:
From the brand formerly known as Tech Lighting
An excellent centerpiece for a large table or feature design space
Supplied with an optional brass cap for a customized look
Made of natural brass, making it a living finish that will patina and warm with age which adds richness
Fully dimmable integrated LED lamp
Protected by a 5-year warranty
Stainless Steel Fire Pit Burners with Birch Bon-Fyre™ Logs
by Fire Garden™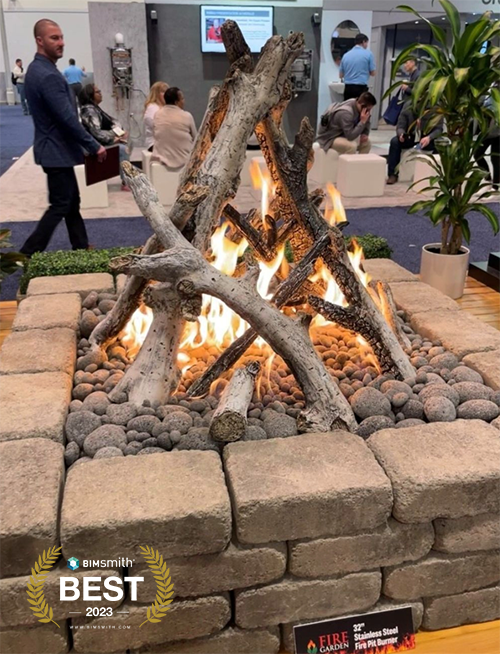 Fire Garden's stainless steel fire pit burners and accompanying Birch Bon-Fyre™ logs bring a mesmerizing warmth to any outdoor setting. The ambiance, realism, and functionality of this system make it an appealing choice for just about any project. Plus, the burner is self-draining and comes with the ultra-reliable All-Weather 24V AC Hot Shot™ Electronic Ignition System to light right away every time.
Mystix™ Steam System
by Brizo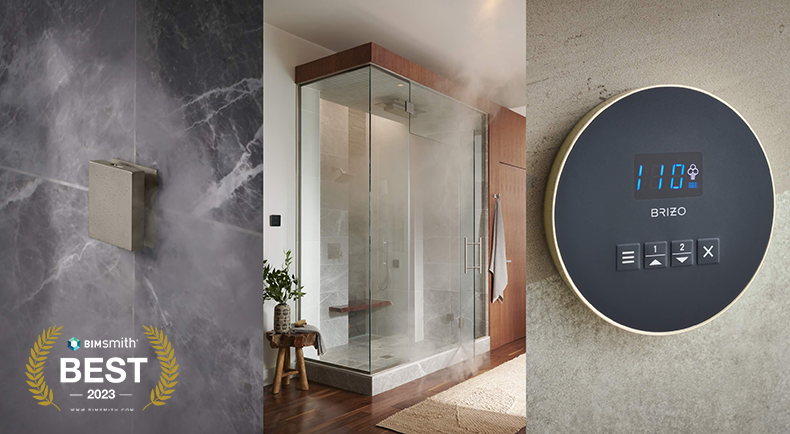 The new immersive Mystix™ Steam System from Brizo (available Summer 2023) brings a sauna-like sensory experience to your shower with the advanced Mystix™ Steam Generator, designed to regulate temperature, disperse steam evenly, and transform showering into a restorative spa.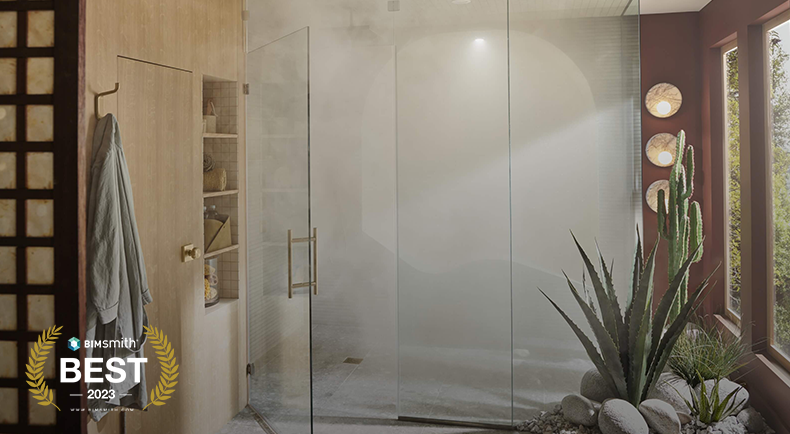 Brizo offers an Elemental Experience with two user presets and a Transcendent Experience that brings the full breadth of the Brizo SensoryPlus™ Digital Shower System, including aromatherapy, chromatherapy, and audiotherapy options.

Purist Suspend Ceiling-Mount Kitchen Sink Faucet
by Kohler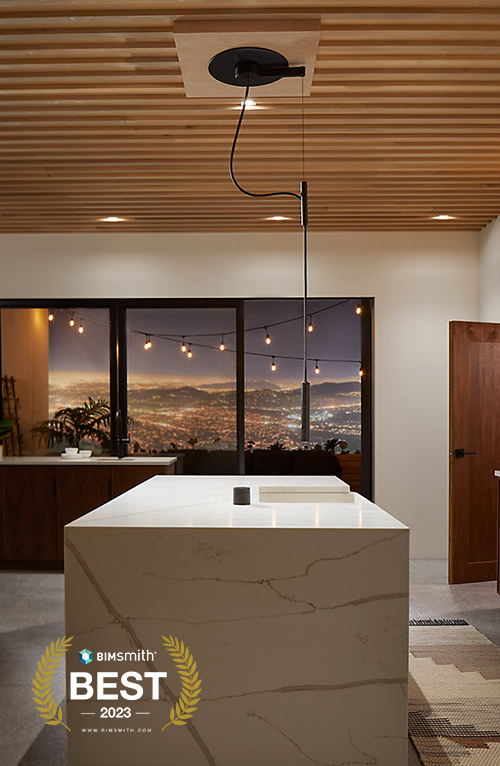 The Purist Suspend kitchen faucet mounts from the ceiling of your kitchen. With its seven-foot braided hose, it can be kept cleanly out of the way until ready for use.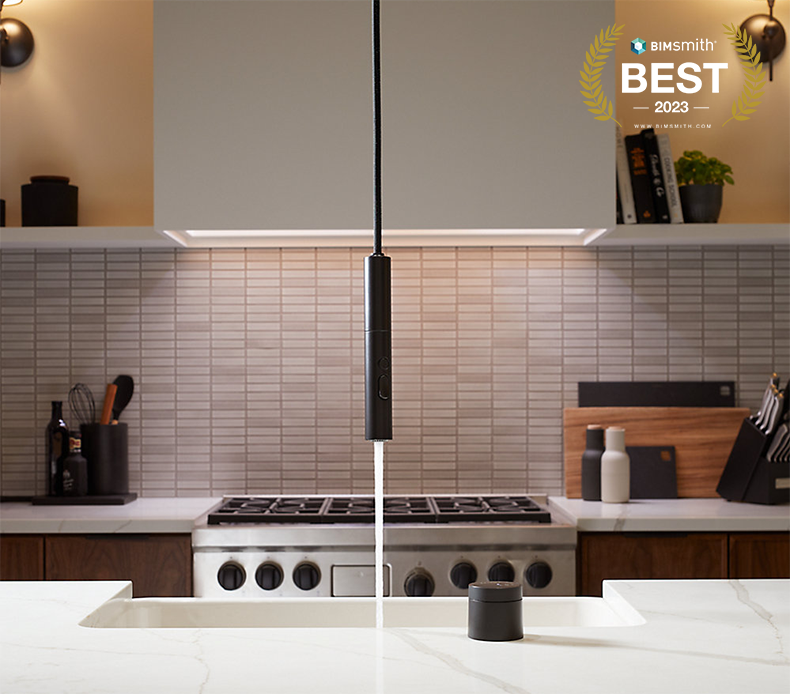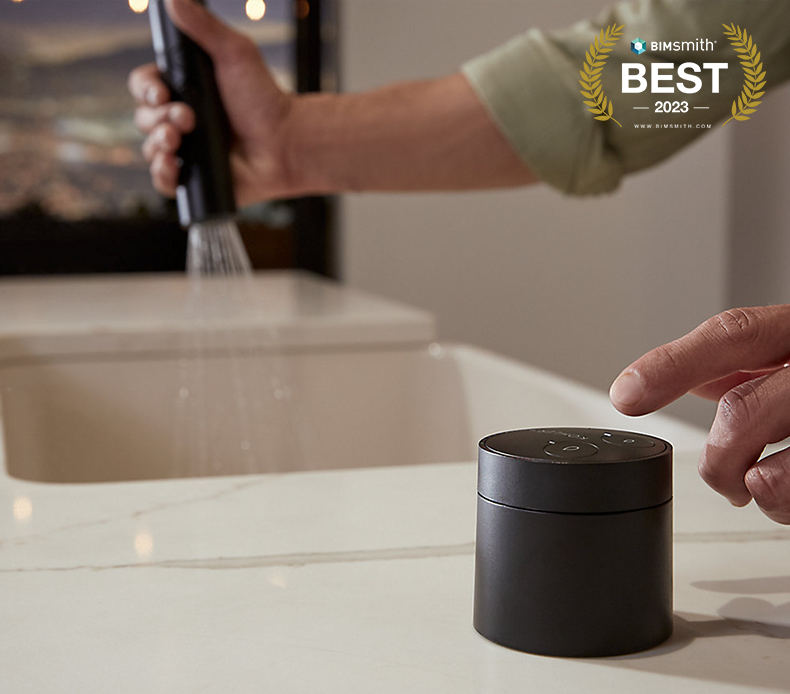 The long hose allows the freedom to move the sprayhead around the kitchen, whether to fill a kettle on the stove or water a potted plant on the floor. Simple on/off operation and three spray functions are controlled by a remote puck that can be moved throughout the kitchen.
Barococo Series: Modular Stone Wall Panels
by Borrowed Earth Collaborative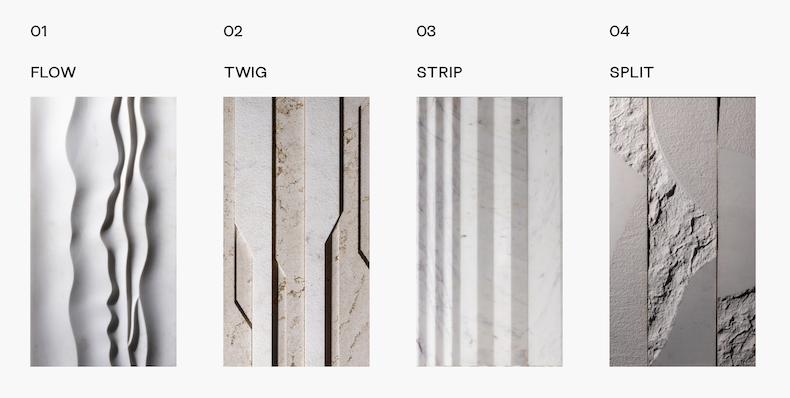 Conceptualized by Ruchika Grover, the Borrowed Earth Collaborative works to transform natural materials into works of architectural art.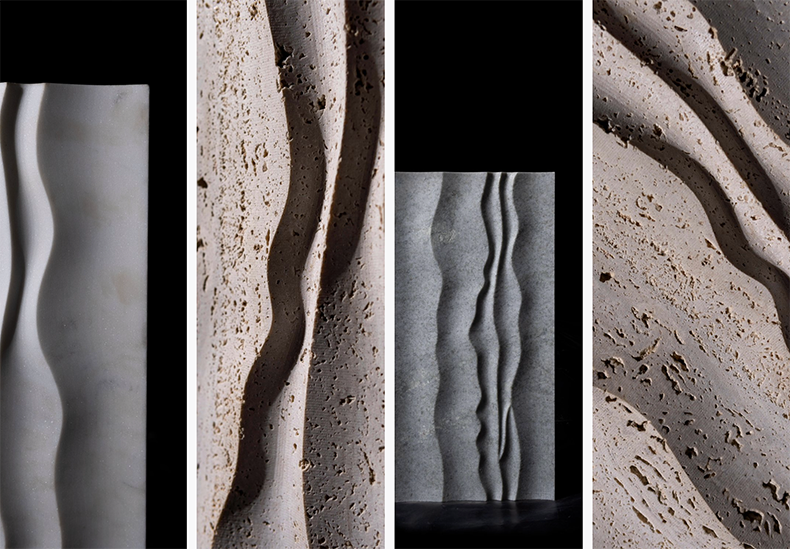 The Barococo Series is one of Borrowed Earth's more ornate collections. These modular surfaces are ideal for the facades and other accent walls. With multiple patterns, including Flow, Twig, Strip, and Split, the Barococo series is designed to be played with.
"We value the natural cycle of life & materials on Earth. What is borrowed, is returned; what is consumed, is given back for reformation.

Hence, we believe in working with only stone in its purest form — no chemicals are used externally to mutilate natural stone's qualities."
Calix Decorative Glass Door
by Thermatru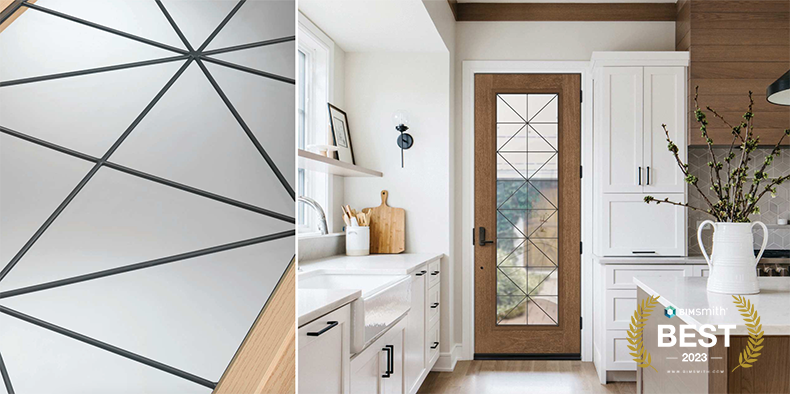 Thermatru opened 2023 with a series of new decorative glass designs, including the Calix pattern. Calix includes an on-trend "x" design and a delicate diamond pattern with 1 clear glass, providing fine-lined geometric appeal. Caming finish options include Black Nickel, Brushed Nickel, and Brass. The pattern is available in a wide variety of door series from Thermatru and glass sizes.
Congratulations to the Winners of the 2023 BIMsmith Best Awards
This year's IBS/KBIS show was the largest event since before the pandemic and the enthusiasm in the air made the events of the past few years feel like a distant memory.
On behalf of all of the judges from the BIMsmith Team, we extend sincere congratulations to all of this year's winners. See you next year!
Learn more about the BIMsmith Best Awards.
--
BIMsmith is a free cloud platform for architects, designers, and building professionals to research, select, and download building product data. Search, discover, compare, and download free Revit families on BIMsmith Market, or build complete, data-rich Revit wall, floor, ceiling, and roof systems faster with the free BIMsmith Forge Revit configurator.