COMPETITION UPDATE: Here are the official winners of the 2021 BIMsmith Winter Wonderland Holiday Revit Family Competition.
--
It's finally December, which can only mean one thing: it's time for some holiday Revit families!
For the second year in a row, BIMsmith wants to help spread holiday cheer with the Second Annual BIMsmith Winter Wonderland Holiday Revit Family competition!
Show your holiday spirit by creating a winter holiday-themed Revit family for the chance to win fame, glory, and some exciting prizes! Submissions can be related to Christmas, Hanukkah, Kwanzaa, the New Year, or something else winter-related. We want to celebrate your creativity and talent on display as we close out 2021 in classic BIMsmith style.
2021 Rules and Requirements
Here is what you need to participate in the 2021 Holiday Revit Family Competition
• Create a Revit family (be creative!)
• Relate the family to a seasonal/holiday theme (i.e., Christmas, Hanukkah, New Year's, etc.)
• To submit your entry, post an image of your Revit family on one of your public social media channels (either Facebook, Twitter, Instagram, or LinkedIn). Follow & tag BIMsmith and use the hashtag #BIMsmithWinterWonderland.
• You may enter with a simple .jpg or screenshot. (If your entry is chosen as a finalist, we will request your .rfa file for review.)
• Multiple entries will be accepted (and encouraged!)
• The competition is open to everyone
• Submissions must be your original work and not the intellectual property of any other individuals or organizations.
• Submission Deadline: Tuesday, December 28th, 2021 at 5:00pm CT
Judging Criteria
The BIMsmith Team of Revit experts and celebrity judges will judge the competition based on three criteria:
• Creativity - Get inspired and have some fun!
• Execution - How well did you build your family? Would it pass your BIM Manager's standards? Is it usable? Would YOU use it?
• Functionality – Does your family surpass basic geometry and incorporate legitimately useful functionality?
Our judging panel will feature some names and faces you'll recognize:

Need some inspiration? Check out our library of free Christmas Revit families!
Prizes
1st Place - $500 Amazon Gift Card
2nd Place - $350 Amazon Gift Card
3rd Place - $150 Amazon Gift Card
The top 10 entries will be given the opportunity to be published for public download BIMsmith Market.




Recap: 2020 BIMsmith Winter Wonderland Winners
Need some inspiration for your 2021 Revit family entry? Here are some of the winners from the 2020 BIMsmith Winter Wonderland Holiday Revit Family Competition.
First Place - Garland
Creator: Laura Taylor
Company: ASD | SKY - San Francisco
The parameters on this garland created by Laura Taylor allow it to stretch to any length and the draped ends can be toggled on/off to fit that stair railing or mantle just perfectly. One of the coolest features about this family is as the size of the garland increases, it will automatically fill with leaves.
Second Place - Neon Sign
Creator: Philip Chan
Company: The Beck Group
Philip Chan came up with his idea for this 2020/2021 neon sign on New Year's Eve to celebrate and welcome the new year. This sign in a face-based Revit family and the material and visibility of the numbers are instance-based.
Third Place (Tied) - Elsa (Frozen)
Creator: Simon Yew
Company: VIA Architecture
Simon Yew decided to build this family from the ground up using adaptive modeling. The only added parameter was the material texture, where the user can change the material for skin, eyes, and cloth.
Third Place (Tied) - Snoopy, The Winter Baron
Creator: Brian Nickel
Company: Allied BIM, LLC
Brian Nickel decided to create the classic character Snoopy. The scene would not be complete without his famous dog house. Brian used two Revit families and designed this to the specifications of what Snoopy's house would be in real life.
Honorable Mention - Decorative Pendant
Creator: Parisa Sadeghi
Company: IBI Group
BIMsmith user Paris Sadeghi created a fully adjustable, scalable, honeycomb decorative pendant.
Snow Globe
Creator: Allison Harper
Company: Hord Coplan Macht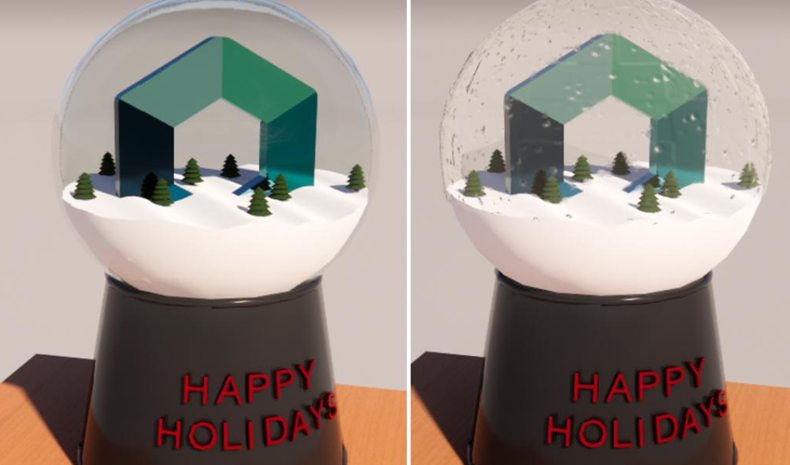 Allison Harper created a custom snow globe using the BIMsmith logo. The logo inside the snow globe can be changed to any company logo. One of the coolest features about this snow globe is it can either be still or shaken!
Letters for Santa
Creator: Carolyn Cressman
Carolyn Cressman, a BIMsmith user, decided to make a Christmas-themed mailbox, to honor all the postal workers that worked hard to deliver the crazy amount of packages this year. She also wanted to honor the USPS's Operation Santa which helped deliver Christmas to everyone!
Christmas Tree
Creator: Keegan Holdorf
Keegan Holdorf designed this intricate Christmas Tree. The tree offers the use of various model-in-place objects. The artificial-based design entails intricate details, such as its assembly (metal branches, base, and trunk), individual pine leaf groups, presents with various wrapping and bow styles, colored ornaments, tree star topper, and a string of lights with LED material to glow up the scene.
Storage Totes
Creator: John Pierson
Company: Parallax Team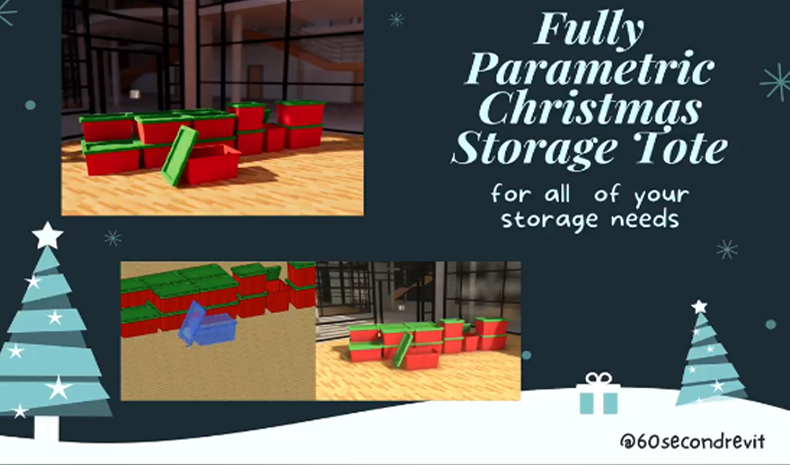 John Pierson created a fully parametric Christmas storage tote. The lid of the storage tote opens with a 3D grip handle that can slide in 3D views. The "slider" grip handle has visibility options to turn it on or off, and is also bounded to where it will not break if slid too far. The lid can be turned on or off as well.
RPC Tree with Lights
Creator: Paul Aubin
Company: Paul F. Aubin Consulting Services/Author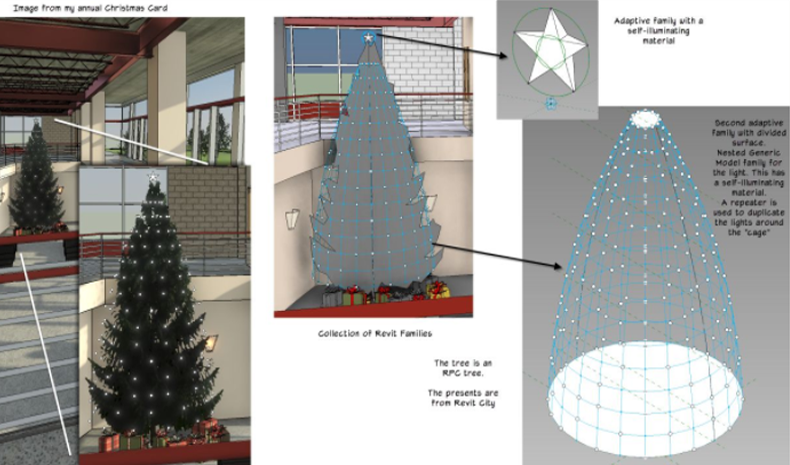 Paul Aubin created an RPC tree using a collection of Revit families. The star on the tree is an adaptive family with a self-illuminating material. There is a Nested Generic Model family for the lights, with self-illuminating material. A repeater is used to duplicate the lights around the "cage" of the tree.
Tiny House in a Snow Globe
Creator: Andrei Triffo
Company: O'Connell Mahon Architects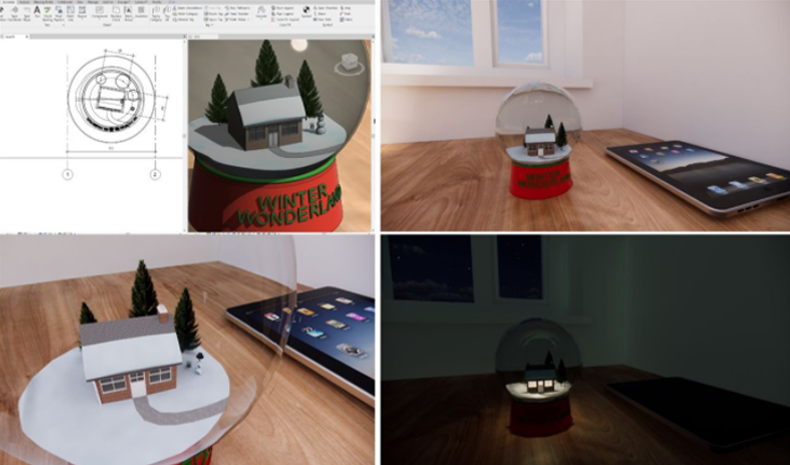 With possibly the tiniest house ever modeled in Revit, Andrei Triffo created this 35x29mm house inside of a snow globe.
BIMsmith is a free cloud platform for architects, designers, and building professionals to research, select, and download building product data. Search, discover, compare, and download free Revit families on BIMsmith Market, or build complete, data-rich Revit wall, floor, ceiling, and roof systems faster with BIMsmith Forge.