Four years after the devastating fire that blazed through Paris's Notre-Dame Cathedral, French officials confirmed last month that the reconstruction is on track to be completed by December 2024. While the reopening won't coincide with the Paris 2024 Olympics as initially planned, the Gothic cathedral's iconic spire is slated to be completed by the end of 2023.
"The return of the spire in Paris' sky will in my opinion be the symbol that we are winning the battle of Notre Dame," project leader General Jean-Louis Georgelin told the Associated Press.
The over 850-year-old structure is no stranger to restoration; history buffs might recall that Victor Hugo's popular novel "The Hunchback of Notre-Dame" saved the decaying structure from demolition in the 19th century by exalting the beauty and craftsmanship of Gothic architecture to the general public.
"Each time, the hand of man rebuilt and improved [the Notre-Dame]," photojournalist Patrick Zachmann told Magnum Photos magazine, "There is an historical line that is not only about patrimony or about the restoration of this iconic monument: it's also about people: the women and men who are involved in this restoration."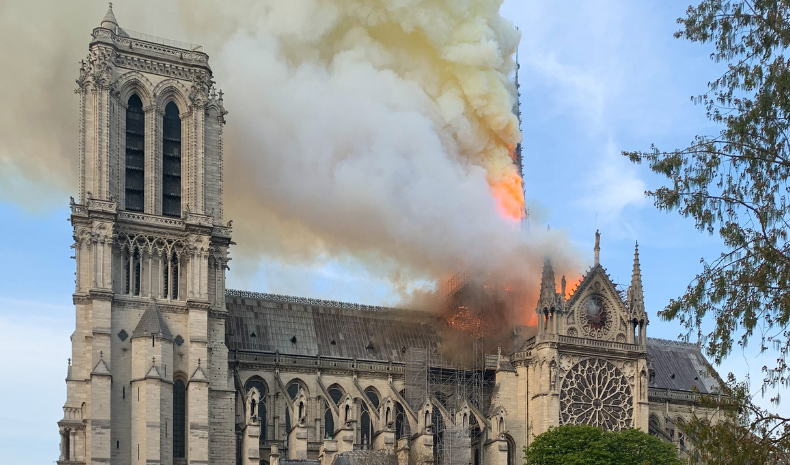 Image Source: Wikipedia
April 15, 2019: The Day Notre-Dame Burned
On April 15, 2019 a fire of unknown origin destroyed the roof and spire of the cathedral –both made of ancient oak–leading to internal vaulting damage and the loss of irreplaceable religious relics and artwork. Fortunately, the much-photographed stained glass windows and rectangular towers survived, but because the French state-owned building was uninsured due to cost constraints, funding was the next big hurdle in the restoration process.
Pledges from corporations, individuals, and other governments flooded in and rebuilding plans started to take shape in summer 2019. Disagreements over modernization delayed progress, with consensus ultimately building toward an exact recreation, including a replica of architect Eugene Viollet-le-Duc's 19th-century spire.
The Pandemic halted plans again in spring 2020, and by November 2020 all the scaffolding from a previous renovation project was safely removed. Much of 2021 was dedicated to securing the cathedral's remaining structures to prepare for 2022 reconstruction. In February 2023 the process of reinstalling the spire began.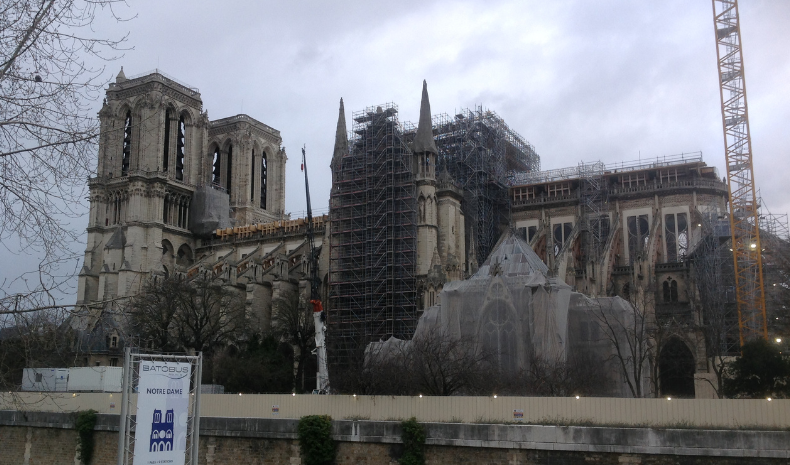 Image Source: Wikipedia
Rebuilding Notre-Dame: Balancing the Old and New
With more than 1,000 individuals dedicated to rebuilding efforts, the plan is to recreate the structure as faithfully as possible using historically accurate materials and methodology. This means every task, from carpentry to stone restoration, is executed at the highest and most practiced level by skilled artisans and tradesmen. The technical challenges of eschewing modern methods for the traditional are a source of pride for Notre-Dame's architects.
"We're going to participate in the reconstruction of this absolutely emblematic, absolutely unique, absolutely magnificent and absolutely iconic work," Chief Architect Rémi Fromont told PBS. "It was one of the first great Gothic frameworks, extremely well designed and ahead of its time, from a technical point of view.
"We're going to restore and rebuild the missing parts, and that's something unique in a career. We'll do it with all our heart, passion and, above all, know-how."
Fromont pointed out that the identical rebuild isn't a matter of proving architectural expertise. Changing the materials of the roof would change how the entire building functions, for instance. To maintain the roof's integrity, architects sourced 150 year old oak trees from French public forests. Over 1000 oaks will be used in construction.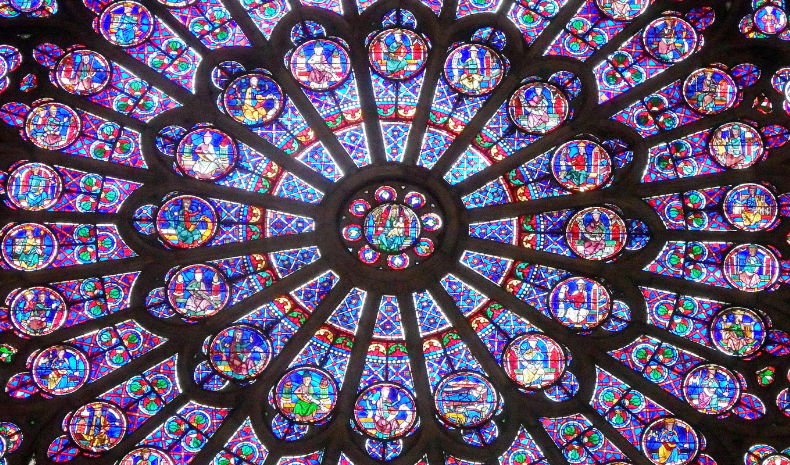 Image Source: Unsplash
Meanwhile, the current restoration has given glass conservationists unprecedented access and insight into restorations of the past. They are carefully studying the stained glass windows, determining which shards are from the original 13th century build.
"It's teaching us how expert these builders were in those days," Conservation Architect Elsie Owusu told PBS, "It's a testament to their technical competence and their vision that they put in these structural elements which have preserved the building for us."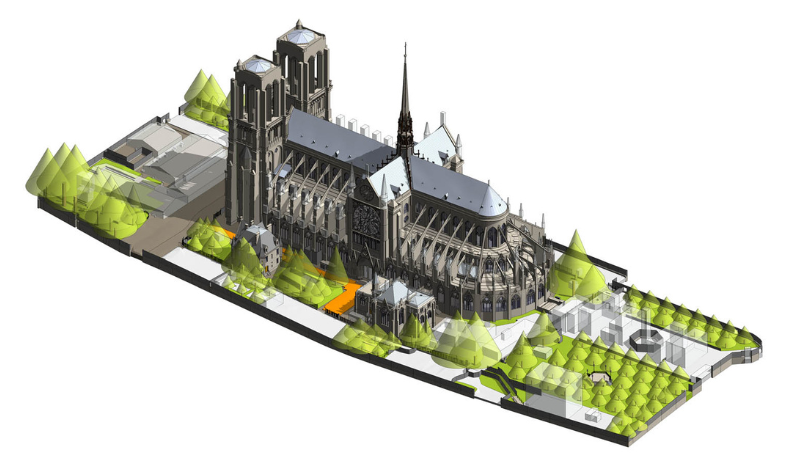 Image Source: AEC Magazine
Of course, not every time-honored technique is feasible for the rebuild. One integral technological advancement since the 13th century: Autodesk. The company is assisting generously, providing builders with BIM software Revit, Navisworks, ReCap Pro, and access to the Autodesk AEC Collection as well as additional financial support. Fortuitously, Autodesk had already created a 3D BIM project of the cathedral using its reality capture and BIM technology, enabling architects to create a precise model for the post-fire reconstruction.
To collaborate seamlessly among the many companies and trades involved, Autodesk is equipping project leaders with the BIM 360 collaboration platform.
"[Y]ou can imagine that on such a big reconstruction... it's important to have a BIM strategy to reconstruct faster, in a more efficient way," Emmanuel Di Giacomo, Autodesk BIM ecosystem development manager for Europe (EMEA) told Engineering.com, "It's a big number of workers on-site, so you have to be sure that they can all work safely and efficiently so that is where BIM can be really helpful in that domain."
Is Notre-Dame Open During Reconstruction?
While tourists can't access the cathedral during construction, a free exhibition located beneath the building awaits parties eager to learn about the restoration process. Small scale replicas, antiquities, and building materials are on display as well as a virtual reality show on the history of Notre-Dame.
What's Next for Notre-Dame?
Initially estimated by experts to be a 20 to 40 year process, the reconstruction of Notre-Dame Cathedral is likely to be completed in under six years, a huge coup for its many dedicated contributors.
Prior to the fire, about 13 million people visited Notre-Dame each year. The hope is that tourists and worshippers will return to the cathedral in December 2024 and marvel at the structure's craftsmanship and history with renewed interest and reverence.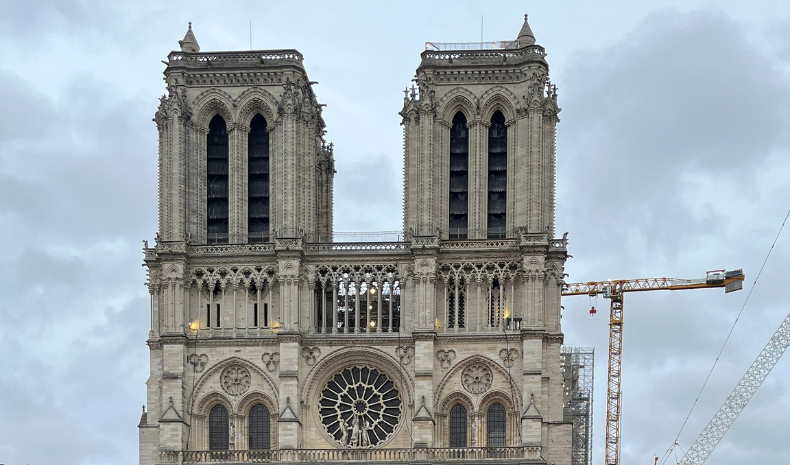 Image Source: Wikipedia
Source Materials:
https://www.friendsofnotredamedeparis.org/reconstruction-progress/
https://www.afar.com/magazine/what-will-it-take-to-rebuild-notre-dame-cathedral
https://news.artnet.com/art-world/notre-dame-reopening-delayed-exhibition-reconstruction-2266468
https://news.artnet.com/art-world/notre-dame-restoration-oak-trees-1957416
https://apnews.com/article/notre-dame-spire-reconstruction-reopening-2024-fire-d99092589b54c5f1f512a4c953dc7b07
https://www.cbsnews.com/news/notre-dame-cathedral-rebuild-in-paris-could-take-40-years/
https://www.magnumphotos.com/arts-culture/patrick-zachmann-notre-dame-fire-reconstruction/
https://www.washingtonpost.com/history/2019/04/15/notre-dame-was-ruins-victor-hugos-novel-about-hunchback-saved-it/
--
BIMsmith is a free cloud platform for architects, designers, and building professionals to research, select, and download building product data. Search, discover, compare, and download free Revit families on BIMsmith Market, or build complete, data-rich Revit wall, floor, ceiling, and roof systems faster with BIMsmith Forge.