As with all building elements, choices are abundant when it comes to lighting. One lighting category that has almost unlimited options is downlighting.
Downlights are one of the most common types of lighting, found in both residential and commercial environments. These recessed luminaires can deliver ambient, task, or accent lighting. Downlights are available in various sizes, shapes, and finishes with numerous lumen output, color temperature, and beam spread options to elevate the aesthetic of a space while supporting the lighting requirements.
Because of the vast options available, selecting the right downlight can be a confusing, if not stressful process. In fact, if you aren't a lighting specialist, you may not even know where to start.
With the help of leading lighting manufacturer Focal Point, our team of architects provided four tips for selecting the right downlight for your next project.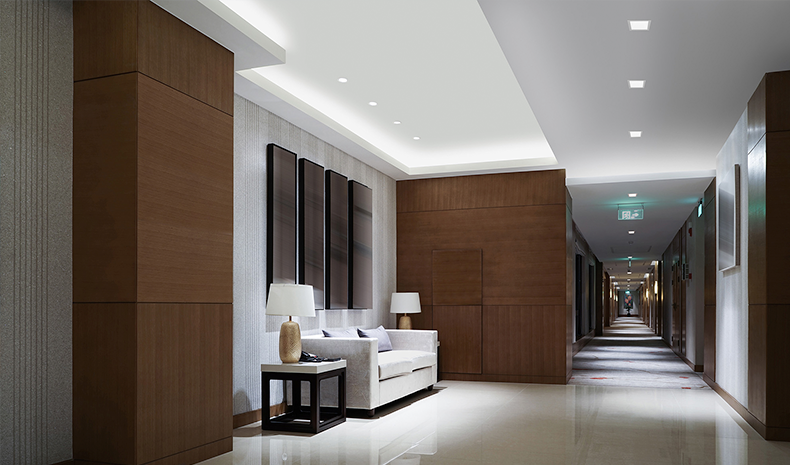 1. Determine the Purpose of Your Room
Understanding the purpose of the room is key to selecting a downlight. Is it a classroom or an office space? Will there be detailed tasks being performed regularly?
Once you have defined how the room will be used, begin laying out the designated areas for focused or general tasks within the space, such as a lounge area or workstations.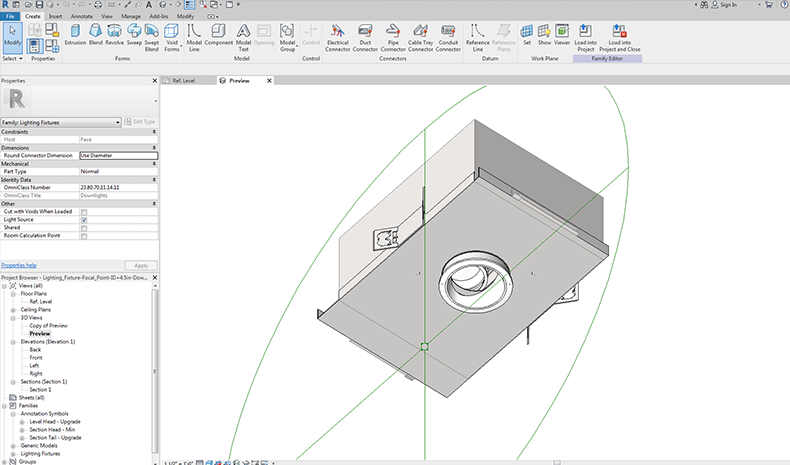 2. Evaluate What Types of Downlights You Will Need
A complete family of downlights contains a downlight, wall wash, and adjustable accent light with matching aperture size and shape, color temperature, and finish options.
– Downlights are used for providing general illumination
– Wall wash luminaires are used to evenly illuminate vertical surfaces, which can make a room appear larger
– Adjustable accent lights are used to highlight features in a room, such as artwork, sculptures or trophies
If your space requires one or more of these types of downlights, it is typically best to select a manufacturer with a complete downlight family. Some leading manufacturers offer interchangeable trims to accommodate changes in the field and ease the installation process.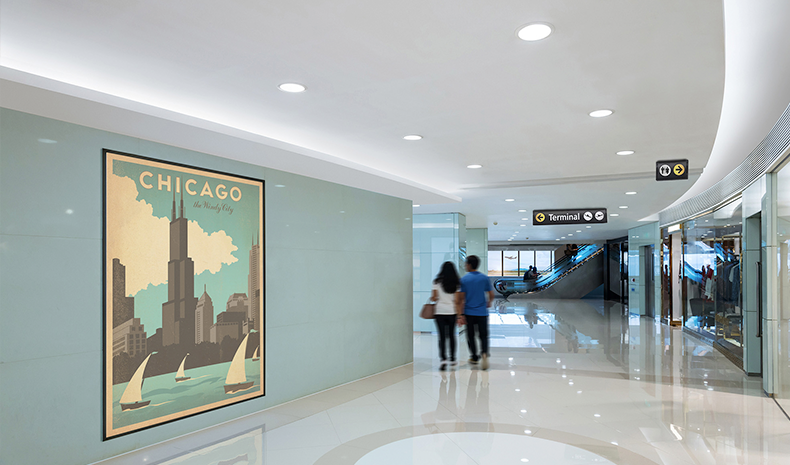 3. Calculate Required Lumen Output and Beam Spread
A lumen is a unit of measurement of light. Most manufacturers will provide a value for total lumens in their product specifications, or the total amount of light emitted by the luminaire.
To determine the amount of light or lumen output needed in your space, you should multiply the room square footage by the required footcandles.
Lumen output = square footage of room x required footcandles
Footcandles are a measurement of how much light strikes a surface (e.g. a desk or a wall) when a light fixture is positioned one foot away from its source. (Lighting industry standards prescribe the required footcandles for various types of rooms and tasks; reference the IESNA Lighting Handbook to determine the footcandles required for your project.)
For example, if your room measures 10ft x 20ft, it is 200 square feet. If this room is a private office space, the prescribed footcandles required on the working surface are between 30 and 50. Multiplied by 200, this translates to between 6,000 and 10,000 lumens.
Next, you will need to select the beam angle for each luminaire. The beam angle is how wide light is distributed onto a surface.
The choice of beam angle depends on your objective. For example, if your objective is to generally illuminate a corridor, then a wide beam angle is an ideal choice. If your goal is to light a desk, a narrow beam angle that delivers a more concentrated or narrow beam of light is optimal. You also must consider the ceiling height when selecting the appropriate beam angle; the distance from a light fixture to the surface is an important factor in the design process.
Furthermore, the spacing of the luminaires can also affect the amount of light distributed onto an area, such as a workstation. Leading luminaire manufacturers' product specification sheets should be referenced for spacing criteria.
Once you have your beam angle and spacing criteria established, you will be able to determine the number of downlights needed. In the example above, divide 8,000 (halfway between 6,000 and 10,000) by the number of luminaires to determine the lumen output for each luminaire.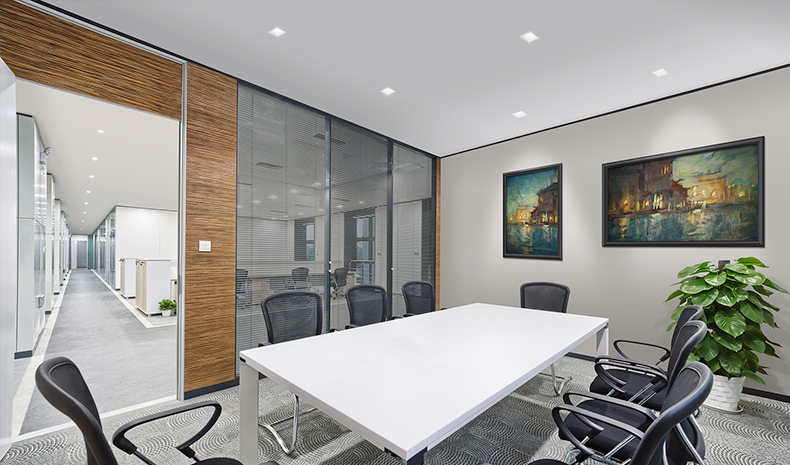 4. Select a Size, Shape, and Finish for Your Downlights
Selecting an appropriate aperture size should be based on the size of your room and the design aesthetic.
If your room is smaller or you're going for a more modern aesthetic, a narrow aperture downlight may be suitable. If the room is larger, more light output is typically required to illuminate the space and therefore a larger aperture luminaire may be the best choice. However, with the advancements in LED technology, some small aperture downlights can now yield the same light output as larger aperture downlights.
Once an aperture size has been determined, select the shape and finish of your downlights. Unlike size, shape and finish are purely an aesthetic choice.
Free Downlights to Add to Your Project
Now you're ready to add the perfect downlights to your next Revit project. You can get started by browsing free downlight Revit families from BIMsmith or a leading lighting manufacturer like Focal Point. You can also check out our Top 6 Tips to Make the Most Out of Your Lighting Revit Families.
--
BIMsmith is a free cloud platform for architects, designers, and building professionals to research, select, and download building product data. Search, discover, compare, and download free Revit families on BIMsmith Market, or build complete, data-rich Revit wall, floor, ceiling, and roof systems faster with BIMsmith Forge.