Construction of the largest cruise ship terminal in North America has begun. Upon completion in 2023, the MSC Cruises terminal will be capable of accommodating three cruise ships, 36,000 passengers, and 2,400 parking spaces.
The new terminal will accommodate the cruise line's largest and most environmentally advanced cruise ships, including MSC Cruises' newest ship - MSC Seashore.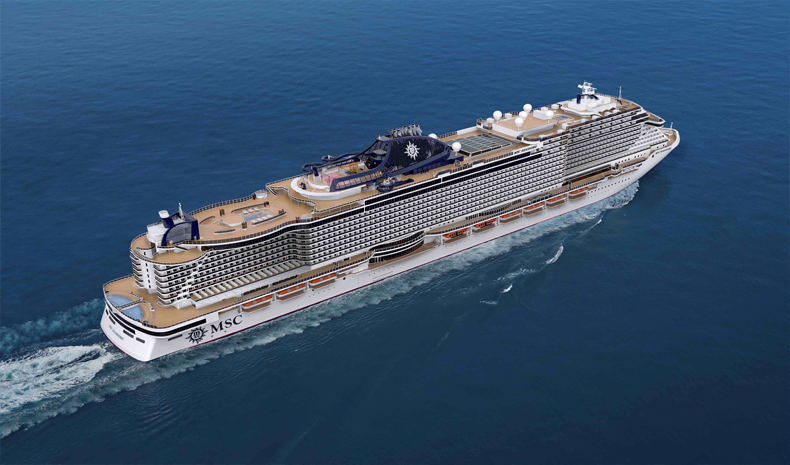 Image Source: Seatrade-cruise
MSC Cruises, one of two brands in the cruise division of Swiss shipping and logistics, is the largest cruise line in Europe and the third-largest in the world with a current fleet of 19 vessels.
Construction Details
Plans for the new cruise terminal have been underway since last July when the cruise division of MSC Group and Fincantieri announced a partnership that allowed Fincantieri Infrastructure to build the state-of-the-art facility. The building will also feature an eye-catching design from award-winning architecture firm Arquitectonica which will add a new layer of beauty to the Miami skyline.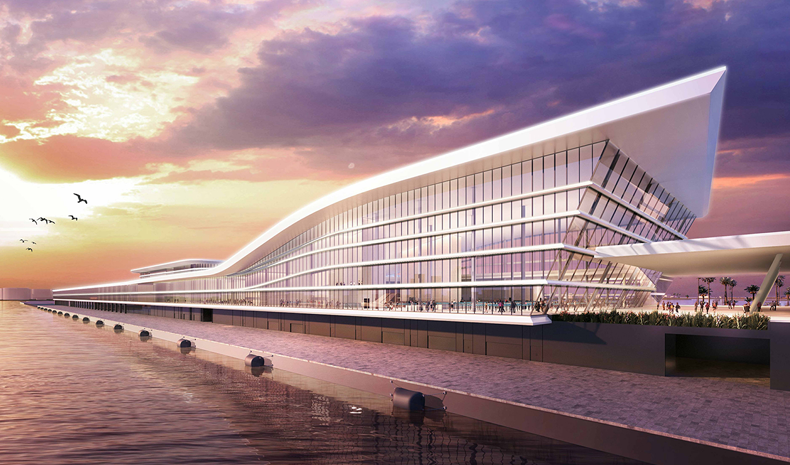 Image Source: Arquitectonica
The terminal will stretch 490,000 square feet over four levels and will cost an estimated $380 million. The structure will adopt a long, thin footprint in response to site constraints while allowing onboarding and offboarding functions to overlap across four levels. The flowing profile of the roof will be visible inside the terminal, emphasized by parallel lighting, and supported by colonnades to divide the vast space.
Image Source: The Architect's Newspaper
The structure will also be covered with curtain glazing, contrasted by warm wooden elements within.
The design team looks to achieve LEED Silver certification, while still incorporating technological features including biometric screening, which is more commonly found in airports.
Terminal Berths
The terminal will have three berths, two of which MSC will be building, measuring 2,460 feet in length, and the third berth will be built by Miami-Dade and will be available to other cruise lines.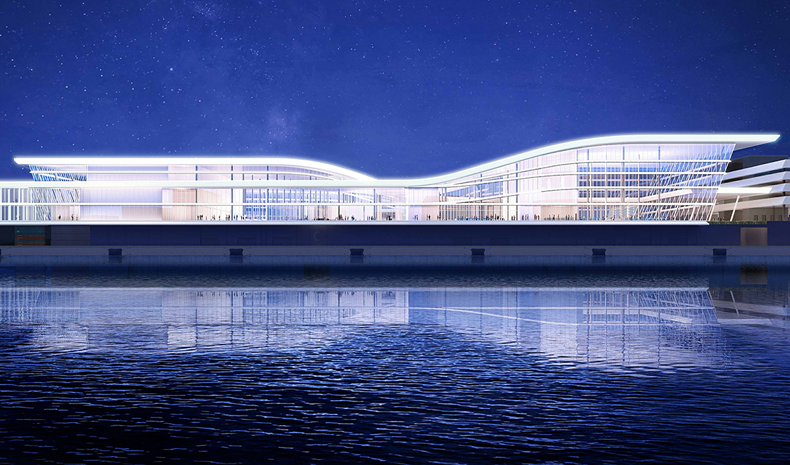 Image Source: Arquitectonica
The terminals will be able to support MSC's largest cruise ships, including the new LNG-fueled 208,000 gross ton ships currently under construction.
Most cruise ships that deploy at the new terminal will be able to plug into the local power grid, in line with PortMiami's plans to enable shore power connectivity.
Cruise Lines Moving Forward Post-Covid-19
After interest plummeted throughout the Covid-19 pandemic, the cruise industry is making a remarkable comeback, especially in South Florida. Miami-Dade County had already approved construction of the new terminal back in April 2019, and as detailed by the Miami Herald, MSC has already agreed to a 50-year lease of the port.
PortMiami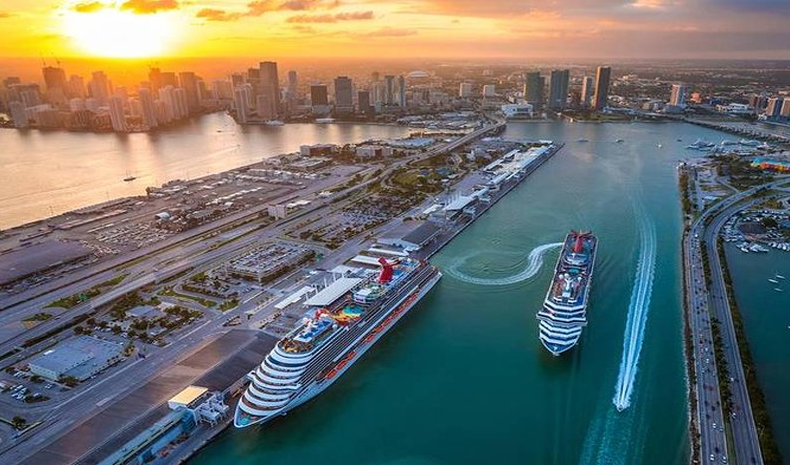 Image Source: Viator
The MSC terminal, also known as terminal AA, will join other signature facilities already in place at PortMiami.
Royal Caribbean Group built the first modern terminal – and currently the largest cruise terminal in North America – back in 2018 for an estimated $250 million.
Norwegian Cruise Line also built a signature terminal that went into operation last year, and recently PortMiami opened terminal V for Virgin Cruises.
--
Dylan Kleintop
BIMsmith is a free cloud platform for architects, designers, and building professionals to research, select, and download building product data. Search, discover, compare, and download free Revit families on BIMsmith Market, or build complete, data-rich Revit wall, floor, ceiling, and roof systems faster with BIMsmith Forge.