Everyone has heard the phrase, "Don't judge a book by its cover." But, when it comes to brick-and-mortar businesses, there's no getting around the fact that a building's exterior appearance is people's first impression. Without the proper lighting, your building's best architectural and landscape features go unnoticed at night. Even worse: people could find your outdoor space unsafe or unwelcoming (or not even find it in the first place).
When it comes to making spaces safer, more inviting, and more impressive-looking, architectural outdoor lighting is one of the best tools available. Just like with indoor lighting, a layered approach works best to create a pleasant wash of illumination and accentuate certain features while avoiding glare or hot spots.
We spoke with experts from Cooper Lighting Solutions, home of the architect-preferred Lumiére and Lumark brands, for tips on lighting for safety, hospitality, effect, and efficiency.
Creating a Warm Welcome: Outdoor Lighting for Hospitality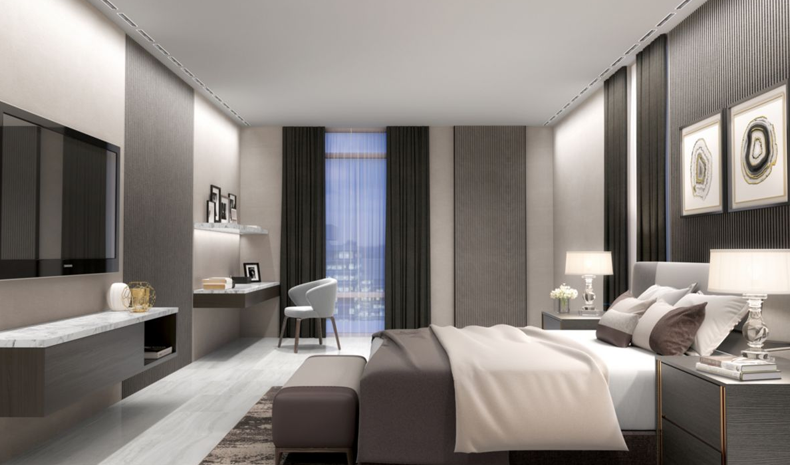 Both indoors and outdoors, lighting plays an outsized role in the emotional impact of design — for better or worse. Now that businesses like bars and restaurants have had to look for ways to expand outdoor services, exterior lighting has become even more significant. Here's what to consider to create the best first impression:
● Choose fixtures that hide the light source while blending into the natural surroundings; this way, your space will look impeccable day and night.
● You'll want to highlight the space without dominating it. After all, there's a reason people opt to spend time outdoors: nature! The ideal architectural lighting doesn't obscure outdoor features but gives people a new way to enjoy them by night.
● Consider color temperature's role. In places where people gather, like patios, you'll want to look for warmer, more romantic lighting.
● Look for dimmable options. Many of today's outdoor LED solutions also allow you to dim the lighting, which not only helps set the scene depending on the event or occasion at hand but saves energy.
Bringing the Drama: Outdoor Lighting for Effect
Lighting also plays a significant role in how people see and experience architecture; in many ways, it's just as important as the architecture itself. An intelligent lighting plan highlights the best features of your building and the surrounding landscape so that no design detail is lost.
● You can choose to highlight certain trees, shrubs, or water fountains. Not only does this add some drama to your space, but it creates ambient lighting sources without glare.
● Wall washing, or shining light along the side of a wall, is another popular technique to create a soothing glow while accentuating textures or unique features along your building.
● You can create intriguing shadow effects by moonlighting or placing a prominent fixture high up in a tree pointing down.
● You can also draw attention to unique features, like sculptures or shrubs, by placing a spotlight behind them. This technique is called "silhouetting."
● Finally, as with ambiance, color temperature is key to achieving the desired effects. For example, a bluer CCT (around 4200) is excellent for making greenery "pop."

Thinking Long-Term: Outdoor Lighting for Efficiency
Effective outdoor lighting is so much more than smart decor. It's good business! Since outdoor lighting is exposed to the elements and runs continuously at night, you'll want to look for high-quality products that combine optical precision with energy efficiency to keep maintenance and costs to a minimum.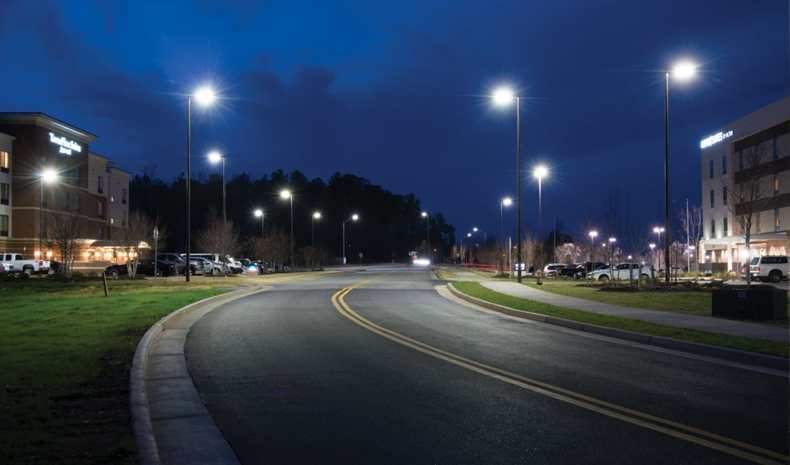 ● LED has become the standard in landscape lighting. While the upfront investment is higher than older methods, like fluorescent, the optics and performance are superior.
● Another critical feature to look for is heavy-duty construction. It's even better if the brand is backed by a warranty.
● A growing number of outdoor lighting solutions even feature smart lighting connectivity to systems like WaveLinx, allowing owners or facility managers to gain centralized control over their entire campus's lighting and visibility into energy usage.
Discover Architectural Lighting for Your Project
Want to experiment with outdoor architectural lighting solutions in Revit? Check out the Cooper Lighting Solutions BIM library to browse some of today's best and "brightest." Don't see a specific product you're looking for? Just click the "Request BIM" button to let us know which one, and we'd be happy to help.
BIMsmith is a free cloud platform for architects, designers, and building professionals to research, select, and download building product data. Search, discover, compare, and download free Revit families on BIMsmith Market, or build complete, data-rich Revit wall, floor, ceiling, and roof systems faster with BIMsmith Forge.