Chicago's Old Post Office has long been a monument to the industrial past of Chicago's southwest Loop, but after an $800 million renovation has just recently re-opened its doors to welcome new tenants. Completely modernized and restored, the Old Post Office represents one of the largest recent adaptive-reuse projects in American architecture.
The $800 million renovations of the building are undeniably impressive, evoking with the revitalized interior the same feeling of awe that people have experienced since 1921 gazing at the hulking limestone structure's exterior.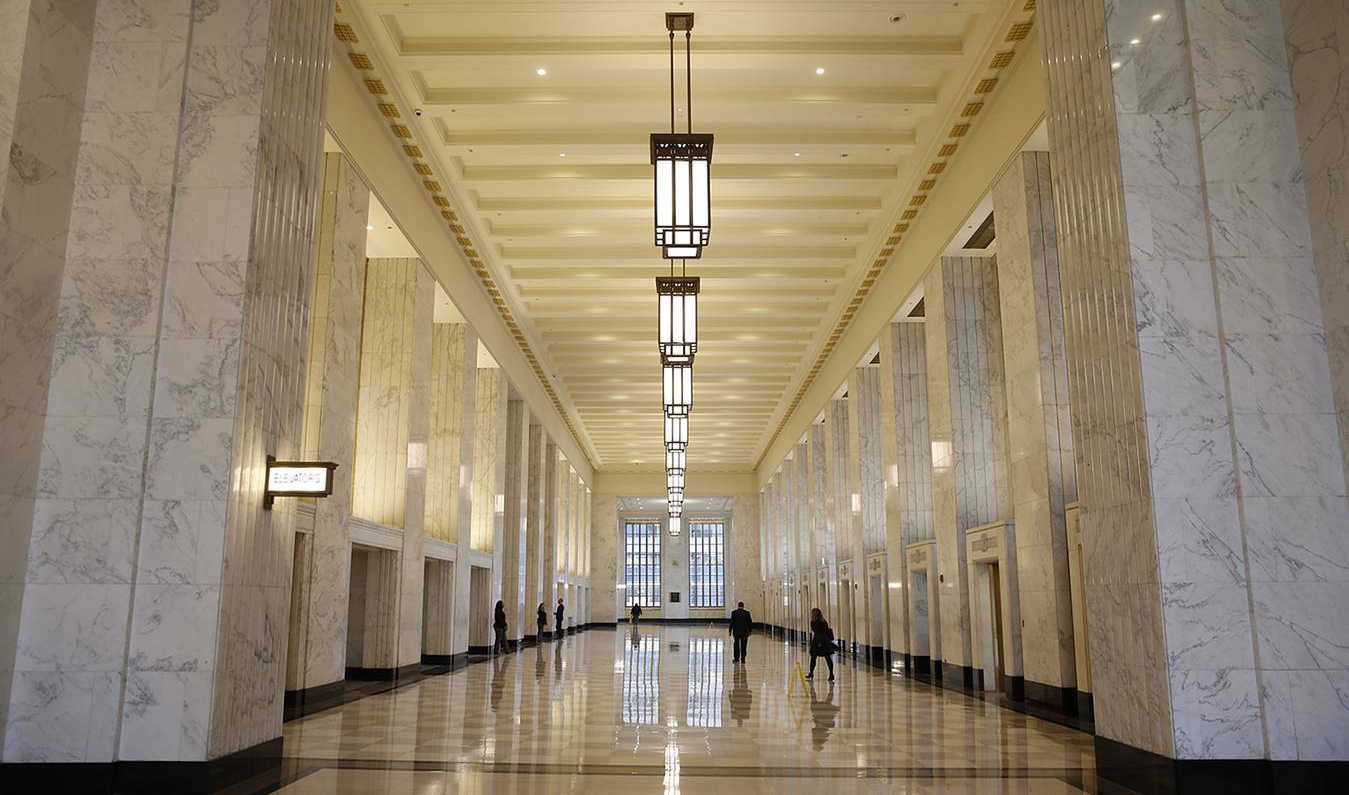 Old Meets New
The Old Post Office, vacant since the 1990s, reopened its doors in late October 2019 as part of Open House Chicago Weekend, boasting a gargantuan lobby of restored floor-to-ceiling marble and elegant art-deco décor. In addition to these luxurious spaces, the building features 80,000 square feet of amenities, including a full gym with a boxing ring, bocce ball court, and upscale bar located in the building's old vault.
The reuse of the building is not merely a return to its structural and aesthetic origins, but is also reflective of modern trends in architectural design. The revamped "Old Post Office" features a massive rooftop garden and river terrace, offering more opportunities for employees to embrace the outdoors in their workplaces. It also includes 2,100 new windows that offer significant natural light, even in the middle of the spacious floors.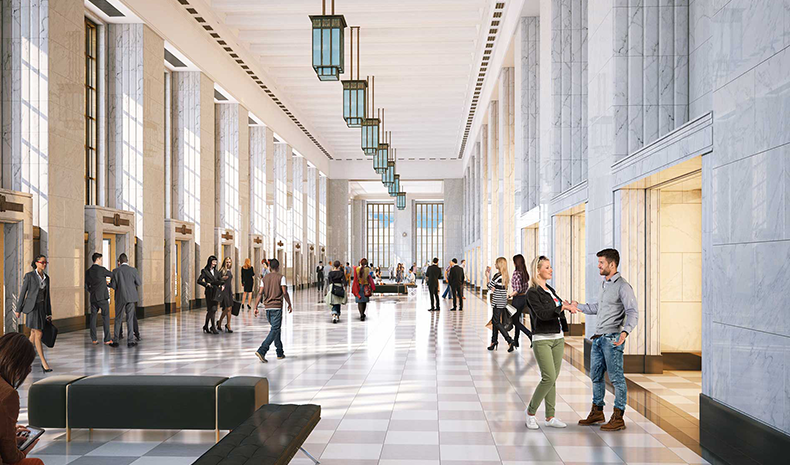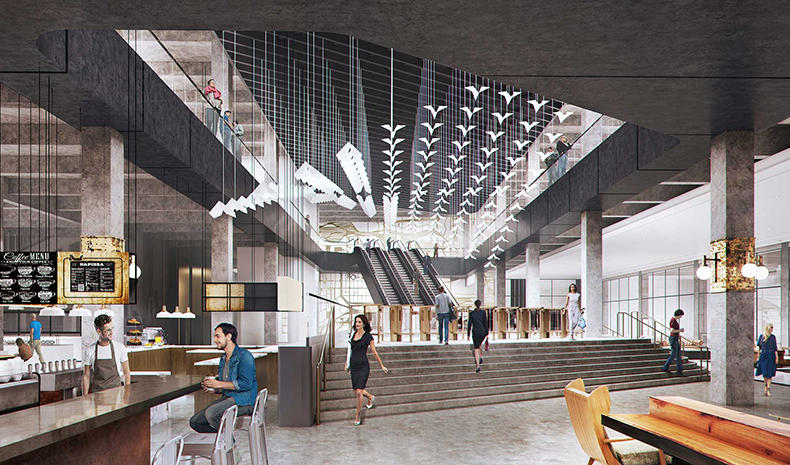 Renderings: Gensler
As a point of reference for its gargantuan size, the building is about as long as a football field with over 2.5 million square feet and space for nearly 2,000 workers per floor.
That's right, there's another structure within Chicago's Loop almost as long as Soldier Field. But in this case, the field is on the roof, and the building looks like a sideways skyscraper.
Creating Comfortable Workspaces in a Former Warehouse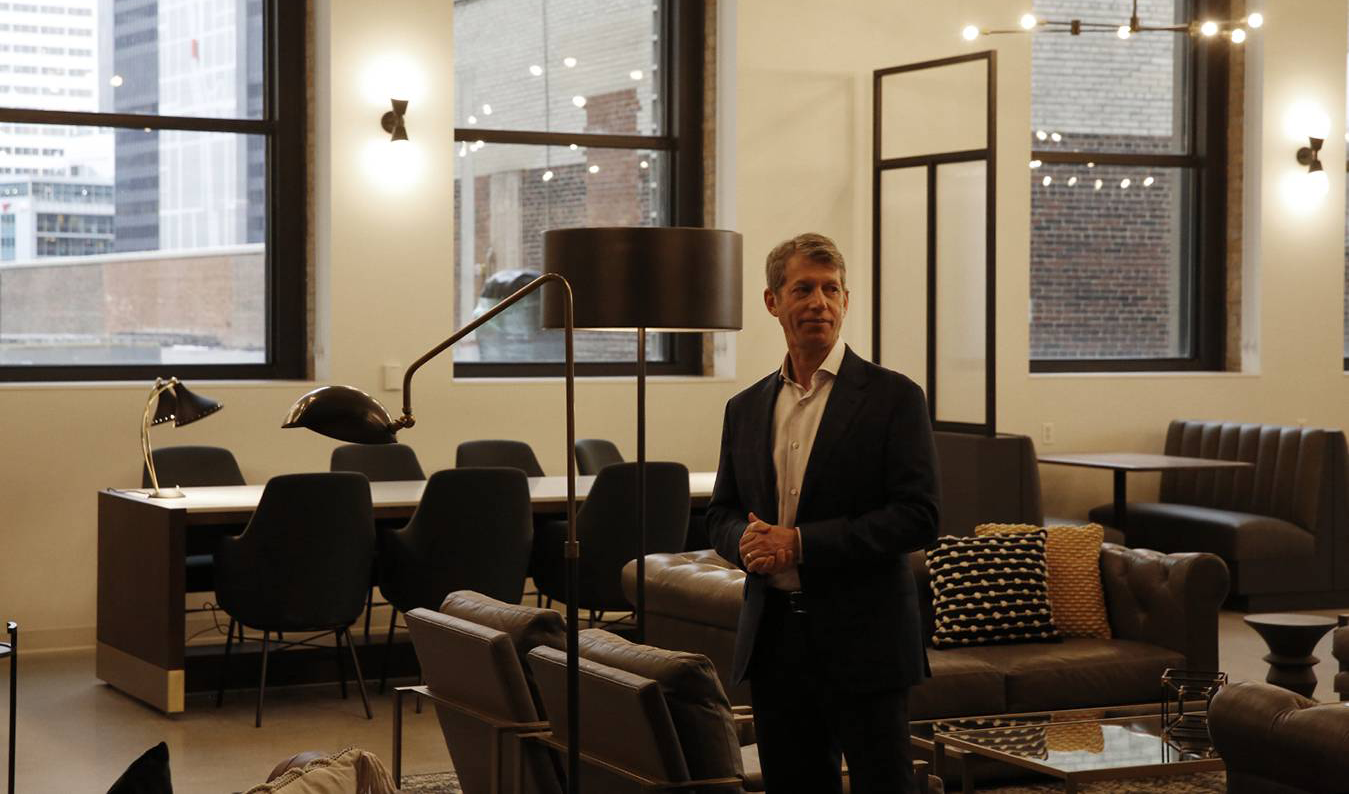 Photo Source
Ferrara Candy was the first to welcome employees on November 4, and will soon be joined by other tenants including CBOE, Walgreens, and Uber. The interior designers of the tenants have each approached the large swaths of open space differently for their individual needs. Their creative efforts have required a focus on providing conference space and privacy on expansive floors with huge, vaulted ceilings.
Thankfully, the wallets of most of the Old Post Office's tenants appear to not have spared any expense on these creative efforts. The interior plans incorporate low dividing walls and curved acoustical panels, facilitating both shared workspaces and the ability to step aside for a private conversation, all while still maintaining open space and plenty of natural light.
Restoring A Dilapidated Structure
The adaptive reuse of the massive building (which the Eisenhower Expressway literally passes through the middle of), was neither simple nor easy.
Gensler worked hard to restore confidence in the landmark by removing asbestos and lead paint, updating the infrastructure of the building, and restoring dilapidated parts of the nearly century-old construction. In the end, it cost $800 million to turn what was a crumbling warehouse into a stunning monument to the past and catalyst for future growth.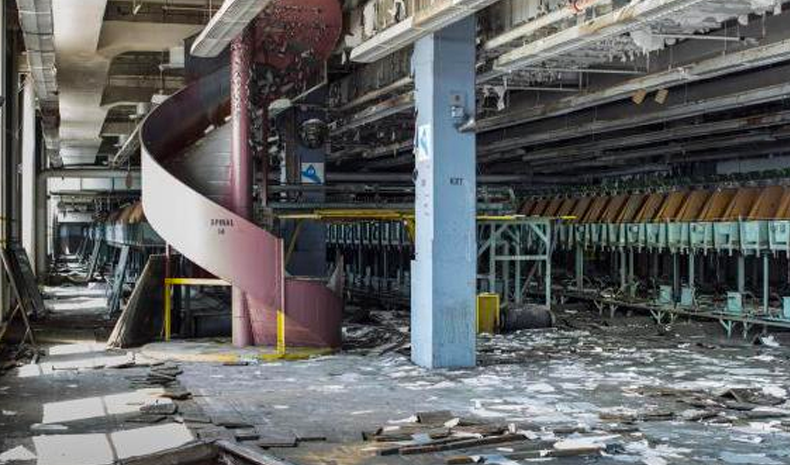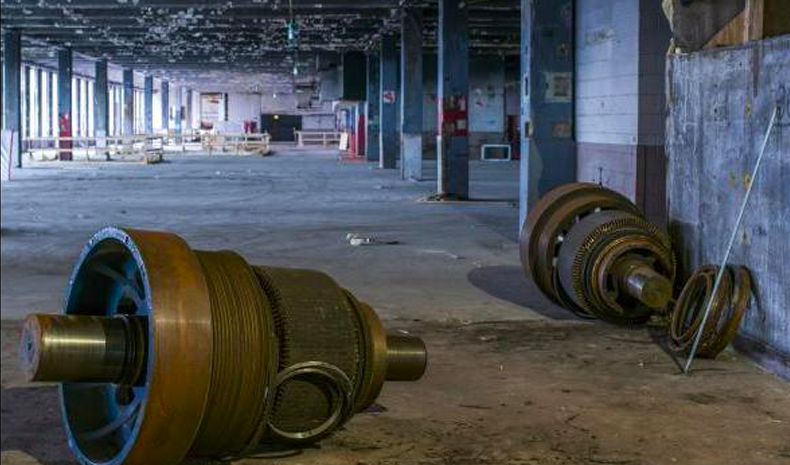 Photo Source
The project, nicknamed "Post 433," takes its roots from its iconic address at 433 West Van Buren Avenue in Chicago. Previously, it was a forgotten eyesore on the sleepy corner of the Chicago Loop. However, increasing investment and movement of jobs back into downtown in recent years has created an opportunity for the Old Post Office to tell a new story.
This migration has resulted in a steady flow of reinvestment at other iconic Chicago structures as well. Chicago's Union Station has also undergone a major renovation to its Great Hall and the neighboring Willis Tower (formerly the Sears Tower) has added a 300,000 square foot retail space to its base. All of these recent developments are expected to bring an increasing number of tenants and activity to the southwest corner of the Loop.
As jobs and social life increase downtown, urban developers and the city's government will have to continue working hard to ensure that real estate investments like these radiate outward and stimulate further economic growth for the entire city.
But for now, at least the city of Chicago has its massive Old Post Office back to kick start the growth.
(Header photo: Chicago Business)
--
James Fleshman
BIMsmith is a free cloud platform for architects, designers, and building professionals to research, select, and download building product data. Search, discover, compare, and download free Revit families on BIMsmith Market, or build complete, data-rich Revit wall, floor, ceiling, and roof systems faster with BIMsmith Forge.