Twenty-three rooms, seven bedrooms, nine-and-a-half baths, three floors, and 17,545 square feet -- that's what $250 million can get you in New York City's most prized apartment complex: Central Park Tower.
Conveniently located on Manhattan's Billionaire's Row in NYC, Central Park Tower soars up to 1,550 feet above the ground, the tallest residential building in the world.
The Developer Behind Central Park Tower
Central Park Tower was developed and built by Gary Barnett, president and founder of Extell Development Company. Central Park Tower has become a global icon, with its 360-degree views of Central Park, the Hudson and East Rivers, and all of New York City's skyline.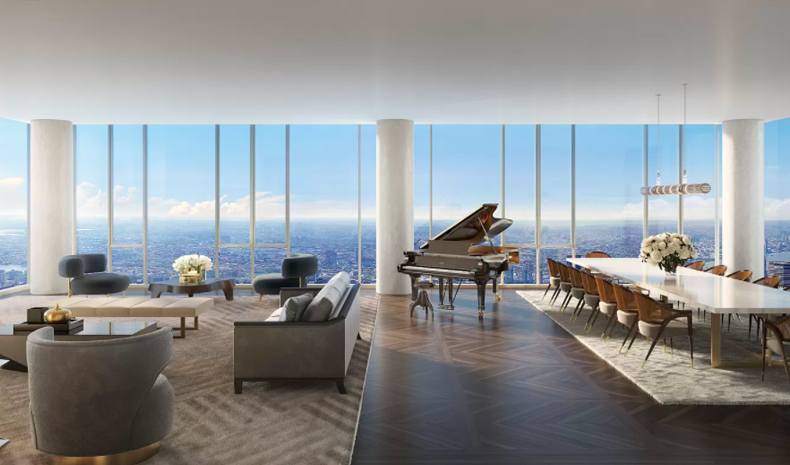 Image source: 6sqft
The building was designed by Adrian Smith + Gordon Gill Architecture who designed it from the inside out to maximize these stunning views. Rotett Studio perfected the interiors to create an incomparable, modern living space.
Extell has an extensive portfolio of residential, hospitality, and mixed-use buildings that includes the Hard Rock Hotel, Hyatt Times Square, and The Carlton House.
Penthouse Perks
The New York penthouse begins on the 129th floor of Central Park Tower as you walk in to see the grand spiral staircase. Surrounded by windows, the staircase is beaming with natural light.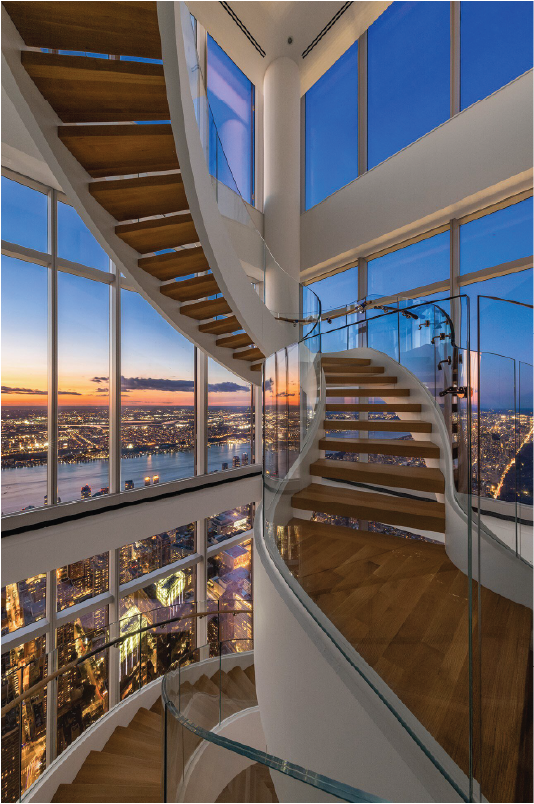 The lower level also features a grand salon, dining room, an observatory, a library, media room, a serving kitchen with a breakfast/family room, and two guest or staff bedrooms/bathrooms –and that's just the first floor!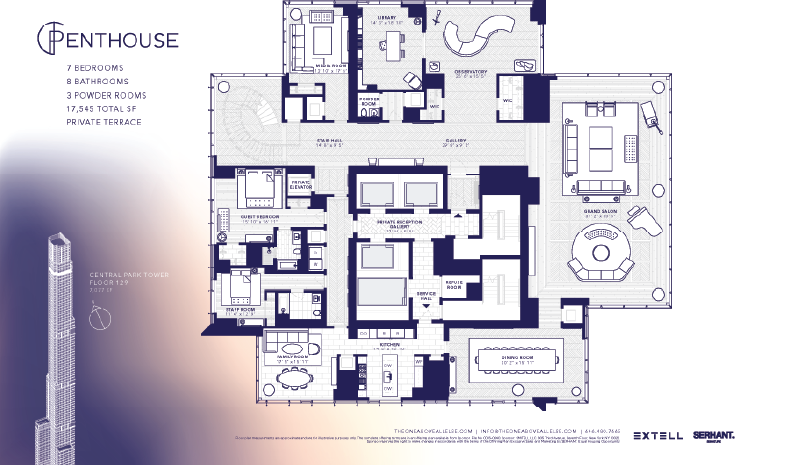 Image Source: Serhant
The second-floor houses five luxurious bedrooms each with adequate closet space and en-suite bathrooms and the primary suite faces Central Park. The primary suite includes a sitting room, two dressing rooms, and en-suite bathrooms. The 130th floor also has a bonus room for gaming and recreation.
Image Source: Serhant
The final level, floor 131, was made for hosting exquisite, up-scale gatherings and events. The private ballroom also faces Central Park and has access to the highest outdoor terrace in the world. Along with the ballroom and terrace, the top floor also has two powder rooms, a coat room, a private study, a professional-grade kitchen, and space for a gym.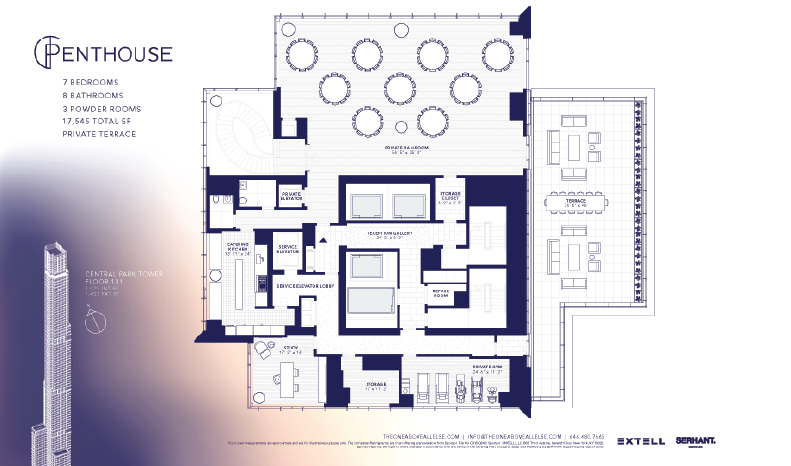 Image Source: Serhant
Other perks of the penthouse include a doorman, elevators for each floor, storage space, a pool, bike storage, and 27-foot ceilings amongst others.
Location is Key
Just moments away from Central Park, the tower couldn't have been built in a more prized location. The building is surrounded by museums, art galleries, performance venues, Michelin-star restaurants, gyms, and more.
Other amenities within the tower include a private Central Park Club with a resident's lounge, screening room, outdoor swimming pool, and fine dining options. The peak of the club, the 100th floor, has a grand ballroom, wine and cigar lounge, and a private bar and restaurant.
New Wonder of the World
With the ultrahigh price point, Extell is hoping to tap into a growing submarket for $100 million-plus homes. If the penthouse fetches its asking price, it would be the country's most expensive deal to date.
To explore amazing interiors surrounded by an exhilarating exterior of 360 views is something many people would pay to experience. However, this three-floor $250 million penthouse is one steep price.
--
BIMsmith is a free cloud platform for architects, designers, and building professionals to research, select, and download building product data. Search, discover, compare, and download free Revit families on BIMsmith Market, or build complete, data-rich Revit wall, floor, ceiling, and roof systems faster with BIMsmith Forge.