Working at a small firm is like working for yourself (in fact, you might be working for yourself) – you don't have any extra time. For anything.
In a separate article, I discuss a few ways that you can adopt some marketing savvy without spending any substantial amount of additional time. One of those primary ways is to have marketing tips get sent to your inbox for you to digest bit by bit.
But there's a lot of junk out there. And that's the last thing anyone needs in their inbox.
That's why I wanted to share my top 5 marketing email newsletters so that you can look past all the junk and find what's really relevant.
Once you get going, you'll likely notice a trend: none of these sources necessarily have much to do with architecture, design, or construction. They are all knowledge bases for general application, and some even have specific applications for other industries.
And that's good.
If you want to make a real leap in the way you reach new potential clients, you'll need to stop taking notes from the way that everyone else in the industry is doing things. Charles Kettering once said "If you have always done it that way, it is probably wrong."
So look at the following thought leaders as sources for you to expand your horizons out of the typical perspective and start disrupting the way things are done in our industry.
1. Neil Patel
Neil Patel, co-founder of the Kissmetrics blog (one of the largest and most successful online communities centered around digital marketing), broke off and began an agency under his own name.
But his content is what you really care about.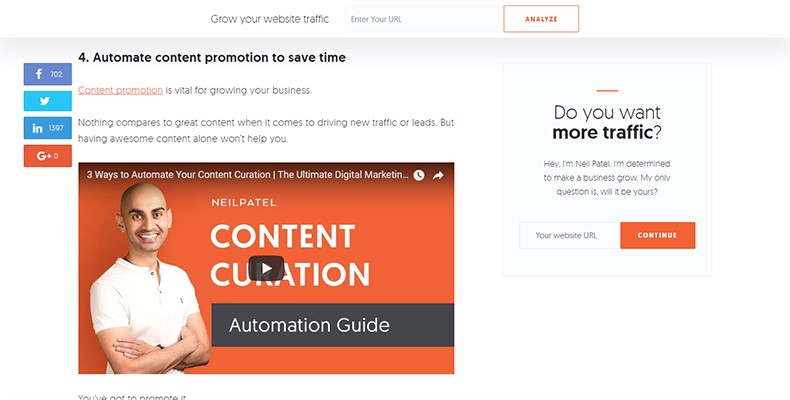 Neil has a firm belief in raising the bar when it comes to creating valuable content for his readers. Some blogs and articles (hopefully not this one) tend to promise you something awesome and deliver something that's alright, or even helpful.
Neil takes the opposite approach. He still will promise something awesome ("The One Thing You Need To Change in 2018 To Improve Your Search Engine Rankings") but then will not stop at the information. He'll give you what you wanted, along with 200-300% more context and additional points than you feel like you asked for.
Of course, if you're looking for a quick fix, you can find it.
But if you're looking for robust content that adds even more value than it promises, Neil is your guy.
Plus, his email communication is about as non-intrusive as it gets.
Each update is a single link to a new blog post, and contains no formatting or advertisements – just a few plain text lines telling you what the latest blog post is about.
I'm in the blogging game – and even I can't resist clicking on each update. Even if you only look to Neil for an example of how to communicate with an audience, it will certainly be worth your time.
2. Moz
Moz takes a similar approach to Neil Patel, but from a different background. Moz basically offers a suite of tools for digital marketing (many of which have free options) and Search Engine Optimization (SEO).
The team at Moz has built a successful strategy around answering common questions about digital marketing through their blog and using that to drive leads for their digital products.
And that's exactly why you should subscribe to their updates.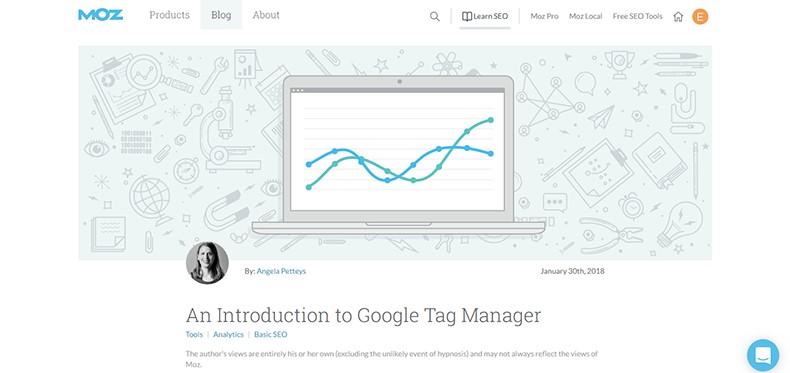 If you're looking for a definitive source about the gray areas of marketing, Moz is the place. They've not only got a team of thought leaders from pretty incredible backgrounds to back them up, but their posts tend to provide exactly the depth you need to answer a given question.
If you're in the content game, you might take some SEO notes from the way Moz structures their pages as well. They are invariably one of the top search results on topics related to SEO and digital marketing.
3. GrowthHackers
If you want to take a different approach to your digital strategy, sign up for GrowthHackers updates.
GrowthHackers focuses on the startup and entrepreneurial community, curating content around the concept of "growth hacking" or spurring strategic exponential growth in a short span of time through targeted digital strategy.
The idea of growth hacking is certainly a far cry from traditional marketing theory, but it leverages the idea that times have changed since those theories were developed, especially in regards to the internet and social media.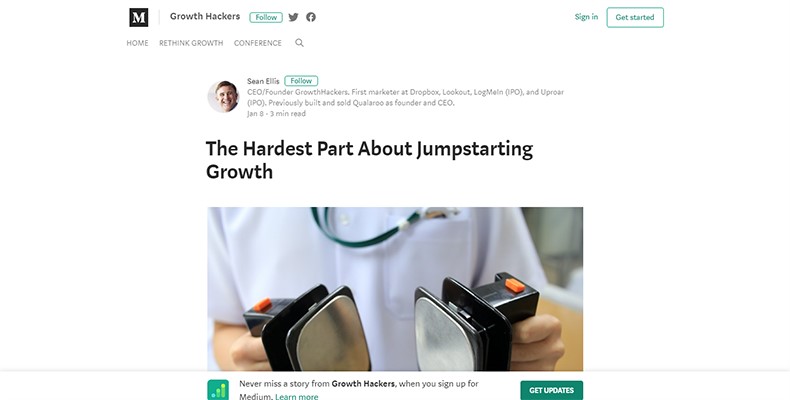 There is easier access than ever to mass markets through viral tactics, and GrowthHackers' content is almost always about how to employ viral tactics at a low cost.
Their focus is on startup giants like Spotify, Facebook, and others who managed to grow incredibly quickly.
Of course, you probably neither expect nor want for your firm to grow in those terms – but adopting some tactics that helped the giants of our economy get to where they are couldn't hurt.

4. HubSpot
Hubspot takes a similar approach to Moz. As a global agency, it has a wealth of knowledge and resources at its disposal, and uses them to create invariably useful content that drives traffic to its agency products.
Hubspot has a slightly more "corporate" feel to them than someone like Neil Patel, and their emails come just about every day with a new blog post or topic for you to explore.
It's good stuff, but I tend to prefer to leverage them more when I'm searching for specific answers to my questions than for casual learning.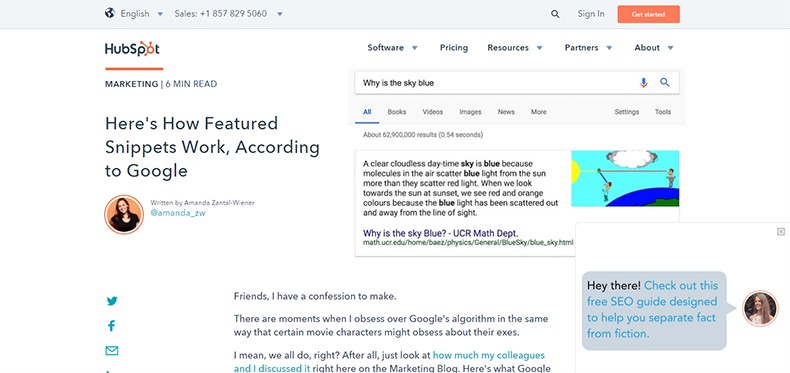 5. Archipreneur
If it has bothered you to no end that none of the above resources come from architecture-specific backgrounds, here you go.
Archipreneur may be a resource familiar to you, but it's a good one to engage with for a number of reasons.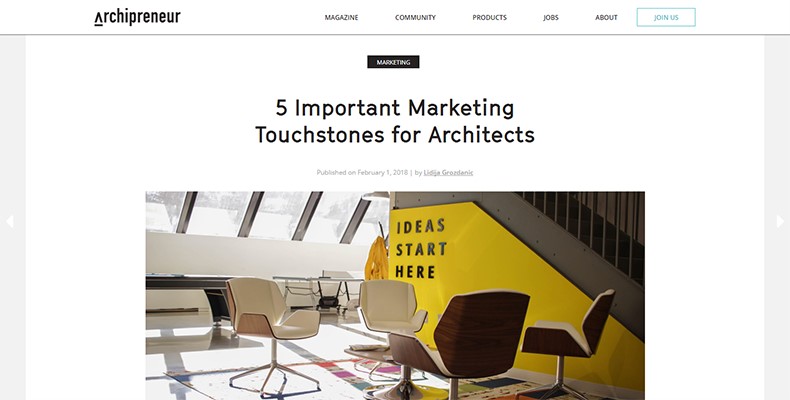 First, its angle is "the business of architecture" and aims to cover innovation and creative strategies within the AEC industry.
How much it actually covers the "business" side of the industry is debatable, as much of its content inevitably covers the same cycle of industry trends as everyone else.
However, the approach of viewing your practice as a business that provides a specific type of value to customers is one that you don't find in other architecture-specific publications.
We all must remember that at the end of the day, our practices are a business like any other. Failing to recognize the opportunities and threats that accompany that reality can be disastrous for anyone.
Therefore, a forced mental removal from entrenchment in design and practice can sometimes be necessary. Resources like Archipreneur can help you get in such a habit on a regular basis.
Do I Need to Subscribe To All Of These?
I hope not. I certainly don't.
Once again, immersing yourself in new and relevant information is a discipline, not a luxury.
If you wait until you have time to do it, you'll never get there.
If you immediately try to sustain a daily deep dive into an unfamiliar world, you'll burn yourself out and not get anything from it.
I encourage you to start with one of the above. Subscribe to their newsletter, and discipline yourself to read through each article that gets sent to your inbox for an entire week.
You'll be able to gauge pretty quickly whether it offers value to you or not. If it doesn't, move down the list and try another.
Tom Peters wisely said, "Swipe from the best, then adapt." It's not illegal to model your strategy off of the successful strategies of others – it can be smart.

--
Ethan Adams
BIMsmith is a free cloud platform for architects, designers, and building professionals to research, select, and download building product data. Search, discover, compare, and download free Revit families on BIMsmith Market, or build complete, data-rich Revit wall, floor, ceiling, and roof systems faster with BIMsmith Forge.