Autodesk University is back in person for the first time since 2019 in New Orleans, LA, USA.
The BIMsmith Team is at the event and capturing the event live – but in case you weren't able to make it this year (or don't have the time to watch the live stream), here's the TL;DR version of what happened at the Day 1 General Session.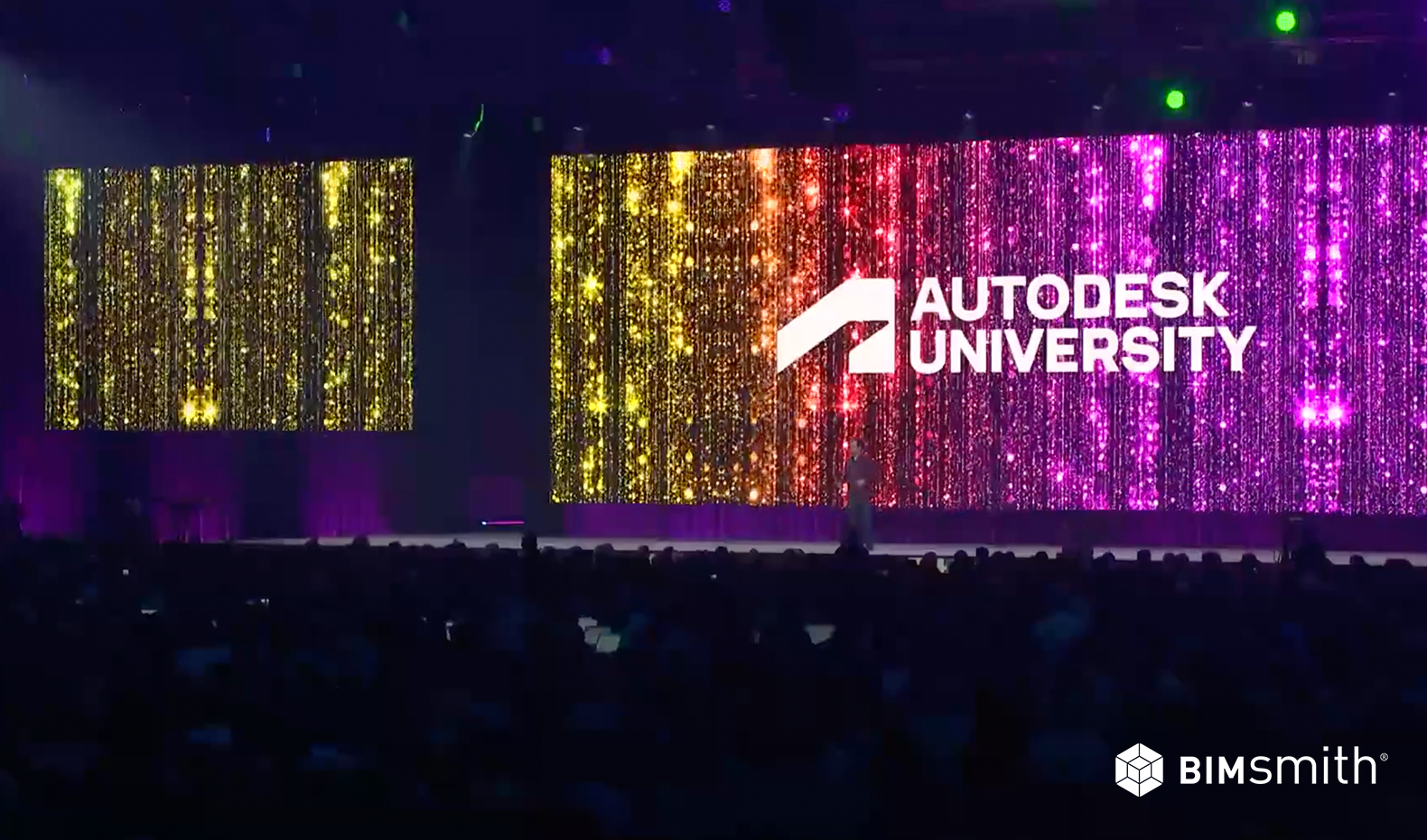 AU 2022 General Session 1 in 15 Seconds
If you want the REALLY stripped-down version, here's a list of the top things you might care about from the Day 1 General Session.
• Andrew Anagnost opened the session
• Autodesk announced Autodesk Industry Clouds: "Fusion" for Design and Manufacturing, "Flow" for Media and Entertainment, and "Forma" for Architecture, Engineering, and Construction
• Autodesk Forge has been renamed to Autodesk Platform Services (and now BIMsmith Forge® will once again be the only "Forge" to love)
• Twinmotion will soon be available to all Revit customers as a result of a new partnership between Autodesk and Epic Games
AU 2022 General Session 1 in Three Minutes

1. Intro from Autodesk CEO Andrew Anagnost
• Autodesk CEO Andrew Anagnost walked in with a New Orleans-style band serenading him and the audience with "When The Saints Go Marching In"
• Anagnost's intro could be summed up in his own words: "the last few years have felt like a decade of change"

2. Announcement of Autodesk Industry Clouds
• Anagnost introduced the headline announcement of the day with the line "it's time for the tools you use to catch up [to the change around you]"
• He then introduced a new arrangement of platforms called "Autodesk Industry Clouds"
• The stated goal is to help "lift people out of their silos, unlock data from closed formats, connect tools and teams, and disrupt ourselves and pursue different ways of working"
• There will be three "Industry Clouds"

• Autodesk Fusion is the name for the Design and Manufacturing Cloud
• Autodesk Flow is the name for the Entertainment and Media Cloud
• Autodesk Forma is the name for the Architecture, Engineering, and Construction Cloud

• There were featured stories/industry representatives for each Cloud:

• Fusion Story – Betim Berisha, Bbi Autosport
• Flow Story – Eric Iverson, Amazon Studios
• AEC Story – David Brand, British Antarctic Survey

• Other notable elements slipped in:

• Autodesk Moxion is a camera-to-cloud solution for Media and Entertainment Industry that can provide instant access to data captured on set
• Autodesk Upchain provides visibility to the Supply Chain throughout all stages - file free

3. Autodesk Forge is Now Autodesk Platform Services
• What many have known as Autodesk Forge for the past few years will now be known as Autodesk Platform Services
• The suite of APIs will continue to equip the connection of data between platforms, disciplines, and teams
• Now it can stop being confused with its older friend BIMsmith Forge® (which was definitely not an issue before...ever...at all)

4. Twinmotion will be available to all Revit customers
• Anagnost announced a partnership between Autodesk and Epic Games
• The primary aim appears to elevate Revit's capability for real-time rendering and virtual reality
• Autodesk will not only strengthen the Revit to Twinmotion connection, but it will also be making Twinmotion available to all Revit customers in the coming days
Too Short? Here's the 5 Minute Version
If you're still reading, here's a little bit more to quench your AU thirst.

1. There was an interview with local New Orleans engineer Meagan Williams
• Meagan is the New Orleans Stormwater Program Manager, for the Department of Public Works.
• She discussed the New Orleans focus on "green infrastructure" – nature's way of managing water, catching it where it falls
• She blamed "excessive lego use" on her decision to become an engineer (same, girl)

2. There was a pretty unashamed promo for Amazon Prime's The Rings of Power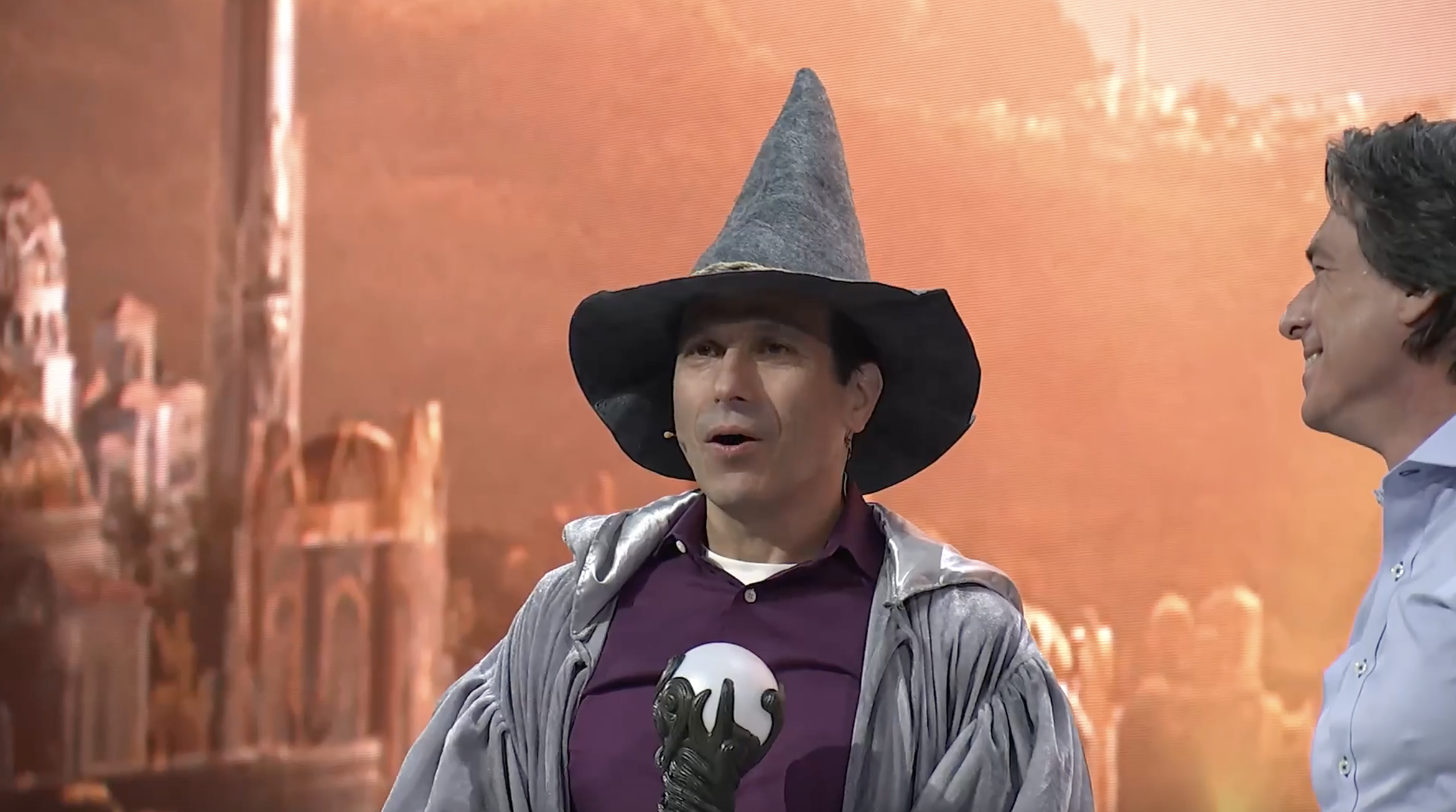 3. Andrew Anagnost dressed up as a wizard.
• Not sure if we're ok with it yet.
There You Have It
Take it or leave it - that's what happened at the Autodesk University 2022 General Session. We hope you feel both lightened of the burden of attending/watching and enlightened by all that took place.
Have something life-changing you think we missed? Let us know in the comments.
--
BIMsmith is a free cloud platform for architects, designers, and building professionals to research, select, and download building product data. Search, discover, compare, and download free Revit families on BIMsmith Market, or build complete, data-rich Revit wall, floor, ceiling, and roof systems faster with BIMsmith Forge.