As one of the busiest stations in the Americas, New York's Penn Station used to be a congested, uninviting, and dangerous underground complex. However, passengers don't need to look any further than the January 1st opening of Moynihan Train Hall.
Work began in 2017 on the $1.6 billion conversion of the former post office into a transit hub, with Skidmore, Owings & Merrill (SOM) leading the project.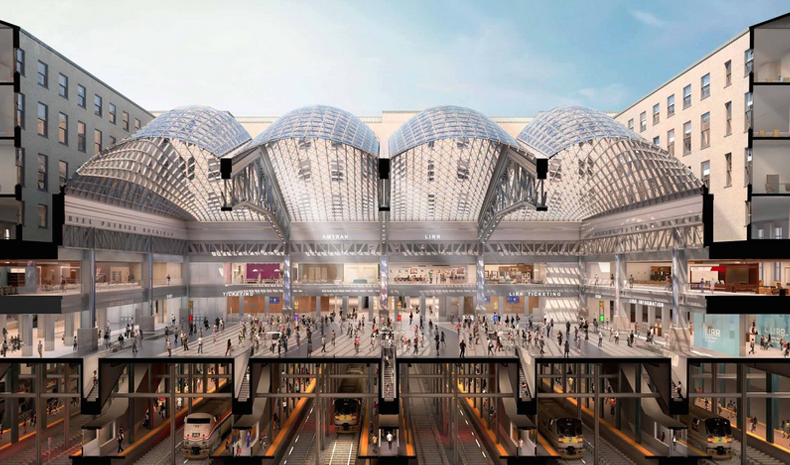 Image Source: Global Construction Review
The 225,000 square-foot project, named in honor of late Senator Daniel Patrick Moynihan, is located across 8th Avenue from the current Penn Station and increases capacity by 50%. It will serve primarily as a waiting hall for Amtrak and Long Island Rail Road passengers.
New York's Penn Station is not a single structure, but instead a vast complex. In addition to the super-block that extends from 34th Street to 31st Street and Seventh to Eighth Avenues, Penn Station will soon include the Farley Post Office building.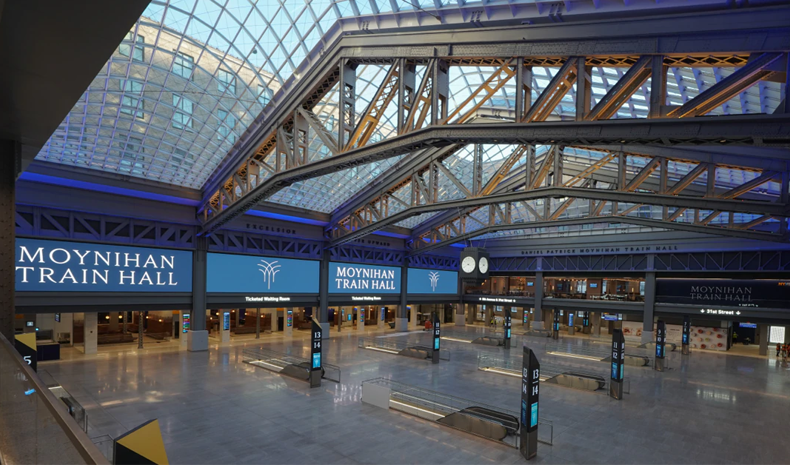 Image Source: MTA
Funding
The project has been funded with $550 million from New York State; $420 million from Amtrak, the Metropolitan Transit Authority, the Port Authority of New York and New Jersey and a federal grant; and $630 million from the developers, Related Cos. and Vornado Realty Trust.
New Penn Station Amenities
Connected to Penn Station by underground passageways, the train hall features a 92-foot high glass skylight, free WiFi, a business center, food service, and other features for passengers traveling to and from New York City.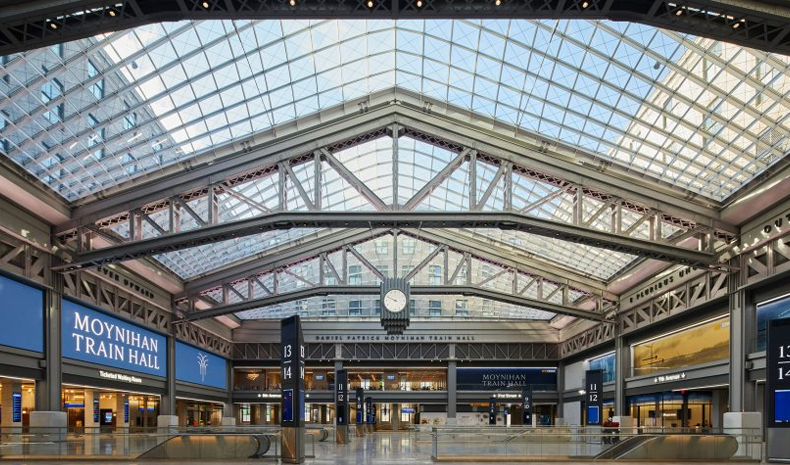 Image Source: Dezeen
Future Plans
In January, New York's Governor Cuomo announced a plan to add six tracks to the Penn Station complex by acquiring and demolishing a full city block. The overhaul also includes creating a 700,000 square foot mixed-use development, featuring commercial, retail, and dining space. It is part of a $2.5 billion project that includes renovations and upgrades of the existing Penn Station.
--
Dylan Kleintop
BIMsmith is a free cloud platform for architects, designers, and building professionals to research, select, and download building product data. Search, discover, compare, and download free Revit families on BIMsmith Market, or build complete, data-rich Revit wall, floor, ceiling, and roof systems faster with BIMsmith Forge.