New York's LaGuardia International Airport (LGA) – one of the twenty-five busiest airports in the world – was founded on the grounds of what was once an amusement park.
In recent history, traveling out of LGA has been anything but fun; it has been crippled by outdated facilities, constant flight delays, and burgeoning road and air traffic.
Nearly a hundred years after its opening, however, the Port Authority of New York and New Jersey (PANYNJ) has finally revealed a new terminal to make travel out of LaGuardia less hectic, more accessible, and ultimately, more enjoyable. Terminal B has just opened to the public thanks to Vantage Airport Group and LaGuardia Gateway Partners, the public-private partnership behind the renovation. After over $5 billion in redevelopment on that one terminal and $8 billion on the whole airport, LaGuardia is starting to look a lot more appealing for travelers and locals alike.
Humble Beginnings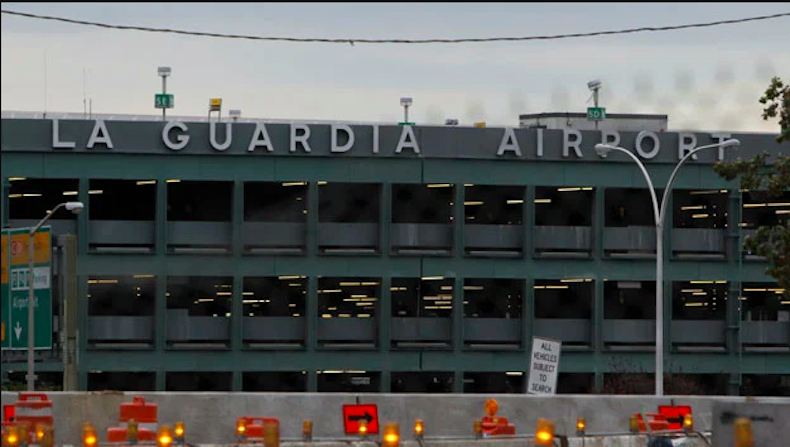 While the plans for redeveloping LaGuardia Airport have long been in the works, New York Governor Andrew Cuomo and PANYNJ were jarred into action by Vice President Joe Biden's statements that, "If I took [someone] blindfolded and took him into LaGuardia Airport in New York, you must think you must be in some third world country. I'm not joking."
Since then, Governor Cuomo has been hard at work to ensure that LaGuardia Airport is transformed into something New York State can be proud of, saying, "We are better than what LaGuardia is... I'm encouraged to see the old terminals finally being replaced." It seems that the chip on New York's shoulder has finally been fixed, and the new terminal – and the complicated process of building it – are worth taking a look at.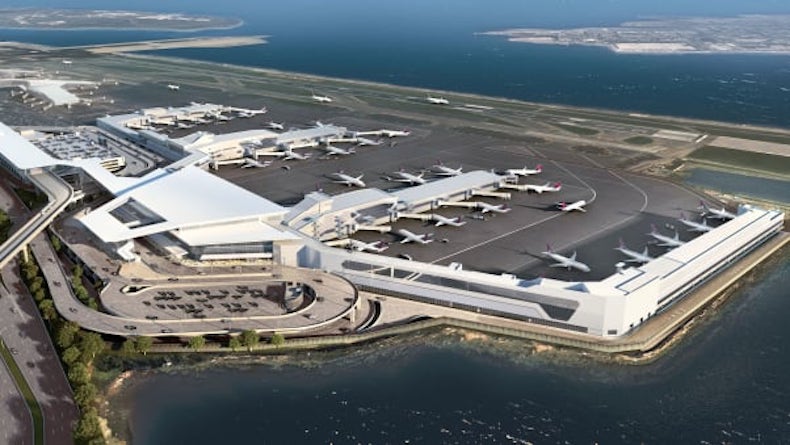 Unique Challenges
Unlike many public facilities and structures that can be shut down temporarily to allow for redevelopment, the construction at LaGuardia International Airport had to be completed while allowing the existing airport to remain fully operational. This was previously accomplished by the Metropolitan Washington Airports Authority in 1997 with the Washington National Airport, but not nearly to the same capacity as LaGuardia in the mid-2010s. The redevelopment project at LGA included the construction of a new terminal system with improved transportation access, eight miles of new roads, and 24 new bridges.
As Terminal B opens to the public and much of the project nears completion, many leaders at the state and local level continue to push for an AirTrain connection to the region's rail transportation network. The push makes sense for a city like New York, where public transport is such an integral part of travel. Plus, the AirTrain is currently available at the other area airports including John F. Kennedy International and Newark Liberty International Airport. That connection might just prove necessary for LGA to stay competitive as the most convenient New York airport.
New Developments
The new redevelopment project seeks to meet an annual demand of over fourteen million travelers by expanding the terminal to more than 1.3 million square feet and updating the amenities and public spaces.
Instead of cramped, aging corridors, the terminal now features spacious and airy vestibules allowing for a more comfortable movement of travelers. The design embraces natural light with floor-to-ceiling windows and vaulted ceilings, allowing high traveler volume to feel less overwhelming.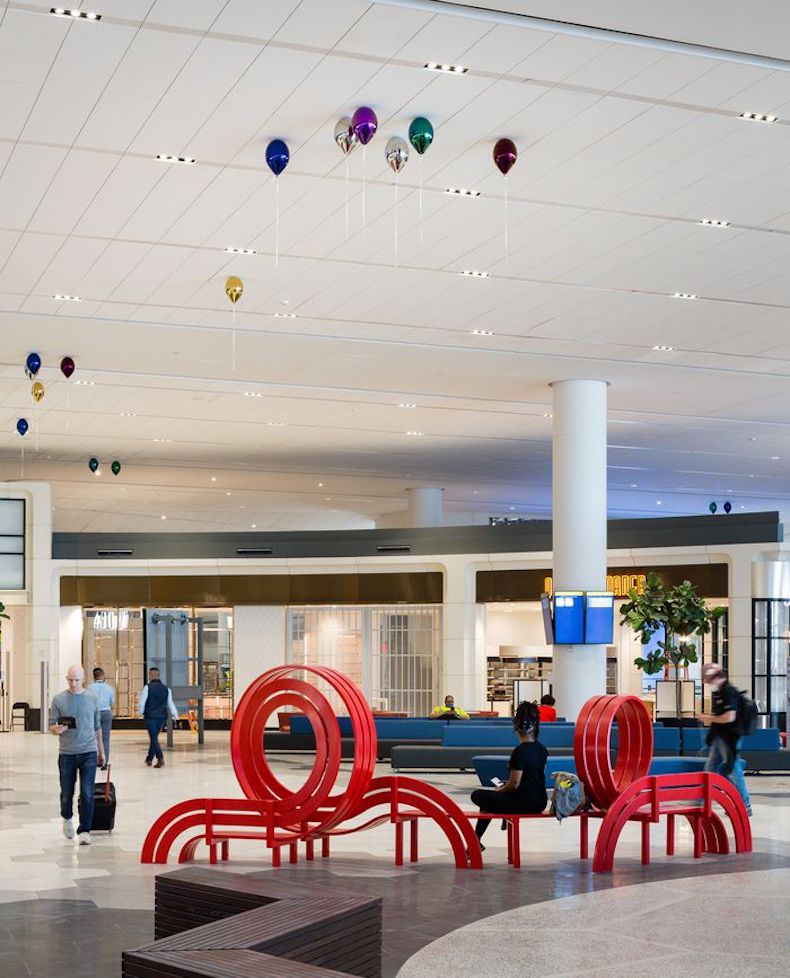 In addition to these improvements, the redesigned terminal will feature shorter walking distances to the gates and a design style more fitting to New York City culture. These elements of the city include subway tile floors, murals from local artists, and islands of greenery that are reminiscent of city parks.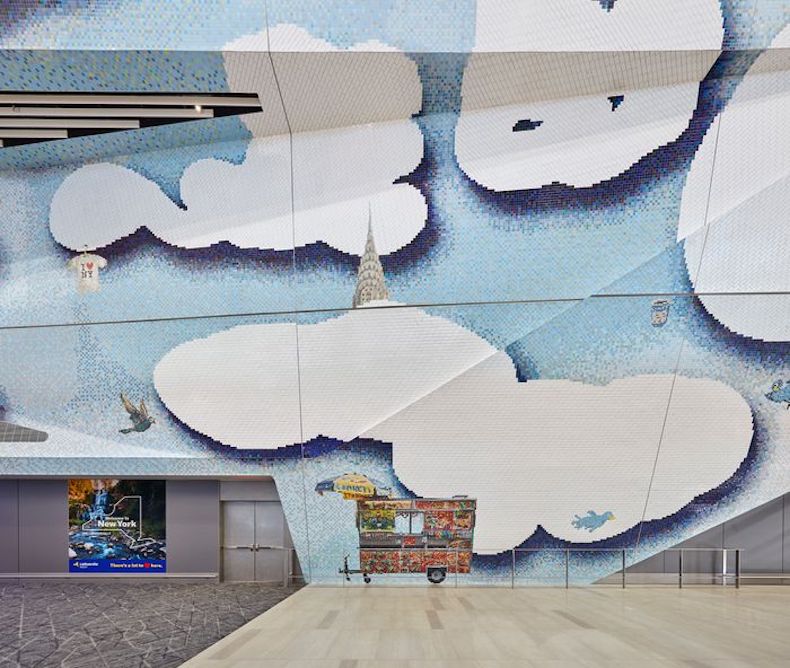 New check-in desks, expanded security checkpoints, and more spacious baggage claim facilities promise to improve the traveler experience at the airport, expanding the tight quarters often associated with these facilities.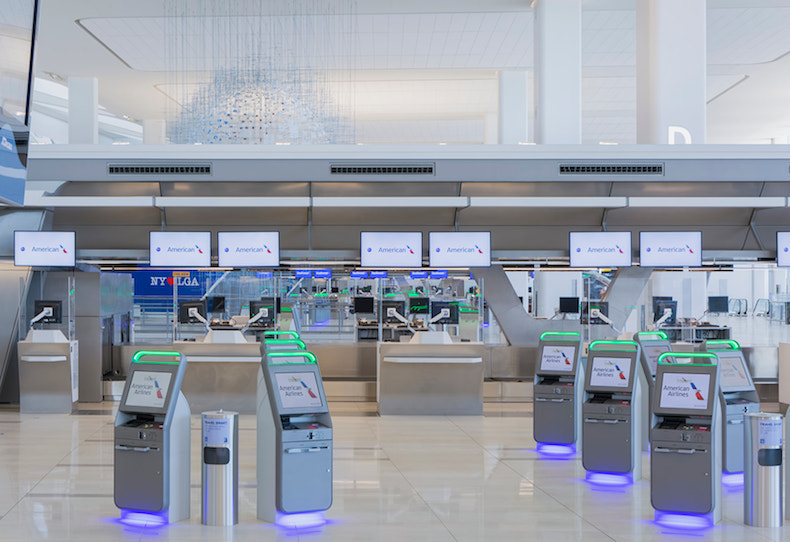 Past security, the terminal opens up to airy concourses that feature a variety of dining options, seating areas, and expanded space to queue for flights.
The terminal excels from a technical perspective as well. In order to maintain valuable taxi space for aircraft, two pedestrian bridges have been constructed to cross active aircraft taxi lanes, reducing the need for passenger shuttling. The first of their kind, these pedestrian bridges reduce travel and takeoff delays while also providing sweeping panoramic views of the Manhattan skyline. Combined, these improvements should make for a much better traveler experience in the coming months and years.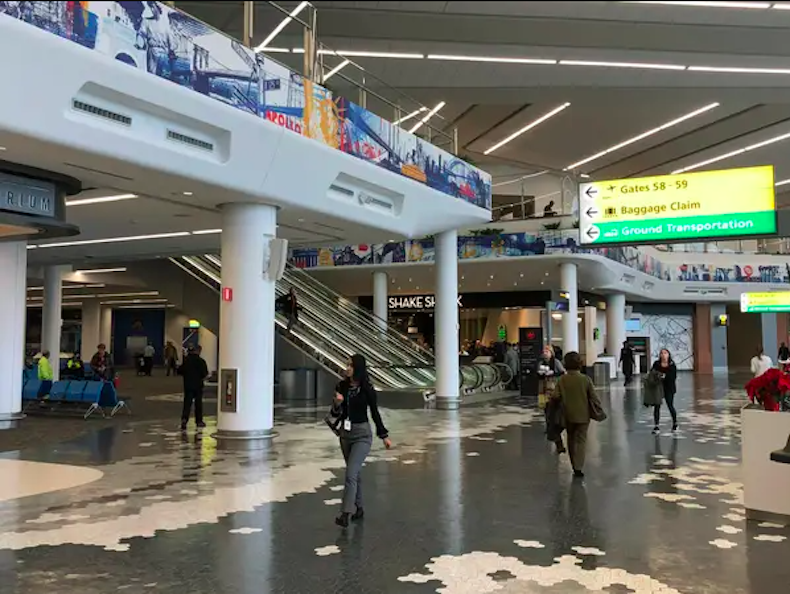 While there are some improvements yet to be made at LaGuardia, Terminal B is a step in the right direction toward increasing traveler comfort, decreasing flight delays, and generally moving the structure into the twenty-first century. Even if it's not as fun as the amusement park that once stood on the site, the new LaGuardia is definitely worth passing through the next time New York calls.
--
James Fleshman
BIMsmith is a free cloud platform for architects, designers, and building professionals to research, select, and download building product data. Search, discover, compare, and download free Revit families on BIMsmith Market, or build complete, data-rich Revit wall, floor, ceiling, and roof systems faster with BIMsmith Forge.