The following is a guest article from Rose Morrison of Renovated. Submit your own article or building project to be featured on the BIMsmith Blog.
Architecture and construction are essential industries, yet they're notoriously inefficient. To meet the needs of an increasingly digital world, the sector needs to take advantage of digital tools. One of the most beneficial of these resources is BIM clash detection.
BIM has already helped revitalize the typically behind-schedule and over-budget building and construction industry. A 2019 survey found that four in five experts say the technology brings high value to areas like reducing rework and improving productivity. Clash detection can take these benefits and push them even further.
Like any tool, clash detection is only as effective as how you use it. With that in mind, here's how you can use clash detection to reap the greatest benefits.
What Is Clash Detection?
Before you learn how to use clash detection, you need to understand what it is. Some BIM solutions come with it built-in while others don't, so you might not have seen it before. Alternatively, you might have a general idea of what it is, but not a complete picture.
Clash detection is a feature that highlights potential conflicts within a BIM project. While virtual models are more true-to-life than 2D blueprints, you can still overlook errors with them. Clash detection analyzes your model to look for these mistakes, then reports them so you can fix them.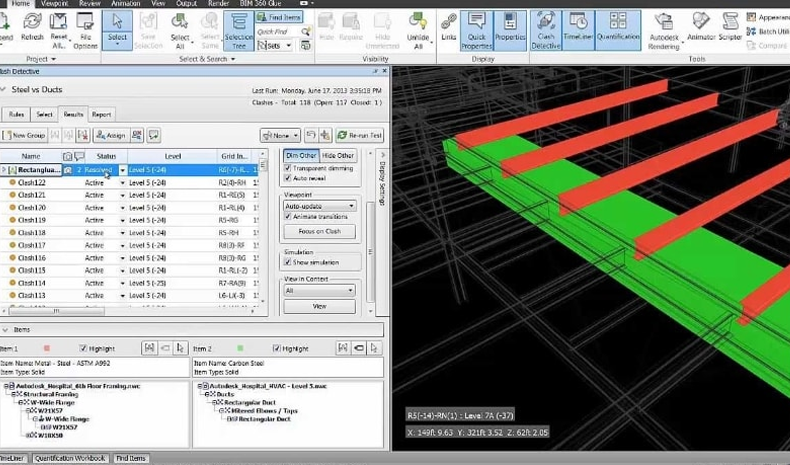 Image source: GSource Technologies
For example, with Autodesk Revit, the most notable BIM software available today, BIM 360 add-in comes with a feature called Clash Pinpoint. You can use this feature to search for clashes in different models and generate categorized reports. You can then annotate the results and send them to other project members so they can review and resolve them.
Clashes are a common and substantial issue within architecture and construction. Since the design and construction process involves so many disciplines and stakeholders, it's easy for conflicts to arise. When they do, it can lead to rework, cost overruns, and wasted material. Clash detection solves these problems before they arise.
Understand the Types of Clash Detection
To get the most out of BIM clash detection, you'll have to understand its different forms. Depending on your software, these services can look for varying types of clashes that could be more or less important to your project. Generally speaking, clash detection falls under three categories: hard clashes, soft clashes, and 4D or workflow clashes.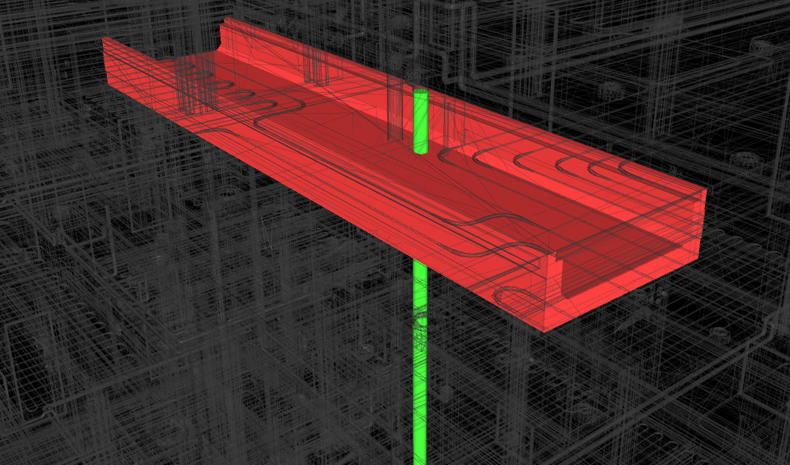 Image source: BIMon
Hard clashes are what probably comes to mind when you think about architectural errors. These happen when two objects occupy the same space, like a pipe running through a beam. When hard clashes arise during construction, they often require rework, wasting time and money.
Soft clashes occur when objects fit physically in the same space but present an issue nonetheless. Common examples include HVAC units that don't have enough room for a worker to service them or a live wire passing by a water pipe. These may not create an immediate problem but pose a risk for occupants later on.
Workflow or 4D clashes are different in that they don't deal with the design but rather administrative issues like scheduling conflicts and delivery errors. For example, since skid steers can come with various attachments, a 4D clash could arise when someone orders one with an auger when they need a trencher. These are often the result of communication problems and can lead to substantial delays.
Select the Right Solution
Just as the best size for heavy equipment depends on several factors, there's no single best clash detection solution. To get the most you can out of your software, you'll need to get the system that best suits your individual needs. Perhaps the most crucial factor to consider is interoperability.
If you're already using a BIM solution, you'll want a clash detection system that's compatible with it. Your BIM software may come with built-in clash detection, which is an excellent place to start. If it doesn't, make sure any third-party solution you purchase works with your BIM program.
Image source: Cadline Community
After compatibility, you should consider what features you need. Every project should include tools for highlighting hard and soft clashes, but you may not need 4D clash detection right now. If that's not an area you've struggled with, you can opt for a solution with less-than-stellar 4D clash detection and better hard and soft clash detection.
Next, think of the features you need the most. Some clash detection provides automatic alerts, while others list them in a report after an audit. Automatic clash detection is more useful since you can make adjustments sooner, but it's not essential. If a solution without automatic updates is more affordable and meets your other needs, it'll be sufficient.
Use Clash Detection as a Collaborative Tool
After you've purchased your clash detection solution, you need to know how to use it. One of the most helpful ways to use clash detection is to think of it as a collaborative tool. If you're the only one who responds to clash detection alerts, they can only get you so far.
Some clashes may not seem like significant issues to you, or you may not know how to resolve them. For example, machinery like pipelayers come in a range of sizes with varying clearance requirements. Contractors will know the specific equipment they have, so they'll be better at understanding and resolving clashes related to equipment clearance.
The different experts and stakeholders involved in the project should address clashes relating to their field. Only when everyone can access and use clash detection does it reach its full potential. The software is only as helpful as its users know how to respond to it.
Image source: The NG Bailey BIM Portal
Let Clash Detection Inform Future Projects
Finally, it's a good idea to approach clash detection as a path to ongoing improvement. While these systems look at issues within individual projects, their utility doesn't have to stop at that level. The things you learn from clash detection can inform the work you do in the future.
If you keep clash reports with your BIM models, they can help building owners renovate and add to the property. Similarly, if they hire you to design these changes, you can reference these reports to avoid running into the same issues.
You can also use clash detection for long-term improvements. If you notice that your software highlights the same kinds of issues frequently, you may need to change your approach in that area. Similarities between reports highlight your most significant stumbling blocks.
Clash Detection Makes Projects Safer and More Cost-Effective
Building Information Modeling is one of the most helpful tools to modern architects, and clash detection improves upon BIM in turn. When you know how to approach these resources, you can get as much out of them as possible. These tools are excellent on their own, but learning how to take advantage of them makes them even better.
--
Rose Morrison
Rose Morrison is a construction and design blogger and the managing editor for Renovated. To read more posts by Rose, check out her blog.