While often overlooked, the importance of good, purposeful lighting is critical to interior design and is a powerful tool to understand and use.
When it comes to using light in a project, there are six basic lighting principles to consider, the first three being the most important.
How to Define the Experience of a Space with Lighting
1. Visibility
It's essential to consider how comfortable the light is in a space and how well you can see. In many projects, visibility is the primary, if not only, focus of a lighting layout. But don't stop there! Great lighting design considers other aspects of light that are impactful to a space.
2. Hierarchy of Visual Importance
The human eye inherently focuses on the brightest part of a space. To control the focal point of a room, it's important to put the most amount of light on what is most important, the second most amount of light on the second most important, and so on.
3. Contrast Ratios
Contrast ratios are part of the key principle that an object is bright only in comparison to the other things in the room. If the light levels are all the same, then the eye won't know what to focus on. It can be just as important to not light an object as it is to light it.

The above principles of visibility, hierarchy, and contrast to define the experience of the space.
The following principles are useful when deciding how to strategically use light fixtures for optimum impact.
How to Achieve Maximum Impact with Lighting Design
1. Modeling/Texture
An example of modeling light is illuminating a sculpture or tree from different angles. Controlling the angle of the light on an object or surface is a great way to reveal texture.
2. Space Perception
The pattern of light in a space can stimulate a psychological response. For example, a bright uniform light can make a space seem large, whereas a lower intensity light can create a feeling of intimacy.
3. Color Perception
Lighting is a critical factor in making colors appear true. To identify the quality of light you are using, refer to a spec called the R9-Value.
While keeping the above basic lighting principles in mind, a great way to approach illuminating a specific space is to organizing light into layers.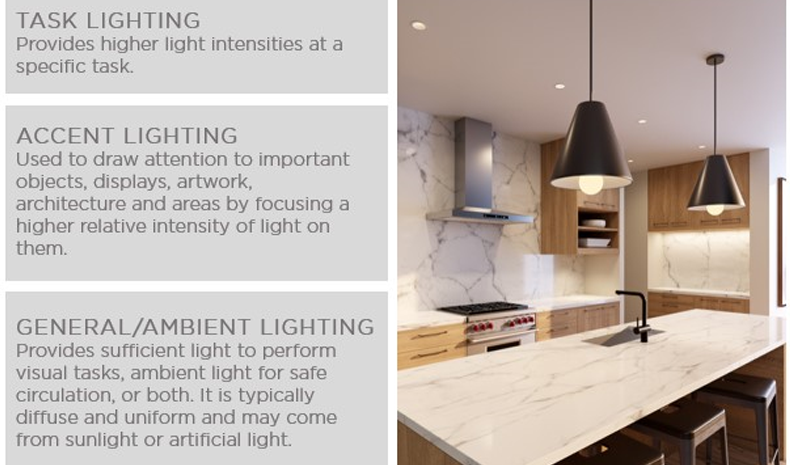 There are three layers of light:
1. General/Ambient Lighting
Ambient lighting provides enough light to perform visual tasks, ambient light for safe circulation, or both. It is typically diffused and uniform and may come from sunlight or artificial light.
2. Task Lighting
Task lighting provides higher light intensities to provide lighting for specific areas of frequent action.
3. Accent Lighting
Accent lighting is used to draw attention to important objects, displays, or artwork by utilizing a higher relative intensity of light.
When beginning to design lighting for your space we recommend first noting the task lighting requirements. Then, work through appropriate accent lighting to define the space and the 'experience'. Once that's been accomplished, you can add any ambient lighting to ensure the lighting design is comfortable and add softness to the overall design.
As you dive into lighting design, remember that a light fixture will usually fit into more than one layer category. For example, a table lamp may be both task and ambient lighting in a seating arrangement. An undercabinet lighting plan in a kitchen can function as task lighting for cooking and accent lighting – highlighting the beautiful materials of the counter and backsplash.
Design With Light in Mind
With this knowledge, we hope you feel better prepared to approach lighting your space. If you use Revit, you can get started designing with decorative lighting in your projects quickly and easily with Tech Lighting Revit families on BIMsmith.
Be sure to tag us (@techlighting_official) in pictures that you post on Instagram. We'd love to see your work!
--
Tori Dremonas