Finding specifications for the building products in your project is a pain.
If you've specified a product from a manufacturer you've used in the past, you might have the appropriate specification document on your drive somewhere. ("What folder do we use for those again? Was that a 2017 project or was it 2016?")
If you don't have it on your drive, you might try searching Google. Then, you've got maybe a 50% chance that the manufacturer has structured their site well enough to show up high in the search results, and maybe 50% of those search results will show up with the actual specs you need. And heaven forbid you enter the death trap of early 2000s web generators that make you input every single model number, SKU, size, year of manufacture, color, shape, etc. you can think of in order to deliver search results that you could have found by just browsing.
But your project requires specifications one way or another, so you just put your head down and get it done. Somehow.
Product Specifications the Easier Way
BIMsmith was built with the express purpose of making this kind of process easier.
Since the beginning of BIMsmith Forge and BIMsmith Market, we've made sure that the entire BIMsmith platform places all product data – not just Revit families or AutoCAD blocks – at your disposal.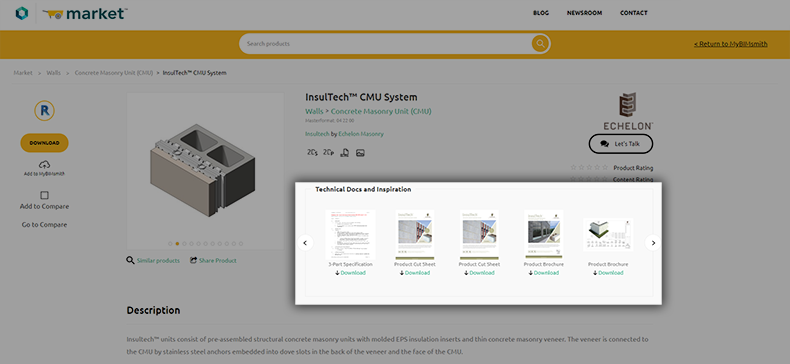 On BIMsmith Market, you can easily view all 3-part specs, cut sheets, installation guides, and other technical documents for a product without leaving the current view. For users of MasterSpec, BIMsmith Market even has a useful integration that provides you with direct access to the MasterSpec document for a given product.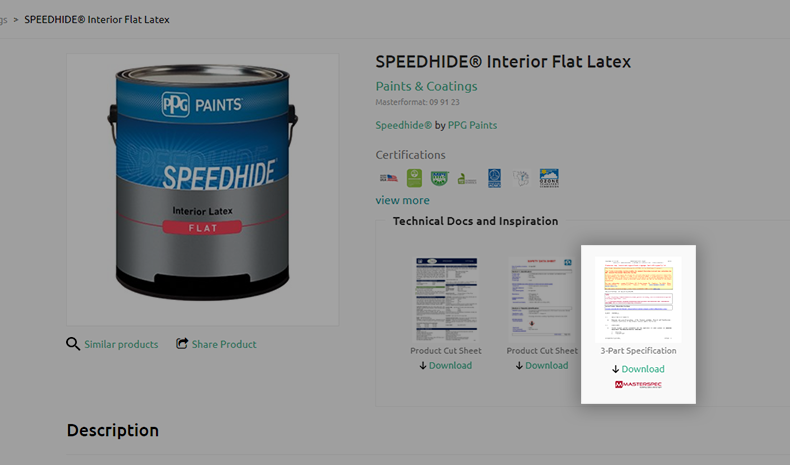 MasterSpec Documents on BIMsmith Market
You can even click through multiple levels of PDF previews so that you don't have to clutter your downloads folder unnecessarily with extra files.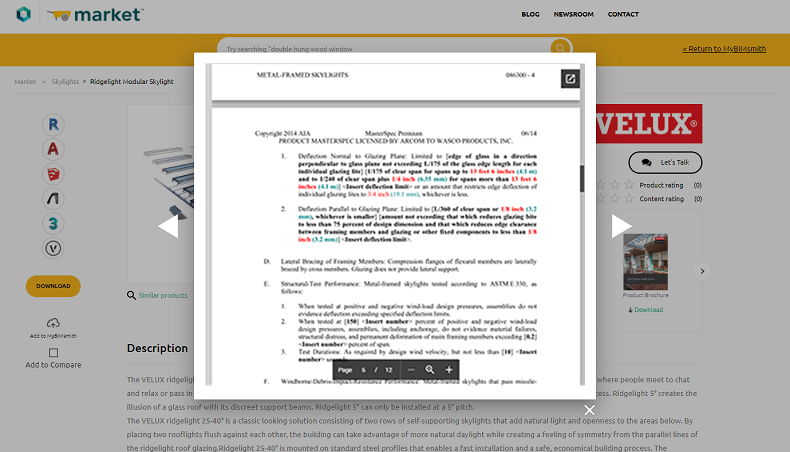 VELUX BIM Library on BIMsmith Market
It gets even better with BIMsmith Forge. If you're not familiar with the tool, BIMsmith Forge is a free Revit configurator that allows you to configure multi-layer Revit assemblies like walls, floors, ceilings, and roofs step by step in the cloud. You can select all relevant product options for each layer, and then Forge will pull together all the data for the system into a single downloadable file.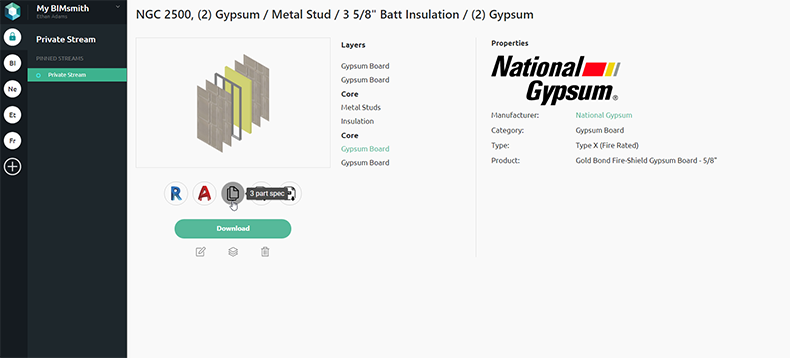 This means that you don't just get a .rvt project file with the complete system (which is helpful enough on its own) – you also get specs, cut sheets, product images, etc. thrown in so you have them all on hand when you need them. Whether you've got an assembly with one manufacturer product and spec sheet or twelve, the value is unmistakable.

Concerned about outdated content? We work hand-in-hand helping building product manufacturers with spec writing behind the scenes to make sure that our platform has the most up to date specifications and technical data all the time.
The Future of Construction Specifications
BIMsmith has always been focused on the future of building product data, and construction specification content is a big part of that. From key partnerships with leaders in specification like Deltek, developers of MasterSpec, to investigating new methods to bring you specifications in increasingly convenient and useful formats, we're committed to making your search and use of product specifications better.
--
Ethan Adams
BIMsmith is a free cloud platform for architects, designers, and building professionals to research, select, and download building product data. Search, discover, compare, and download free Revit families, SketchUp Models, and more on BIMsmith Market, or build complete, data-rich Revit wall, floor, ceiling, and roof systems faster with BIMsmith Forge.