Fireplaces can be a captivating centerpiece in any residential or commercial project.
However, choosing the right type of fireplace for your project is essential, not just for performance, but for safety and efficiency. We teamed up with Regency Fireplace Products to compile an overview of why direct vent fireplaces are one of the strongest choices for both residential and commercial BIM projects.
What is a Direct Vent Fireplace?
A direct vent fireplace uses outside air for combustion instead of the air from within a building. A dual-chamber flue system both brings in cold air in one chamber and expels exhaust through the other chamber. The result is a highly efficient fireplace that is able to minimize heat loss through the flue and put more of that heat back into the building, keeping it full of warm, clean air. Direct vent gas fireplaces can be operated safely without the use of electricity.
A direct vent fireplace has a completely sealed combustion chamber which allows it to vent directly out a side wall or through the ceiling. A direct vent fireplace uses the natural principle of warm air rising to create negative pressure in the system to draw in cold air for combustion. A sealed firebox prevents cold air from entering the building when the fireplace is not in use and increases the efficiency of the fire while burning.
Key Benefits of a Direct Vent Fireplace
• Vents through the roof or the side of your home
• Heats more efficiently
• Operates more safely
• Uses outside air for combustion
• Minimizes heat loss
A direct vent gas fireplace keeps your home warmer, increases efficiency, and reduces the amount of wasted energy.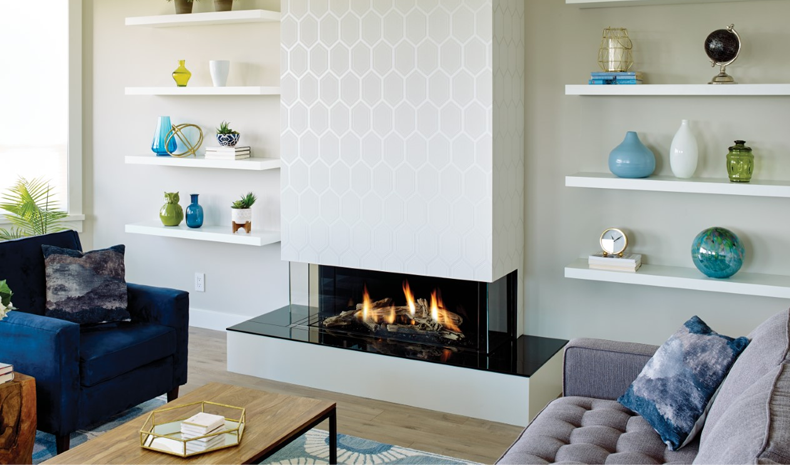 Where Can I Put a Direct Vent Fireplace?
One of the best features of a direct vent fireplace is its flexibility in installation. Where a natural vent fireplace needs to be vented vertically only, a direct vent fireplace can be vented through your roof or sidewall. This means you can essentially place your fireplace within any room including a bathroom, basement, bedroom, kitchen, and of course living room! For very large rooms and/or commercial installations, however, a power vent may be needed.

How Do Direct Vent Fireplaces Compare to Other Types of Fireplaces?
Direct Vent vs. Power Vent Fireplaces
A power-vented fireplace uses a fan-powered accessory to force air into the combustion chamber, forcing the exhaust out. Where a direct vent relies on the natural pressure difference created from warm air leaving a sealed firebox to draw air in for combustion, a power vent allows for more installation flexibility. Power venting can zig-zag with multiple bends, travel longer distances, and vent below the fireplace – perfect for a large home or commercial applications.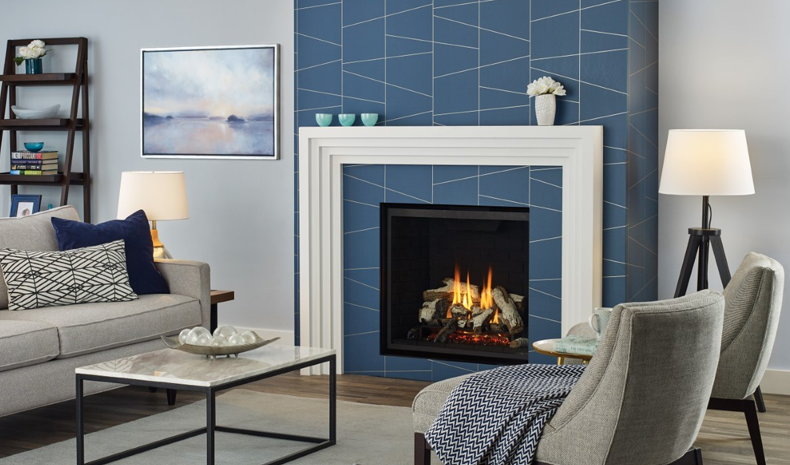 Direct Vent vs. B-Vent (Natural Vent) Fireplaces
A B-Vent fireplace, or natural fireplace, uses the air inside your home for combustion and vents emissions through a single flue. Air is drawn into the firebox from inside your home, used in combustion, and released through a vertical flue. A B-Vent fireplace is less efficient as it is using warm air from inside your home for combustion as opposed to a direct vent system that uses cold exterior air for combustion, keeping your home warmer.
Direct Vent vs. Vent-Free Fireplaces
A vent-free fireplace is a fireplace that does not require any venting. Instead of expelling emissions outside of the home, they are simply allowed to remain in the home, causing potential safety issues. As there are safety concerns with Vent-free gas fireplaces there are very strict installation requirements and regional restrictions. Vent-free fireplaces can only be sold in the USA, but not Canada, and are not manufactured by Regency. In cases where direct vent fireplaces are not a fit, it is recommended to use an electric fireplace.
Find A Direct Vent Gas Fireplace for Your Project
Regency Fireplaces offers many direct vent gas fireplaces in all shapes and sizes. Explore some of the top selections with the following Regency product lines:
• City Series Modern Gas Fireplaces
• Contemporary Gas Fireplaces
• Traditional Gas Fireplaces
• Gas Fireplace Inserts
Download Modern Fireplaces for Revit
Regency offers its most popular designer fireplaces as Revit-ready BIM objects. View these gas fireplace Revit families and wood fireplace Revit families below and on BIMsmith Market.