Designed by Kite Studio Architecture (Singapore), the Archifest 2018 Pavilion serves as an anchor event space for the festival, inviting all to celebrate architecture and the built environment. Responding to the festival theme of "Design For Life," the design scheme is centred on the concept of familiar void decks within Singapore's typical HDB public housing.
Project Name: Archifest 2018 Pavilion
Project Location: Marina Bay, Singapore
Architects: Kite Studio Architecture
Images: Archifest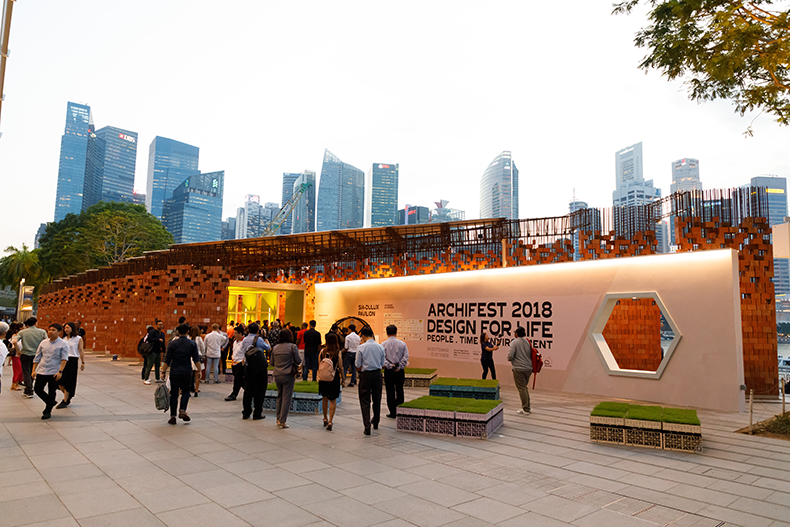 The Pavilion features multiple entrances without physical demarcations to allow flexibility for visitors to enter the space from any direction. The prominent columns of the Pavilions façade are also created by skewering three-hole bricks through rebar cages that will be anchored by mild steel plates. Bricks with pastel hues are also used to induce a sense of familiarity and nostalgia.
Mr Khairudin Saharom, Principal and Director of Kite Studio Architecture, shared, "Our design for the Archifest 2018 Pavilion was inspired by two main elements – the dynamic open space of Marina Bay and the art photography of Nguan, a Singaporean photographer who is known for his impactful portrayal of everyday Singapore. With these, we based our design set on the ubiquitous HDB void deck that is so iconic of Singapore and reimagined it as a fluid, multi-purpose open space for the festival."
For more information, please visit the Archifest website.
--
BIMsmith is a free cloud platform for architects, designers, and building professionals to research, select, and download building product data. Search, discover, compare, and download free Revit families on BIMsmith Market, or build complete, data-rich Revit wall, floor, ceiling, and roof systems faster with BIMsmith Forge.