BIMsmith is proud to introduce the winners of the 2020 BIMsmith Best Awards, announced at the 2020 International Builders Show (IBS) and Kitchen and Bath Industry Show (KBIS) in Las Vegas, NV.
The BIMsmith Best Awards are awarded each year to products, companies, or initiatives that exhibit outstanding innovation in the building product industry. The winners are selected by a jury of seasoned building professionals spanning the interests of architects, engineers, designers, and builders. Recognition among the BIMsmith Best requires an exemplary display of excellence in the areas of design, performance, innovation, thought leadership, and facilitation of human progress.
This year's BIMsmith Best include a group of 14 innovations that span a variety of product categories.
In no particular order, here they are: the 2020 BIMsmith Best.
2020 BIMsmith Best Award Winners

Kitchen Hub with Built-In Microwave
GE Appliances, a Haier Company
GE Appliances' Kitchen Hub, an "over-the-range interactive smart kitchen and ventilation system" came onto the scene last year as a new concept for the future of smart kitchens. Unveiled at back-to-back shows in CES and IBS 2020, the latest iteration of the Kitchen Hub now includes an optional built-in microwave, making it a smart microwave, display, and vent hood all in one.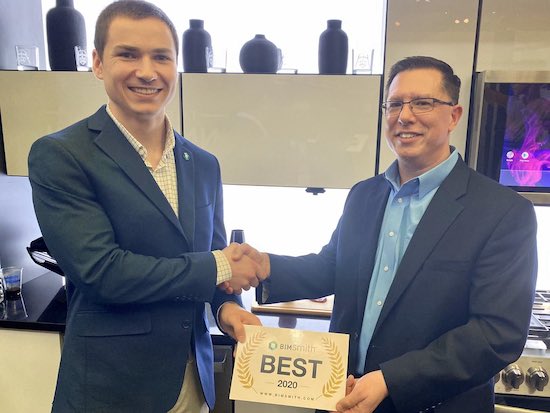 With impressive AI technology that promises to assist in the kitchen with special skills like selecting recipes based on ingredients detected by its camera, detecting the "doneness" of food, and even noting missing ingredients, the Kitchen Hub looks to be a must-have for early adopters when it is released in late 2020.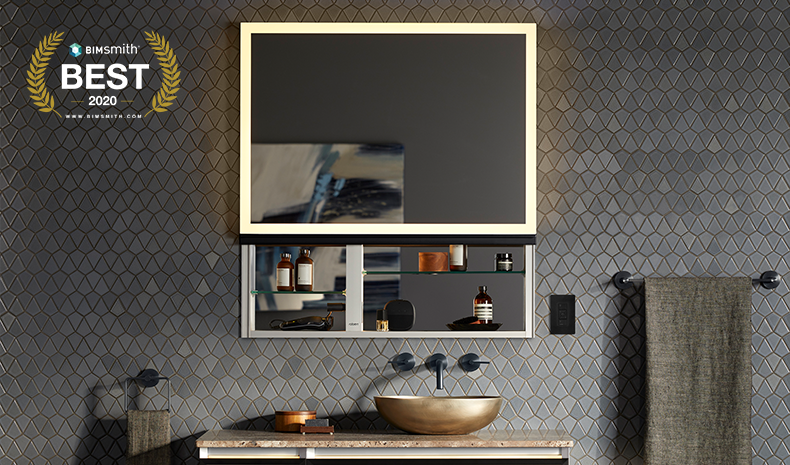 Robern UpLift Tech Medicine Cabinet
Adopting a modern approach to a storage concept typically thought of as dated, Kohler's Robern UpLift Tech medicine cabinet offers space-saving storage in the bathroom without jeopardizing design. With optional perimeter lighting when the cabinet is closed and an integrated lighting system for interior visibility, the UpLift Tech system is thoroughly thought-out and designed.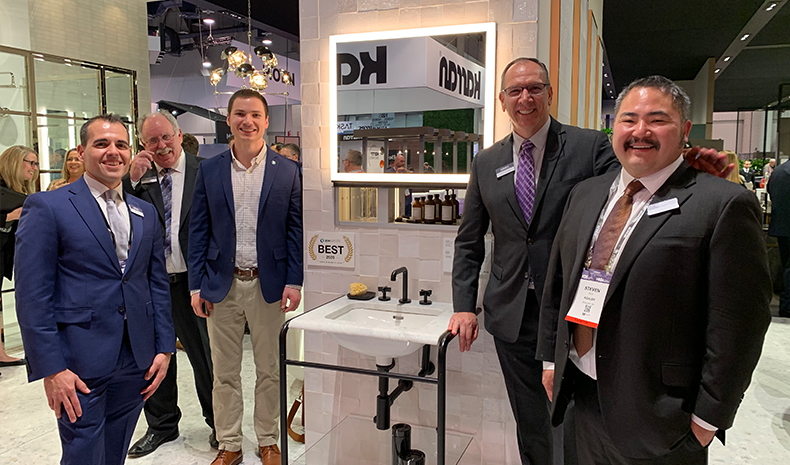 Complete with a timed mirror defogger, USB charging ports and internal electrical outlets, UpLift aims to "reimagine innovative design by incorporating functionality and efficient use of space with 21st century technological advances."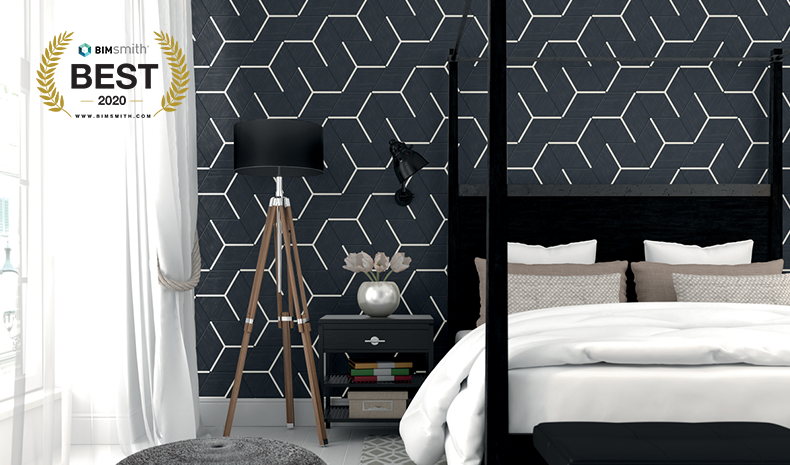 Bee Hive Medley™
Bee Hive Medley™ from Daltile earned itself a 2020 BIMsmith Best award for design with its eye-catching combinations of color through hexagonal geometry.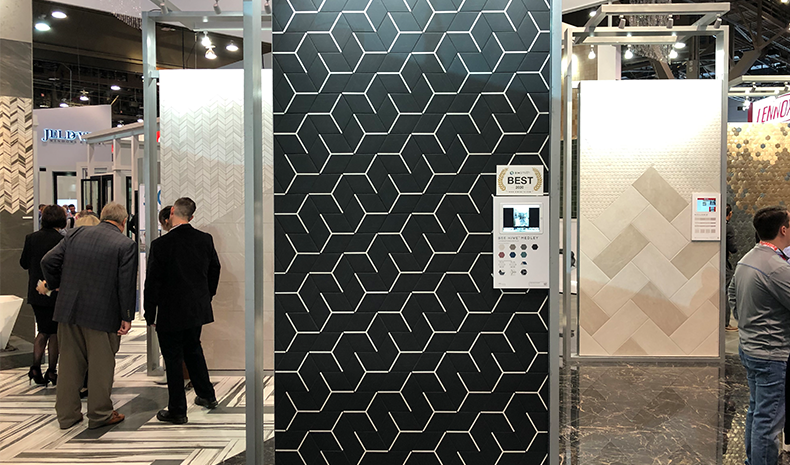 Bee Hive "delivers a mid-sized hexagon bringing visual interest to concrete look monochromatic fields with stunning colors, 3-D graphics, and geometric patterns." With durable ColorBody™ porcelain tile, Bee Hive Medley appears ready and able to provide design freedom in a classic yet trendsetting fashion.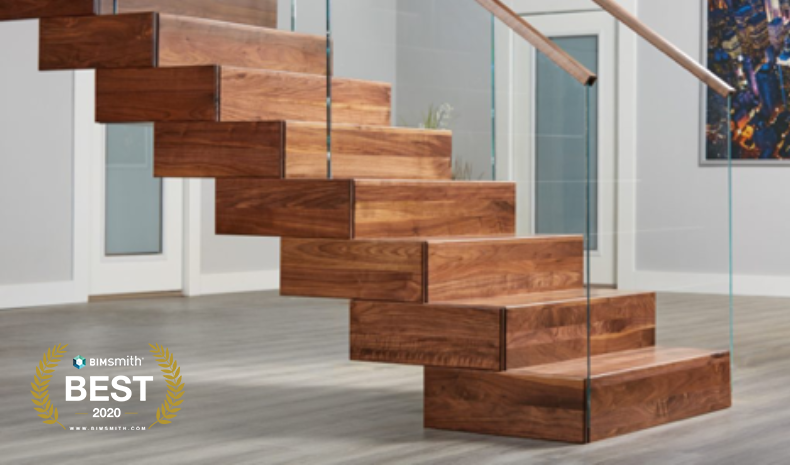 Terrace Stairway
The new Terrace floating stair system from Viewrail makes the mind do a few jumping jacks as it rises cleanly from one floor to the next with no visible supports. The "waterfall" design and availability in 15 different wood species (plus just about any color stain) makes this product as flexible as it is beautiful, earning it a 2020 BIMsmith Best award.

VistaLuxe® 90º Corner Direct Sets
Kolbe's direct set corner windows, part of the VistaLuxe Collection, offer a reduced visible frame for increased visibility while maintaining sleek, defined lines. With pine interiors, extruded aluminum exteriors, and a variety of complementary options, VistaLuxe earns a BIMsmith Best Award for a product that was constantly being photographed all week.

DensDefy Accessories
Georgia-Pacific announced at IBS 2020 their latest offering: DensDefy Accessories, including liquid flashing and a transition membrane primarily used in the DensElement Barrier System. The flexible liquid flashing membrane seals the system and protects against water intrusion at rough openings, penetrations, joints, etc. DensDefy Liquid Flashing is fast cure, moist cure, can be applied in low temps, and can tolerate rain immediately after application. The new liquid flashing, as one might expect, is gold.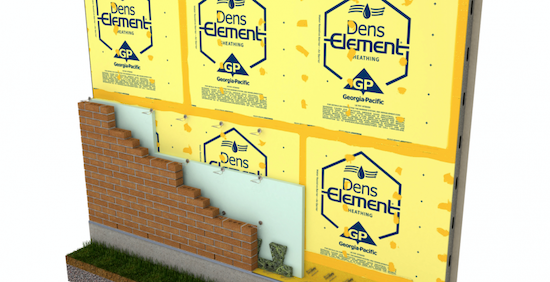 The official press release quotes Vice President of Marketing & Product Management Jason Peace: "Given the ongoing labor shortage in the industry, our customers need products that bridge the gap…DensElement Barrier System was our first foray into water management. The DensDefy Accessories complete our system, allowing customers to get the entire package from one customer."


Weiland Aluminum Wood-Clad Liftslide Door
Andersen's booth at IBS was gracefully framed on its interior corner by an enormous example of one of its curved Weiland® Liftslide Doors. Liftslide doors are large sliding glass walls that can be built in straight, corner, or curved configurations, with panels that are able to slide against a jamb, tuck into a wall pocket, or sit along an outside wall. The curved LiftSlide door makes for a sleek, dramatic statement, earning itself a 2020 BIMsmith Best Award.
U by Moen Smart Faucet
As the latest addition to Moen's line of smart, wifi-equipped fixtures, the U by Moen Smart Faucet brings the intelligence of voice-enabled assistants to your kitchen sink. With a number of impressive "skills" that include precise measurements of volume, temperature, and time, Moen's Smart Faucet provides a novel, if not essential, addition to the kitchen. After a few demonstrations of "Hey Google, pour me 3 tablespoons of water" and "Hey Alexa, heat up the kitchen faucet to 85 degrees," our team was ready to say, "Hey Google, give U by Moen Smart Faucet a BIMsmith Best Award."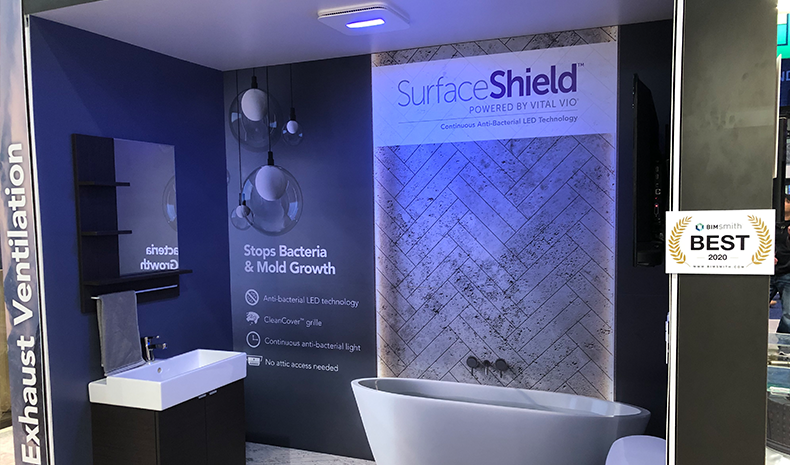 SurfaceShield™
Disinfecting light has been a rapidly growing area of interest for the building community, typically in high-use areas such as healthcare, fitness, and education. SurfaceShield™ by Broan brings this technology further within reach in a bath fan that provides antibacterial LED lighting that provides continuous protection against harmful bacteria and mold. With options for a cool white color tone in addition to the standard purple-ish hue, SurfaceShield™ is one of this year's BIMsmith Best winners.

Vintage Ranch Series
Eldorado Stone's Vintage Ranch series is a convincing interpretation of classic, reclaimed barn wood. With six different profiles (Stratuswood, Doverwood, Parchwood, Foxwood, Saddlewood, and Dawnwood), Vintage Ranch provides all the benefits of stone veneer with all the warmth of the classic American countryside.
While Vintage Ranch is not actually one of the newest designs announced at IBS this year for Boral Stone, the product caught the eye of the BIMsmith Best jury, ushering it into this year's list of BIMsmith Best.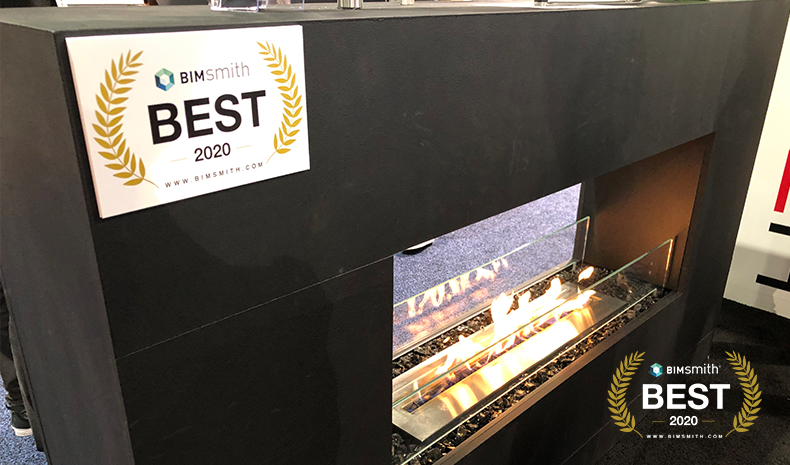 Flex Fireplace Series
Ecosmart's Flex Series provides builders with a zero-clearance fireplace with virtually none of the handicaps of traditional fireplaces. As a clean-burning product (running on e-NRG bioethanol), the Flex Series requires no flue or chimney, and with a self-contained burner, there's not even a need to run pipes or cables through the walls. The result is a sleek, easy-to-install fireplace that brings out the warmth in any room.


Charlestown Matte
In celebration of its twentieth anniversary as a company, Cambria introduced twenty new designs available for its reputable quartz surfaces as part of its bold 20 / 20 / 20 / 20 launch (twenty new designs for its twentieth launch on its twentieth anniversary in 2020). Its 3,500 square-foot booth at KBIS included twenty-two vertically-hung 11' x 2' slabs featuring the new designs on both sides. Charlestown Matte, a "dark and dramatic charcoal gray surface…imprinted with meandering gray and white veining above faint black currents that ripple below the surface," caught the eye of the BIMsmith jury and earned it recognition as one of this year's 2020 BIMsmith Best.

36-Inch Dual-Fuel Pro Range
As the newest range to join the ranks of Signature Kitchen Suite's product lineup, the 36-Inch Dual-Fuel Pro Range packs a punch. Equipped with sous vide, induction, and gas burners on one cooktop, as well as full wifi integration for smart connectivity, this range is an impressive solution for new homes. With a complementary 36" hood engineered to enable installation without need for a separate make-up air system, it makes a great choice for urban homes or luxury high-rise buildings.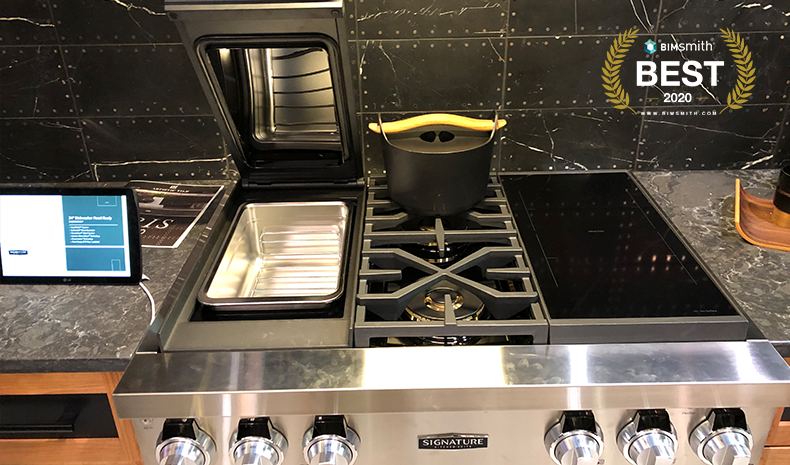 The official release addresses the model's ambition to provide homeowners with "the capability to achieve professional-level results and capture the full, true flavor of foods right at home."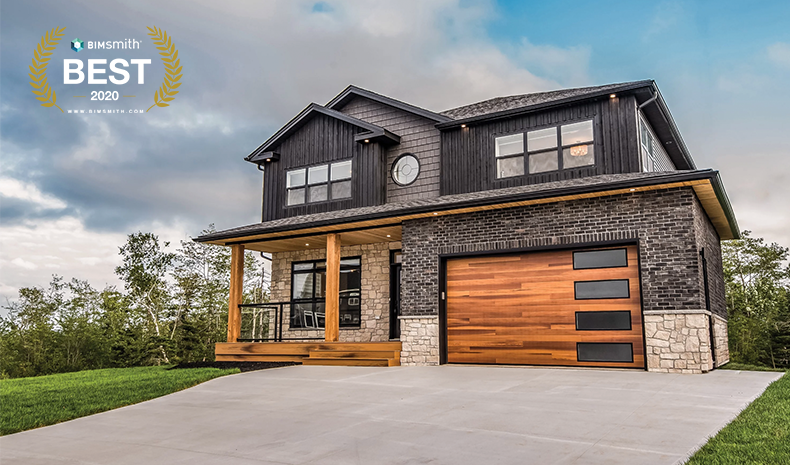 Contemporary Collection
The Contemporary Collection of overhead doors by CHI Overhead Doors highlights flush products with a unique focus on custom window size and placement for creative design. Available in standard colors and Accents Woodtones, this collection is a perfect complement to both traditional and modern architecture. The collection features Skyline Flush, Planks, and Sterling doors.
--
BIMsmith is a free cloud platform for architects, designers, and building professionals to research, select, and download building product data. Search, discover, compare, and download free Revit families on BIMsmith Market, or build complete, data-rich Revit wall, floor, ceiling, and roof systems faster with BIMsmith Forge.