You may have heard of Fallingwater, Taliesin, or the Unity Temple, but world-renowned architect Frank Lloyd Wright's portfolio included more than just that. Wright designed over 1,000 architectural projects of all types, of which 532 of those were realized. Here are some projects that you may not have known were designed by Wright.
1. Price Tower - 1952
Located in Bartlesville, Oklahoma, the Price Tower is one of two vertical standing buildings by Wright - the other being Johnson Wax Research Tower. The concept for this "tower in a country town" was based on a tree, with its core being the trunk and additional floors being the branches.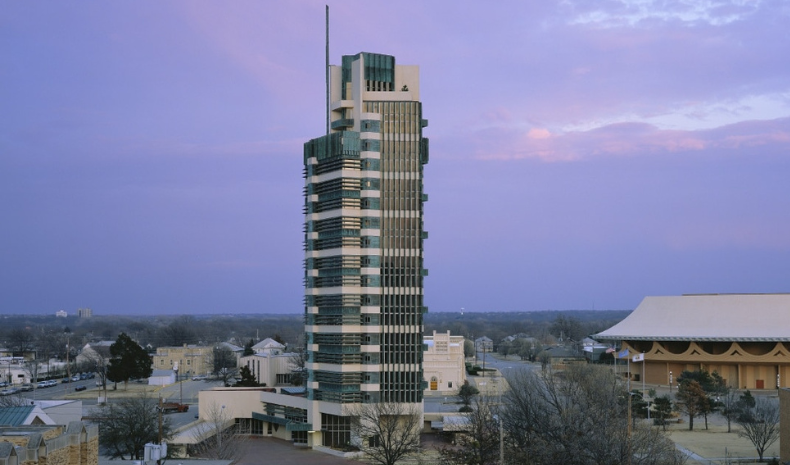 Photo Credit: Frank Lloyd Wright Foundation
Though the tower's main use was for H.C. Price Company's headquarters, the Price family had the idea to include residential apartments to give more use to the building and provide financial security. This added an extra challenge to Wright, but he found a solution by using lines and divisions derived from the company's logo.
These lines subdivided the floor plates and then rotated them by 45 degrees to make four separate quadrants on each floor. Three quadrants were used for office space, while the other housed two residential units.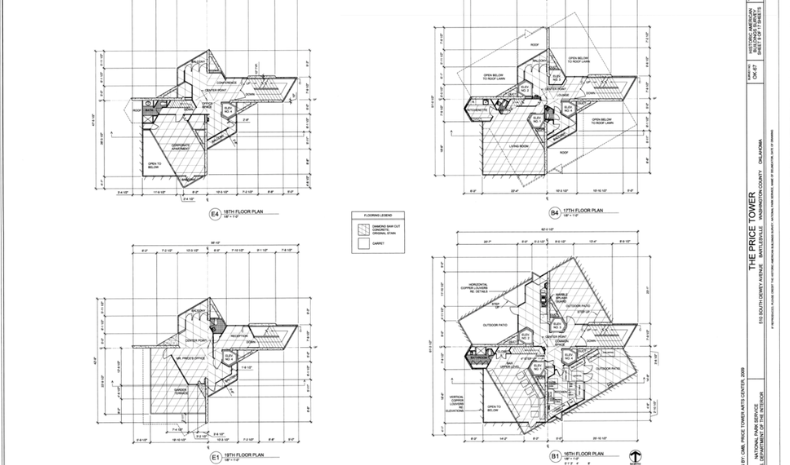 Wright managed to keep his distinguished principles in this project even though it was outside of his usual designs. Today, the tower is known as the Price Tower Arts Center and is used as a museum for art, architecture, and design, along with an inn for visitors to experience one of Wright's only high-rise projects.
2. Monona Terrace Community and Convention Center - 1994
Wright's desire to design a public structure in his hometown of Madison, WI inspired the Monona Terrace Community and Convention Center. His first design began in 1938, but through a series of incarcerations, it didn't take shape until 1959, just seven weeks before his death.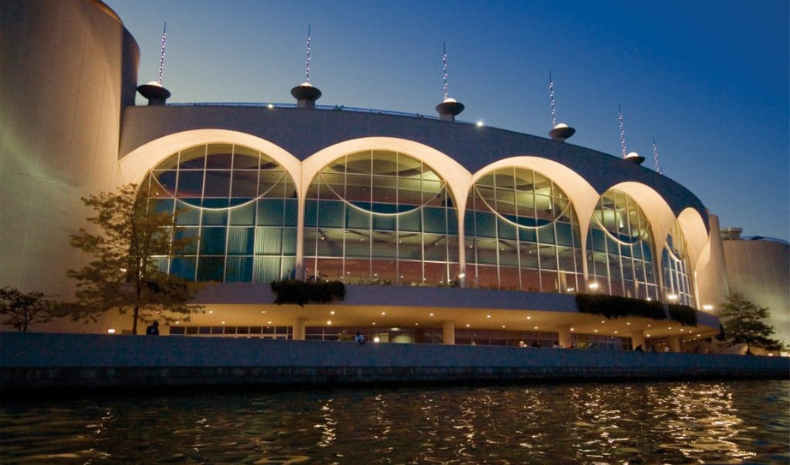 Photo Credit: Frank Lloyd Wright Foundation
In Wright's original design, the center would provide a link to the shoreline of Lake Monona and included a complex of offices, a courtroom, a jail, and a railroad station. Wisconsin voters opted to use the same site as the original plan but instead chose to use it as a community and convention center in 1992.
Wright's design was used for the exterior of the building and the interior was redesigned by Wright's apprentice, Tony Puttnam. The resulting design included an exhibition hall and a media center with modern technology and amenities.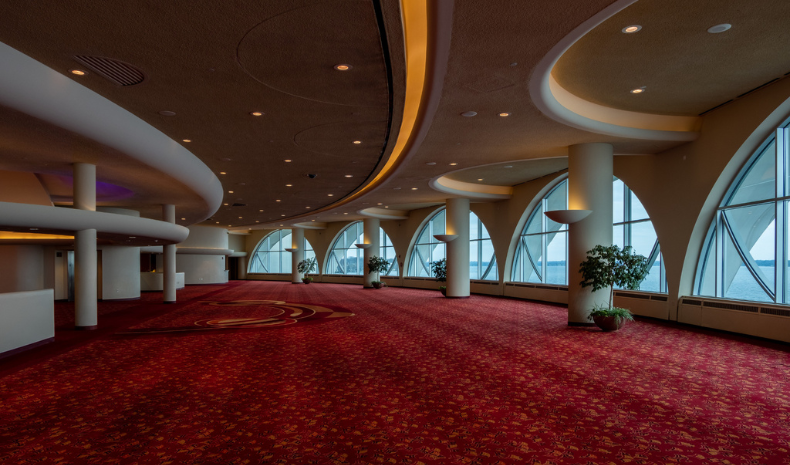 Photo Credit: Travel Wisconsin
3. Ennis House - 1924
This house has been used as a background setting in several popular films including Blade Runner, Predator 2, The Rocketeer, and Rush Hour to name a few. Wright originally designed this house for Charles and Mabel Ennis in 1923, but it quickly became a landmark of significance and beauty.
The inspiration for this design came from Charles Ennis and Wright's shared love for Mayan art and architecture and their symmetric, organized designs.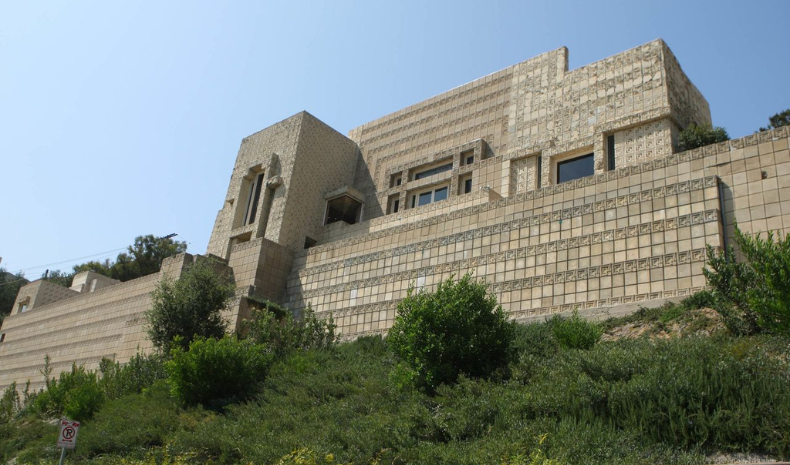 Photo Credit: Mansion Global
The Ennis House used over 27,000 concrete blocks in its construction, which was unusual as concrete was not common in residential construction in the 1920s. Wright had hoped concrete would be a source to be used for affordable housing. Concrete had always been considered cold and unwelcoming, but Wright created something that was warm and decorative through the carvings of a Greek key design on each block.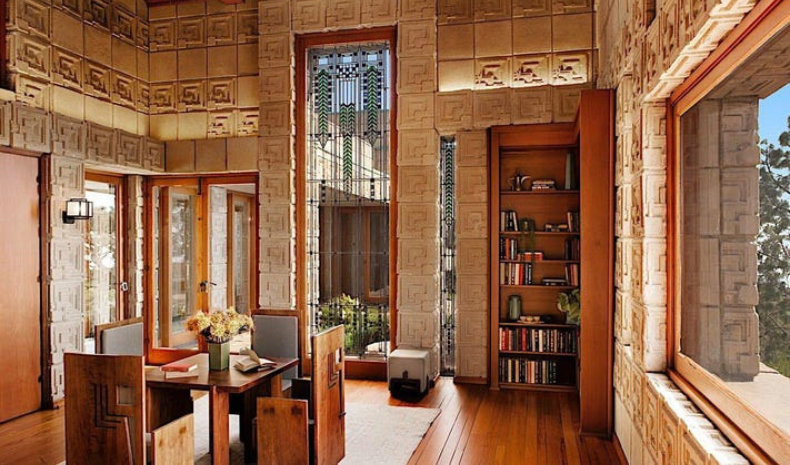 Photo Credit: Forbes
Like many other architectural buildings that go beyond typical construction methods, the Ennis House was considered unstable even before it was completed. Several of the concrete blocks on the lower sections started to crack under tension. The house also faced significant damage in the 1994 Northridge earthquake and record high rains in 2005.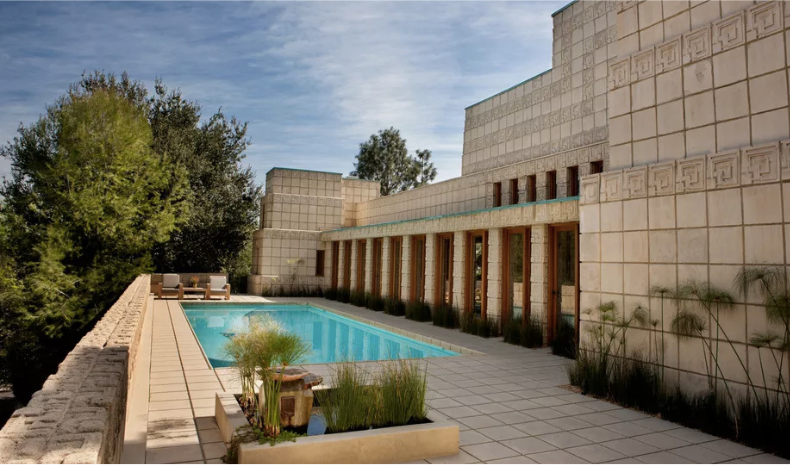 Photo Credit: The Spaces
The Ennis House has changed ownership several times since it was first built and was renamed the Ennis-Brown House after the house was donated to the Trust for Preservation of Cultural Heritage by Augustus O. Brown. The home recently sold for $18 million to an anonymous buyer in 2019.
4. Florida Southern College - 1938-1958
Frequently labeled as one of America's most beautiful campuses, Florida Southern College is Wright's largest single-site collection for one client and Wright's only executed design for a college campus. After proposing 18 different building designs for the campus, 13 were funded and built, one of them posthumously.
On a mission to create a "truly American campus," Wright designed 80 acres of buildings and covered walkways radiating from a central hub. Construction started at the Methodist school in 1938 with the Annie Pfeiffer Chapel, the focal point of the campus.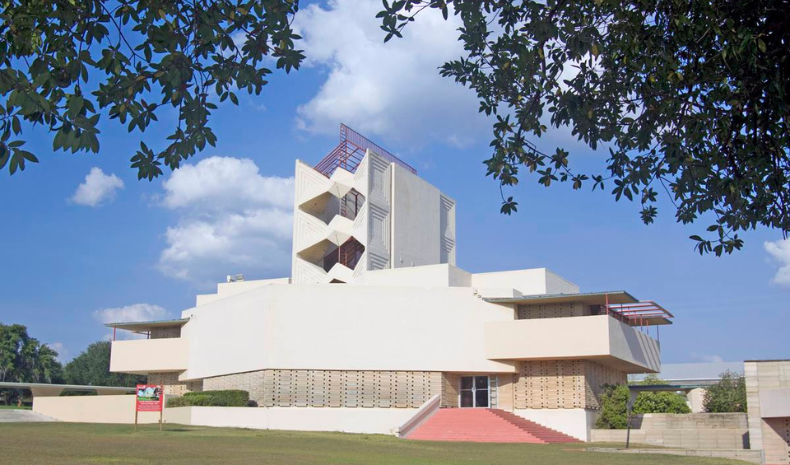 Photo Credit: UM News
Each building was constructed with tan-colored concrete and is detailed with patterning and texturing of each structure's walls along with stained glass.
Student labor was employed for the construction of five of the buildings. Construction was happening during wartime, so most of the construction workers and the campus's enrollment were comprised of women.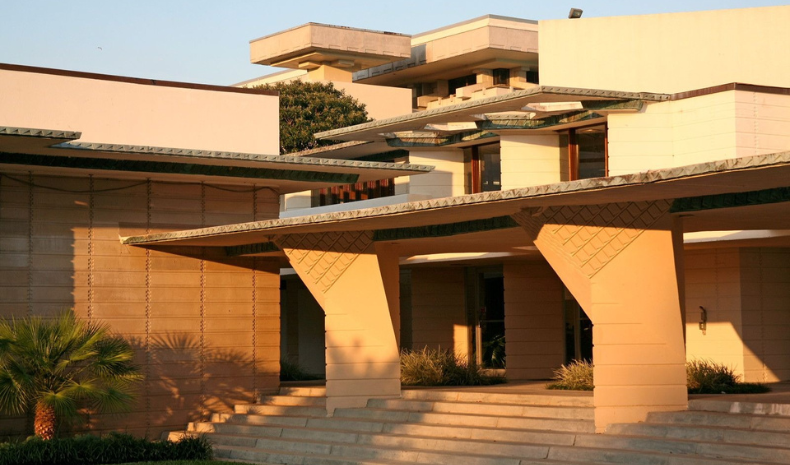 Photo Credit: Designed by Frank Lloyd Wright
Wright's completed structures include Annie Pfeiffer Chapel, the Buckner Building (originally the Roux Library), the Ordway Building, the Danforth Chapel, the Polk County Science Building, the Watson Fine Building, the Water Dome, the Three Seminars (the L.A. Raulerson Building) and the Esplanades.
Photo Credit: Florida Southern College
5. Grady Gammage Memorial Auditorium - 1962-1964
Constructed in 1962-1964, the ASU Gammage Auditorium achieved the lowest-ever construction costs for a multipurpose theater at the time. The auditorium uses two circles, the largest housing the promenades, lobbies, and audience hall, and the smallest contains dressing rooms, workshops, classrooms, and offices.
Wright used 50 concrete columns to support the outer roof and the columns frame the glass-lined lobby. The stage is adaptable to accommodate grand operas, symphonies, and musical and dramatic performances amongst others. This was made possible by a telescoping shell to create different sizes for different performances.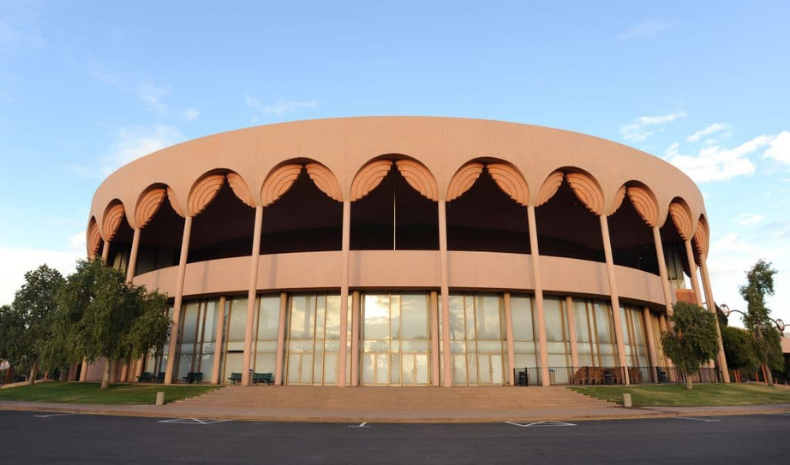 Photo Credit: Frank Lloyd Wright Foundation
The 3,000-seat auditorium consists of three levels of seating, with the furthest being 115 feet from the stage. The grand tier is supported by a 145-foot-long girder and is constructed so that sound completely surrounds the audience. This was just the second instance of this acoustic effect, the first being the Adler and Sullivan's Chicago Auditorium in 1889.
Have an understated Frank Lloyd Wright project that we missed? Let us know in the comments below!
BIMsmith is a free cloud platform for architects, designers, and building professionals to research, select, and download building product data. Search, discover, compare, and download free Revit families on BIMsmith Market, or build complete, data-rich Revit wall, floor, ceiling, and roof systems faster with BIMsmith Forge.