Central Park Tower, also known as Nordstrom Tower, 217 West 57th Street, is finally near its long-awaited completion. The 1,550-foot tall reinforced concrete skyscraper, designed by Adrian Smith + Gordon Gill Architecture and developed by Extell, is now officially the tallest building in America, surpassing Chicago's Willis Tower. Smith + Gill explain how the building's cantilevered design maximizes its views by giving all north-facing apartments Central Park vistas.
Quarter mile-high views show exceptional views of notable landmarks, such as Central Park, the Empire State Building, One World Trade Center, Hudson Yards, Verazzano Bridge, and surrounding New Jersey areas.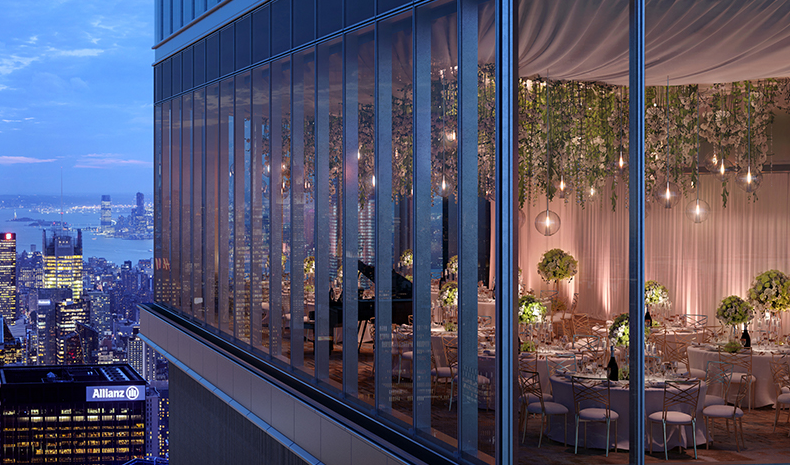 100th Floor Ballroom, Rendering by Extell
Extell has revealed renderings of the Central Park Tower's 100th-floor residential club. Standing 1,000 feet over Billionaires' Row, this will be the highest residential lounge in the world. The club will span 8,300 square feet and include a private ballroom, dining room, bar, full-service kitchen, and a wine and cigar lounge. The 1,550-foot skyscraper will contain 179 residences, on which Extell is expecting a $4 billion sellout.
100th Floor Dining Room, Rendering by Extell
The Central Park Tower's amenities will be managed by a lifestyle specialist, who has yet to be named. Additional amenities located from the 14th to the 16th floors include an outdoor terrace with a swimming pool and cabanas, private screening room, residential lounge, children's playground, and a full floor of spa amenities and fitness center.
Bedrooms will be away from the main gathering areas and will have views of the Empire State Building, the World Trade Center, the Chrysler Building, the Statue of Liberty, One Vanderbilt, the Verrazano Narrows Bridge, Hudson Yards, Downtown Brookly, and the rising and setting sun.

Central Park Tower, Photo by Tectonic
Exterior work on Extell's Central Park Tower is nearly complete. The reflective glass curtain wall is approaching the parapet of the 1,550-foot tall structure. The safety netting has been fully removed from the structure, revealing the steel framework outline of the crown. The exterior hoist is still affixed to the backside of the tower, facing Central Park, and will remain standing until interior work is complete.
Otis Elevator developed a special high-speed elevator that goes 2,000 feet per minute, taking you up 131 floors in a minute and a half. To keep the tower from swaying in the wind, it has elaborate cantilevers and aerodynamic openings, as well as huge weighting systems on the roof.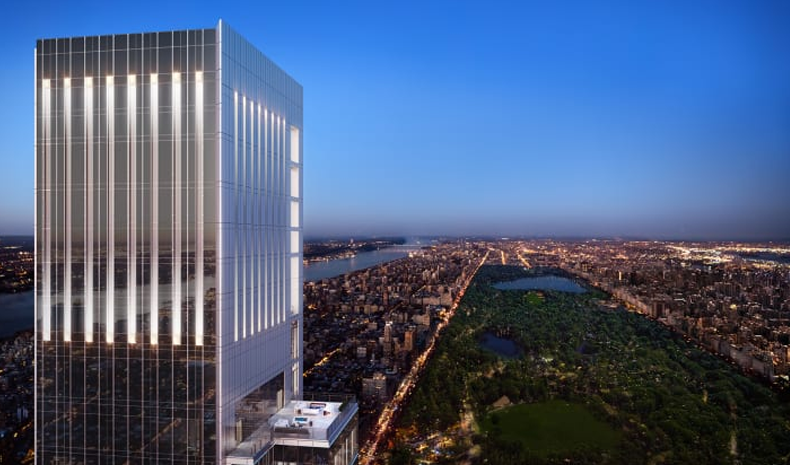 Image source: Extell
Central Park Tower is nearing completion, and the first anticipated closings are likely soon to follow. Condominiums will begin on the 32nd floor and range from two-to eight-bedrooms apiece. The cheapest public listing is a two-bedroom and two-bath spread on the 33rd floor for $6.9 million, while the most expensive of the seven listed is a $63 million, five-bedroom and five-bathroom home with 360-degree views on the 112th floor. 20 residences will be priced over $60 million, topped off by a $95 million penthouse.
Extell estimates the building will be completed in late 2020, allowing buyers to start closing.
--
Dylan Kleintop
BIMsmith is a free cloud platform for architects, designers, and building professionals to research, select, and download building product data. Search, discover, compare, and download free Revit families on BIMsmith Market, or build complete, data-rich Revit wall, floor, ceiling, and roof systems faster with BIMsmith Forge.