What are skyscrapers made of? Concrete? Steel?
Usually, you'd be right. But there's something a little different about the Mjøsa Tower in Brumunddal, Norway.
It stands 84.5 meters high and is the world's tallest timber building.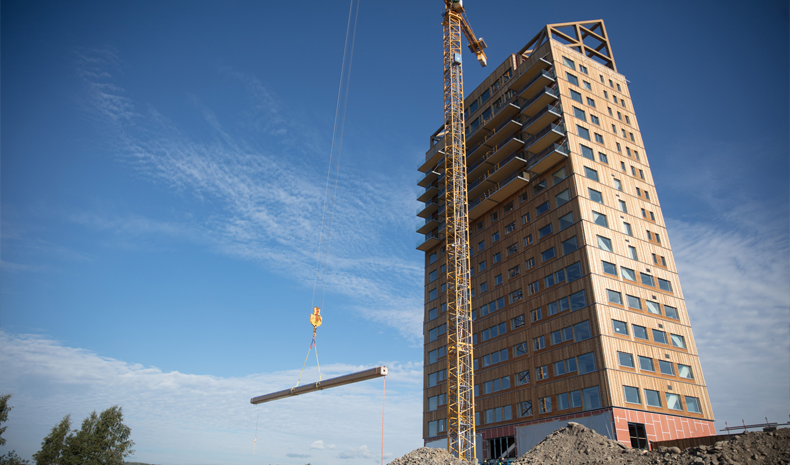 Image source: Inhabitat
The Mjøsa Tower joins a number of other so called 'plyscrapers' already built in Europe.
Trafalgar Place in London and the HoHo building in Vienna are already complete, and there are plans for another similar construction at Silicon Docks in Dublin.
All of these are dwarfed by proposals for the W350, a planned 70 story wooden skyscraper in Tokyo. This would not only make it the world's highest 'plyscraper', but also the tallest building in Japan.
With timber construction, it seems the sky's the limit.
Modular Construction with Timber
The Mjøsa Tower is an example of modular construction. The major structural timber component parts were produced at the manufacturers' factories and later assembled on site.
The components themselves are made from three different types of engineered timber - Glulam, CLT, and LVL.
Glulam
Glulam is an engineered timber alternative to concrete or steel.
It is made from timber boards, which are glued together under heat and pressure to form solid beams.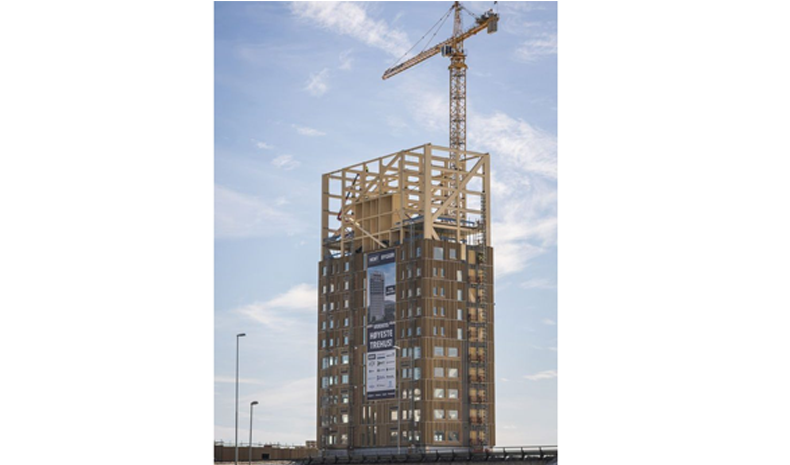 Image source: CGTN
The treated timber is capable of carrying far heavier loads than raw timber of equivalent dimensions. It can be formed into very large beams and arches. The only real restriction on how large and heavy-duty glulam components can be made is transport and handling considerations.
CLT
CLT stands for cross-laminated timber. Similar to glulam, it's made from layers of timber planks glued together. The direction of the grain alternates 90 degrees by layer. This adds immense rigidity and strength.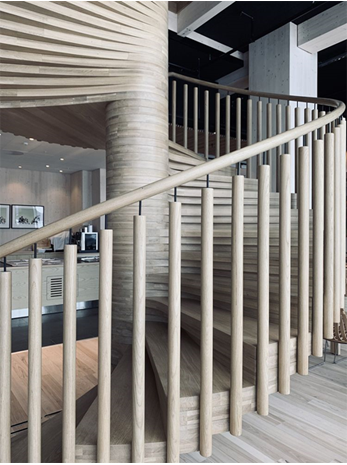 Where glulam is used for beams and columns, CLT is more like timber boards or panels, only much stronger.
LVL
LVL stands for Laminated Veneer Lumber.
Like glulam and CLT, LVL is another form of engineered wood. It is made from very thin sheets of timber which have been glued together.
Because it is made in factory conditions, LVL is much stronger, straighter, and more dimensionally accurate than raw timber. LVL also suffers much less from shrinkage or bowing. This is why LVL was the material of choice for the prefabricated flooring units used at Mjøsa Tower.
Load-Bearing Structure
The load-bearing structure of Mjøsa Tower is based on diagonal glulam trusses at the façades along with large glulam columns and beams inside the building.
The trusses give the building its necessary stiffness and provide bracing against the high winds expected in the building's exposed position.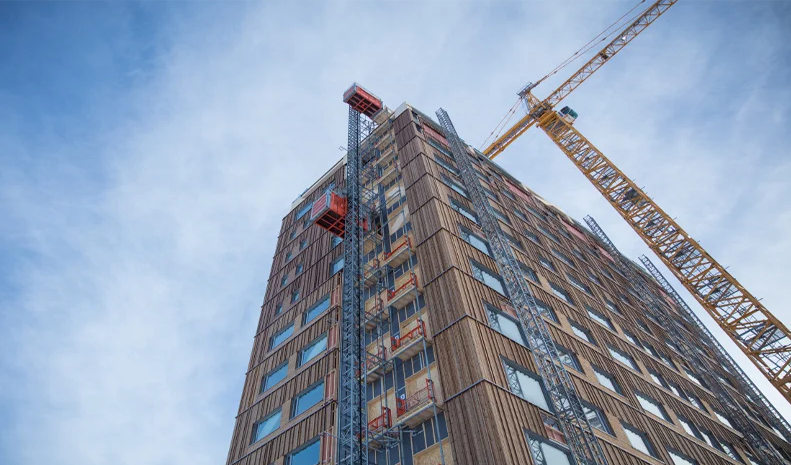 Image source: Design Build Network
There is a secondary internal structure supporting the building's three elevators and two staircases. This includes CLT components, but these have no bearing on the structure's horizontal stability.
LVL was selected as a component of the flooring elements and plays a secondary structural role in the transfer of wind load onto the primary structural elements.
The upper floors are concrete – simply because the extra weight was required to slow any sway in high winds.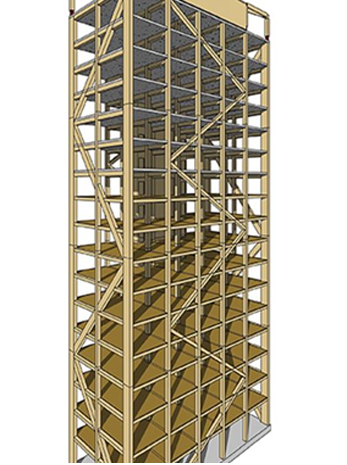 Image source: mesawood.com
Flooring Elements
The individual flooring elements comprise glulam girders, screwed onto beams, and end plates made from LVL. The cavity is filled with Rockwool insulation. The top of each flooring element is faced with an LVL Q-Panel and a weather-resistant coating.
Each flooring element works as an individual rigid plate. They have a fire-resistance rating of 90 minutes (R90).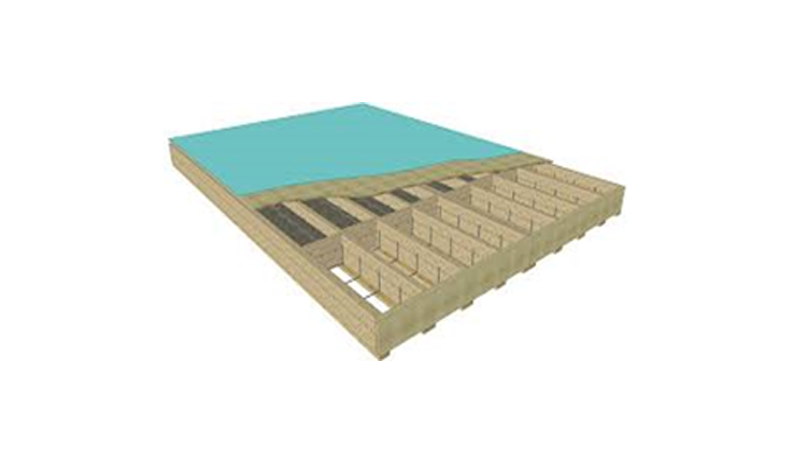 Fire Safety
Perhaps an obvious drawback leveled at timber construction is the risk of fire.
The Mjøsa Tower was built to very stringent Norwegian fire standards. One surprising characteristic of wood helped to achieve this. When an untreated wood surface is subjected to fire, the outmost surface chars. This charring actually protects the interior of the wood and prevents the core of the timber from burning.
The glulam structures retain their load-bearing capacity even in the event of a complete burnout fire.
Coupled with this, the Mjøsa Tower also benefits from a sprinkler system in every room.
Image source: ArchDaily
Sustainability
According to investor Arthur Buchardt, the Mjøsa Tower was responsible for 60% lower CO2 emissions than a comparable concrete/steel construction.
Combining that with warm aesthetics, acoustic benefits, and speed of construction, building with timber may very well start to become a serious consideration for the future of modern construction.
--
Peter Martin
BIMsmith is a free cloud platform for architects, designers, and building professionals to research, select, and download building product data. Search, discover, compare, and download free Revit families on BIMsmith Market, or build complete, data-rich Revit wall, floor, ceiling, and roof systems faster with BIMsmith Forge.