The Achitecture firm Skidmore, Owings & Merrill (SOM) has revealed its design for 8 Shenton Way, a supertall skyscraper in Singapore standing at 1,000 feet.
Expected to be completed in 2028, the 63-story mixed-use development will comprise more than 1.6 million square feet of floor space for office, retail, hotel, and luxury residential use, as well as over 100,000 square feet of public green space.
Structural Design
The 8 Shenton Way project is a redevelopment of the 1986-vintage AXA Tower, the world's tallest cylindrical building. The cylindrical structure is being demolished and replaced with a stepped construction, reminiscent of past SOM designs like Dubai's Burj Khalifa.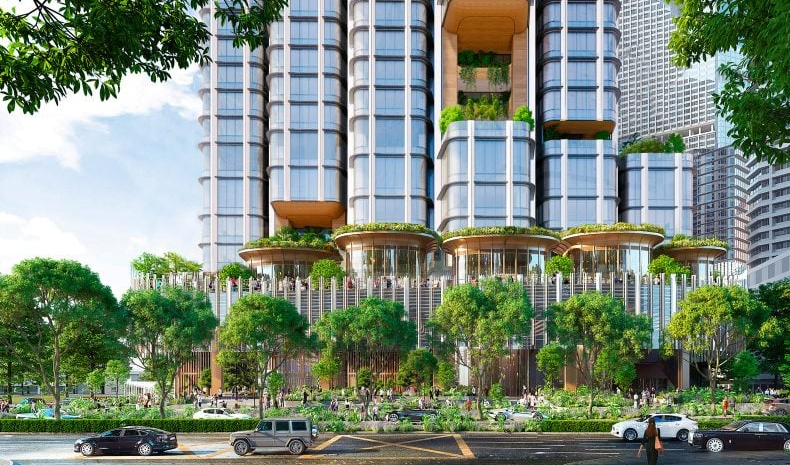 Image source: Dezeen
Designs for the 63-story skyscraper show a stepped structure rising from a plant-filled base, designed to resemble a bamboo forest.
Image source: Dezeen
The renderings of the structure show a curved pedestal for the skyscraper covered in vertical louvers and stylized fans. Protruding from the pedestal is pagoda-like glass and wood-clad structures, which will host public amenities.
Sustainable
Nature and sustainability are the driving forces behind the design. The supertall project will feature underground connectivity to the Tanjong Pagar MRT station and is seeking the top-level Green Mark Platinum certification from the Building Construction Authority of Singapore, with extensive use of natural materials like zero-waste terracotta and engineered bamboo.
The facade will be built of energy-efficient glazing, and recyclable aggregates will be used in its concrete structure, manufactured through a low-carbon process.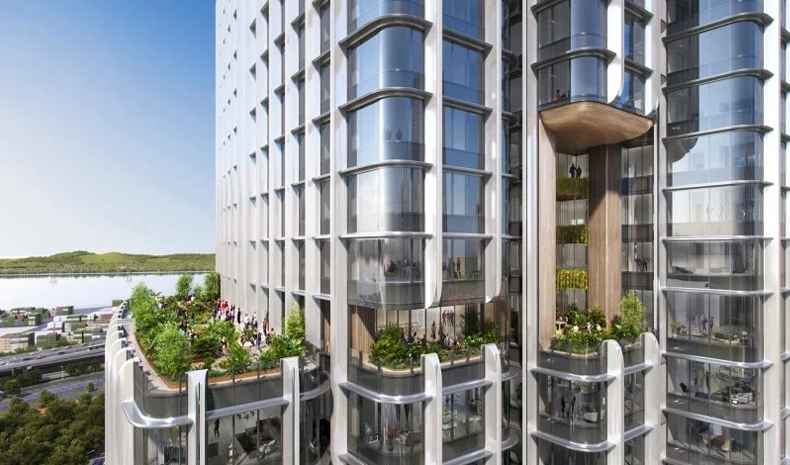 Image source: Dezeen
Altogether, the skyscraper will boast seven sky gardens on hotel, residential, and office floors as health and wellness were primary design drivers for the skyscraper.
Interior Design
A public performance and events space with retail, seating, and bike racks will activate the streets, while the landscaping will extend from the street into the building, creating a seamless green corridor for pedestrians.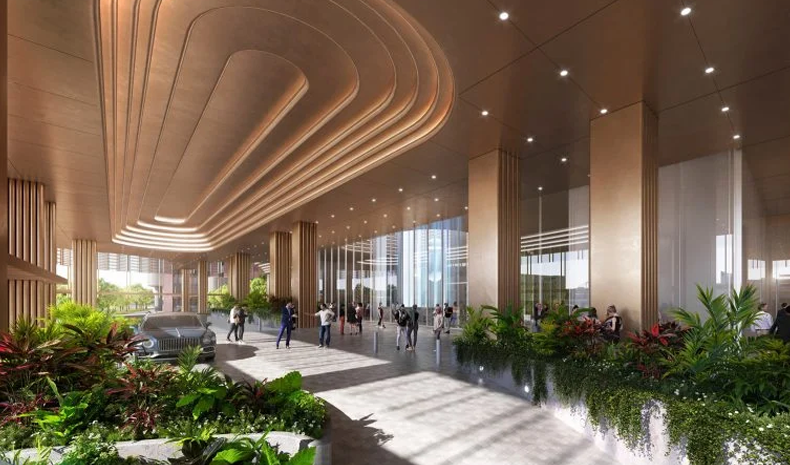 Image source: Dezeen
The lobby of the structure features a multi-story atrium. Wood, terracotta, and stone will be used for the interiors, and the lobby space will feature a reflecting pool.
On the second floor, an open-air green space with restaurants offers room to gather, surrounded by a biodiverse landscape with plants chosen specifically to attract birds.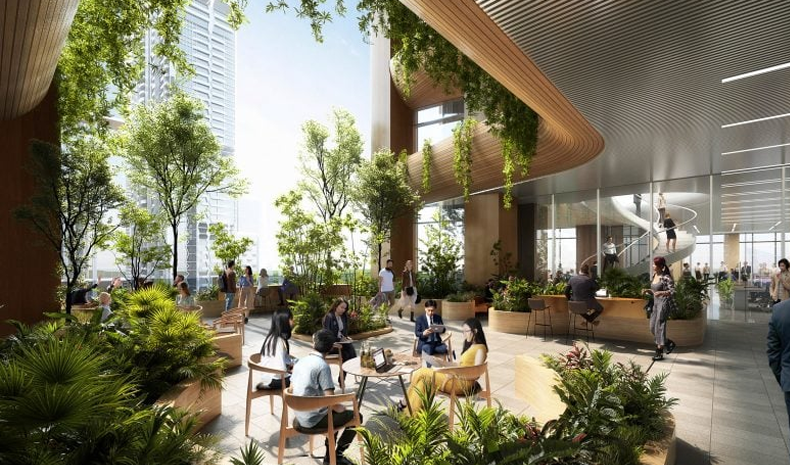 Image source: Dezeen
8 Shenton Way incorporates a variety of post-pandemic features, prioritizing tenants' health. Contactless technology, antimicrobial materials, enhanced natural airflow and filtration, and large, landscaped outdoor spaces collectively create an offering of healthier, wellness-focused spaces in the heart of the city.
BIMsmith is a free cloud platform for architects, designers, and building professionals to research, select, and download building product data. Search, discover, compare, and download free Revit families on BIMsmith Market, or build complete, data-rich Revit wall, floor, ceiling, and roof systems faster with BIMsmith Forge.