It's finally December, which can only mean one thing: it's time for some holiday Revit families!
For the third year in a row, BIMsmith wants to help spread holiday cheer with the Third Annual BIMsmith Winter Wonderland Holiday Revit Family competition!
Show your holiday spirit by creating a winter holiday-themed Revit family for the chance to win fame, glory, and some exciting prizes! Submissions can be related to Christmas, Hanukkah, Kwanzaa, the New Year, or something else winter-related. We want to celebrate your creativity and talent on display as we close out 2022 in classic BIMsmith style.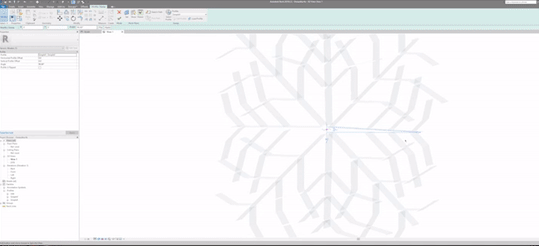 2022 Rules and Requirements
Here is what you need to participate in the 2022 Holiday Revit Family Competition
• Create a Revit family (be creative!)
• Relate the family to a seasonal/holiday theme (i.e., Christmas, Hanukkah, New Year's, etc.)
• To submit your entry, post an image of your Revit family on one of your public social media channels (either Facebook, Twitter, Instagram, or LinkedIn). Follow & tag BIMsmith and use the hashtag #BIMsmithWinterWonderland.
• You may enter with a simple .jpg or screenshot. (If your entry is chosen as a finalist, we will request your .rfa file for review.)
• Multiple entries will be accepted (and encouraged!)
• The competition is open to everyone
• Submissions must be your original work and not the intellectual property of any other individuals or organizations.
• Submission Deadline: Friday, December 30th, 2022 at 5:00pm CT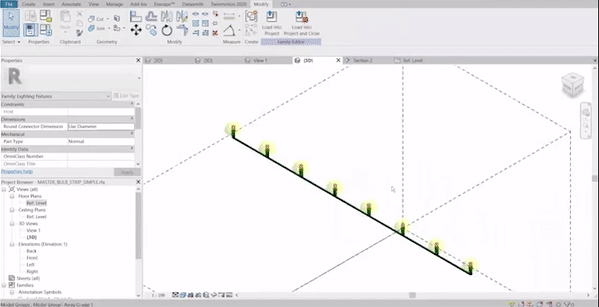 Judging Criteria
The BIMsmith Team of Revit experts and celebrity judges will judge the competition based on three criteria:
• Creativity - Get inspired and have some fun!
• Execution - How well did you build your family? Would it pass your BIM Manager's standards? Is it usable? Would YOU use it?
• Functionality – Does your family surpass basic geometry and incorporate legitimately useful functionality?
Our judging panel will feature some names and faces you'll recognize:
Need some inspiration? Check out our library of free Christmas Revit families!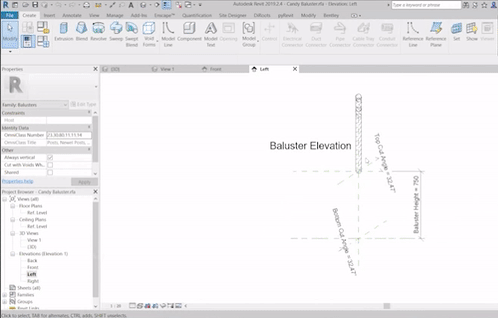 Prizes
1st Place - $500 Amazon Gift Card
2nd Place - $350 Amazon Gift Card
3rd Place - $150 Amazon Gift Card
The top 10 entries will be given the opportunity to be published for public download BIMsmith Market.




Recap: 2021 BIMsmith Winter Wonderland Winners
Need some inspiration for your 2022 Revit family entry? Here are some of the winners from the 2021 BIMsmith Winter Wonderland Holiday Revit Family Competition.
1st Place - Parametric Snowflakes
Creator: Julian Wandzilak
This may look like your typical snowflake, but Julian Wandzilak describes it as "one family to make them all." With no visibility tricks, the snowflakes are fully parametric in size, angles, shape, and materials.
The family was built using basic parametric profiles hosted by sweep paths that share a common path. The profiles are then placed at the desired location to create the symmetrical snowflake architecture.
The parameter that drives the family's size and the pattern is easy to understand and surprisingly fun to manipulate. Watch Julian demonstrate his Revit family here.
2nd Place - Holiday Railings
Creator: Simon Yew
Company: VIA Architecture
Simon Yew created a variety of holiday-themed ornamental railings, from trellises to candy canes and holiday figures. "I find railing doesn't get much love in Revit," Simon said in his submission.
The components made for the family are well documented under easy-to-find type selections and the compilation of the information makes for easy flexibility to get the space between your snowmen and your nutcrackers just right.
The judges were particularly impressed with the successful use of Revit railings to accomplish his vision. It's worth noting that this entry from Simon topped five other submissions of his that all were strong contenders for the finals. Well done, Simon, and thanks for showing us how to stretch Revit to the maximum! Watch Simon illustrate his family here.
3rd Place - String Lights
Creator: Manuel Brey
Company: Desarrollos KOMA, G.P.C.
This family created by Manuel Brey repeats four lights along a wire that can vary in length and spacing between lights. Each of the lights in the family can vary in type, color, and tilt angle, giving you the option of making different patterns. Also, the materials for each glass color were custom-made in order for the lights to illuminate in the right way.
With type parameters that not only control the bulb sizes but also the color of each bulb, you can compile any combination of lights to suit your needs. Plus, with included Dynamo scripts, you can generate any lighting layout driven by a model lines selection. Watch Manuel's demonstration of his family here.
Honorable Mention - Inflatable Santa
Creator: Philip Chan
Company: SmithGroup
After winning the second place prize in 2020, Philip Chan entered the 2021 competition with this parametric inflatable Santa Revit family, reminiscent of your local car dealership around the holidays.
The family is made as a structural column so it can be placed in a vertical or slanted position. All of the materials, arm angles, and heights are parametric.
The judges were impressed yet again with Philip's work, especially with the clever use of the slanted column tool.
Philip also gets the [unofficial] award for the most social chatter on LinkedIn surrounding his submissions, so make sure to connect with Philip and see all of the creative entries he submitted this year.
Advent Calendar
Creator: Allison Harper
Company: Hord Coplan Macht
Allison Harper submitted an Advent Calendar that spells out "Santa Claus is Coming to Town" on the reverse of each day of December leading up to Christmas. The judges appreciated the lack of cookies and milk on the "after" photo from December 25.
Hanukkah
Creator: Mark Davis
Company: Alt Breeding Schwarz Architects
Mark Davis created this Hanukkah menorah to help celebrate the festive season. Within this family, the user is able to adjust the flame, the candle base, candle height, and finish.
Jelly of the Month Certificate
Creator: John Pierson
Company: Parallax Team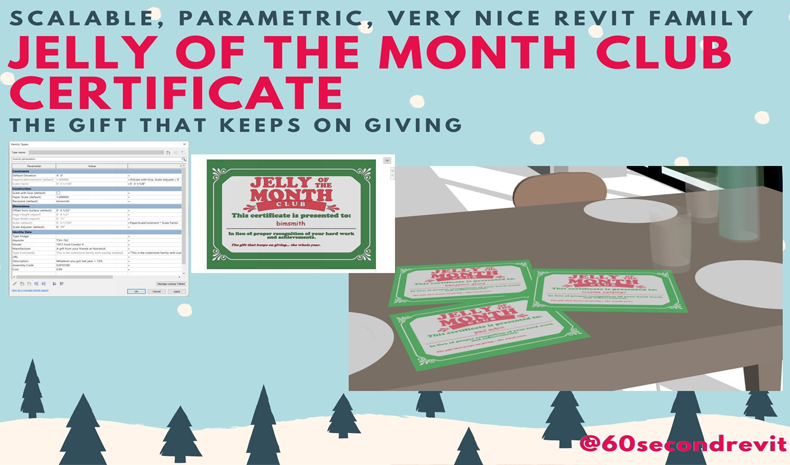 With a nod to one of the greatest Christmas movies of all time, John Pierson created "the gift that keeps on giving": a scalable, fully-parametric Jelly of the Month Club Certificate Revit family. He also gave a special shoutout to Carl Storms in his own three-story version of the certificate. Very nice, Carl.

Christmas Train
Creator: Andrei Triffo
Company: O'Connell Mahon Architects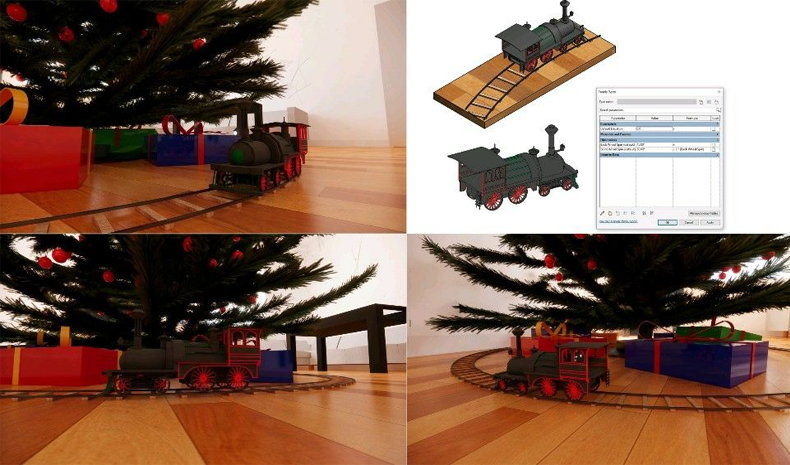 As anyone knows, a Christmas tree setup is incomplete until it has a train to go around its base. Andrei Triffo created this Christmas train Revit family, modeling it to rotate along an axis with the wheels spinning.
Holiday Garland
Creator: Rina Sahay
Company: Fishbeck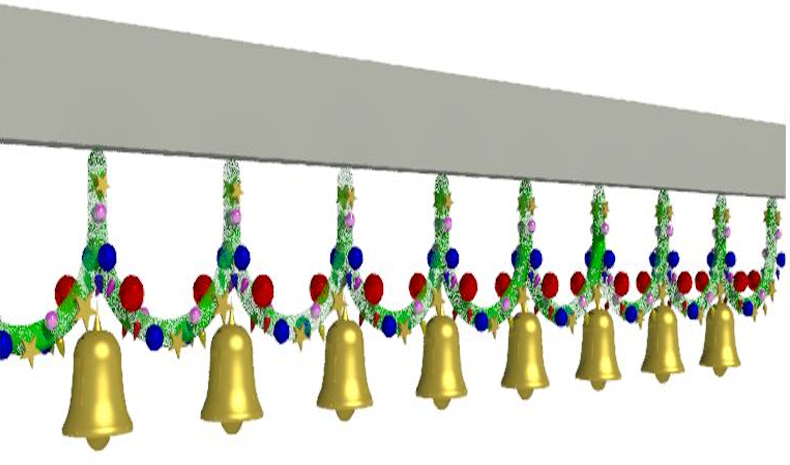 Rina Sahay created this Revit family with inspiration from the garland in her own home. This is a formula-driven parametric array of simple geometries in a Line Based Generic Model family. Brightly colored reflective materials call out the ornaments. Transparency, cutouts, and bump mapping add detail to the garlands without the need of modeling actual foliage.
Monopoly: BIMsmith Winter Wonderland Edition
Creator: Simon Yew
Company: VIA Architecture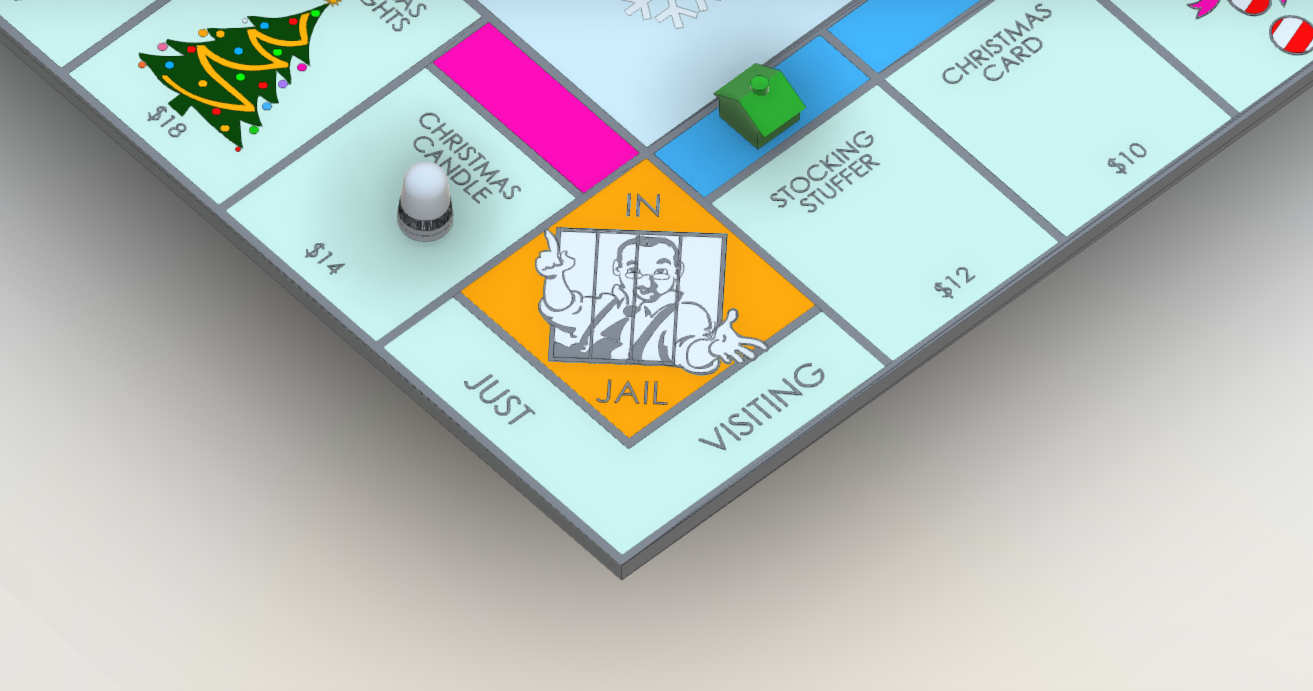 With a creative take on the classic board game Monopoly, Simon Yew modeled a Monopoly Revit family that contains a traditional version and a BIMsmith Winter Wonderland version. The creativity and attention to detail are impressive, all the way down to placing one of the competition's judges (Paul Aubin) on the Jail tile.
BIMsmith is a free cloud platform for architects, designers, and building professionals to research, select, and download building product data. Search, discover, compare, and download free Revit families on BIMsmith Market, or build complete, data-rich Revit wall, floor, ceiling, and roof systems faster with BIMsmith Forge.