The following is a guest article by Rob Geller of Promenaid. Submit your own article or building project to be featured on the BIMsmith Blog.
Healthcare facilities range from large hospitals to small clinics, essentially anywhere professional medical care and support is given. These facilities include outpatient surgical centers, birth centers, blood banks, nursing homes, rehabilitation centers, and urgent care. Because they serve those who are typically older or weakened in some capacity – through illness, surgery, etc. – providing support throughout the facility is crucial to creating a safe environment for patients.
Preventing the spread of germs is a challenge faced by healthcare facilities in particular, especially now as COVID-19 has made sanitization an even higher priority than in normal times. This means that choosing materials that aid in enhancing hygiene, such as hygienic handrails that help prevent the spread of germs, is a no-brainer. When this quality is combined with functionality, you know that you are using the best possible materials.
Handrail Use in Healthcare Facilities
Handrails are used in many areas throughout a healthcare facility. In each location, handrails play a critical role in creating a safe and supportive environment for everyone, especially the elderly, those receiving medical attention, and those weakened by illness or various procedures.
Hallways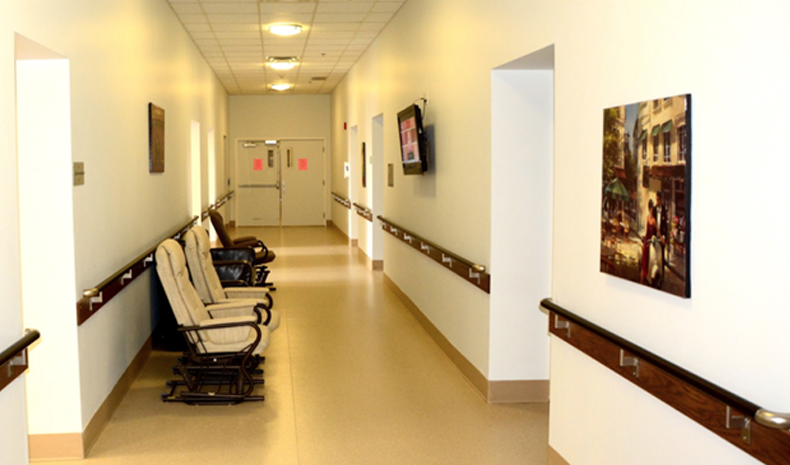 Healthcare facilities are known for having long hallways. Nursing homes and hospitals have long hallways where patient rooms are located. Many facilities have hallways that connect a parking garage to the building. If you've ever navigated the winding hallways of a hospital, you likely understand the need for a handrail that provides adequate guidance and support. Hospital hallway handrails are essential to creating a safe, supportive, and hygienic environment.
Bathrooms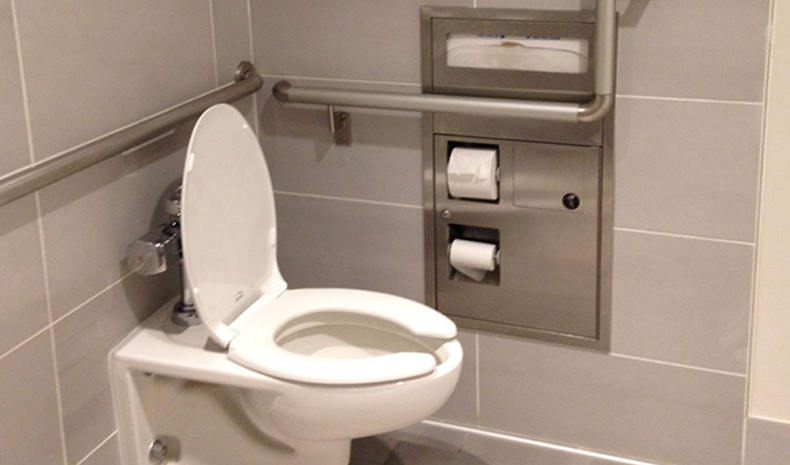 Bathrooms in a healthcare facility are found in inpatient rooms as well as in common areas for use by the public. Regardless of their location, handrails provide support as people raise and lower themselves to the toilet. In living facilities and patient care rooms, residents and patients use handrails and grab bars to navigate the slippery shower environment.
Moisture in bathrooms allows bacteria to thrive, so a handrail that is easily cleaned and disinfected is essential to health and safety. Having a handrail that is corrosion-resistant ensures that it will stand up to use without deteriorating in strength or looks.
Patient rooms
Hospital handrails found in inpatient rooms create the safest space for those in a weakened state as a result of age, illness, or surgery. Patient rooms are designed with healing and safety in mind and incorporate elements that contribute to a calming aesthetic. These elements also do double duty as a safety measure. Hospital bed handrails are essential to the safety of patients getting up from and lowering down onto the bed. Hygienic handrails provide an easily cleanable option that is also stylish and contributes to the healing aesthetic of the room.
Common Areas
Hospital handrails can also be integrated into common areas for added safety and support. In cafeterias, as people navigate with a tray full of food or a hot coffee, having a handrail as an added point of contact prevents falls. Including handrails along walls in waiting rooms gives people additional support that they need to navigate the space safely.
Stairways
Hospital handrails on stairways receive a lot of use. Stairways are high traffic areas, and the handrails located there require frequent cleaning. Hygienic handrail solutions help to make stairways as safe as possible, not only as an added support while people climb the stairs, but also as a way to fend off germs and maintain the health of patients and staff.
Ramps
Generally equated with wheelchair access, ramps provide a method of travel for anyone with mobility issues that has trouble navigating stairways. Another high traffic, high use area, ramps require hygienic handrails that are easily sanitized.
3 Handrail Must-Haves for Healthcare Facilities
1. Hygienic
Aluminum handrails are easily cleaned due to their smooth surface. Using a simple soap and water mixture will wash away germs. Equally effective, using spray cleaners and disinfectants ensures that germs are killed and surfaces remain as safe as possible. Because they are also corrosion and rust-resistant, they will maintain their smooth surface regardless of the frequency of use.
2. Supportive
Hospital handrails provide crucial support for recovering patients, the elderly, and anyone with mobility issues. Whether they are located in hallways, on stairways and ramps, or inpatient rooms and common areas, they create a third point of contact to support people as they move from one place to another.
3. Easy to Grip
A handrail that features a circular profile and is ADA-compliant ensures a power grip. A power grip is achieved when the fingers are curled towards the thumb. This grip is 5x stronger than a pinch grip where the fingers and thumb are pinched towards each other. Using a power grip creates a stable third point of contact and allows people to firmly hold onto the handrail. If a slip or fall occurs, the handrail is there to help regain stability.
Hygienic Handrail Solutions
For the best hygienic handrail solutions, look no further than satin-anodized aluminum handrails.
Hygienic Finishes
Aluminum handrails that are satin-anodized create a smooth metallic luster perfect for modern hospitals and healthcare facilities. This finish won't flake or chip, eliminating the tiny places that bacteria and germs can hide.
Easy Installation
The last thing that healthcare facilities need to worry about during construction or remodeling is taking days or weeks to install handrails. For instance, Promenaid, offers handrails that are quick and easy to install with Sprocketlock™ systems. This patent-pending disc and collar system means that you can instantly create bends to navigate any type of corner or slope change. The only tools you'll need is an Allen key, drill, and in some cases, a miter saw.
Fully Customizable
Hospitals and healthcare facilities are often designed with more than just functionality in mind. There are now places that integrate a variety of design concepts to make them unique healing environments. As a result, a standard straight handrail just won't cut it.
Fully customizable hospital handrails that turn corners and change elevation with the addition of a simple joint or bend are superior to the traditional straight handrails commonly seen. This ability to be installed in any configuration means unparalleled customization.
ADA Compliant
Promenaid handrails go above and beyond ADA and commercial code compliance. In fact, they are the world's first code-compliant continuous handrail system combining elegance, versatility, and easy installation.
A Hygienic Solution
Hygienic aluminum handrails are easily cleaned and sanitized and are able to be used in a variety of places throughout a healthcare facility.

--
Rob Geller is the VP of Corporate Relations at Promenaid Handrails.