For as long as there have been people there have been places we call home. Whether that be a cave-dwelling or tree to hide away from dangerous predators or a modern two-bedroom apartment overlooking Venice Beach, homes are important.
As society grew, we moved away from only needing somewhere to shelter to also requiring places of work, vacation, and travel. Many of these buildings have come and gone throughout history but where possible it's important to preserve them.
Image source: ArchDaily
Be that an 18th-century townhouse or a mill in a farming community, each one is essential to maintaining architectural diversity and ensuring we don't forget about the past. However, when a building has lost its primary use it often falls into disrepair until the only viable option is to tear it down and start again.
Enter the adaptive reuse project, which helps breathe new life into old buildings. Find design inspiration with these breathtaking adaptive reuse projects.
What is an Adaptive Reuse Project?
In simple terms, adaptive reuse projects involve the repurposing of existing, often historically significant, buildings. Also known as building reuse, adaptive reuse projects are the architectural equivalent of restoring or repurposing antiques to ensure they are still used today. This could be by converting an old mechanic shop or garage into flats or repurposing a bank into a restaurant.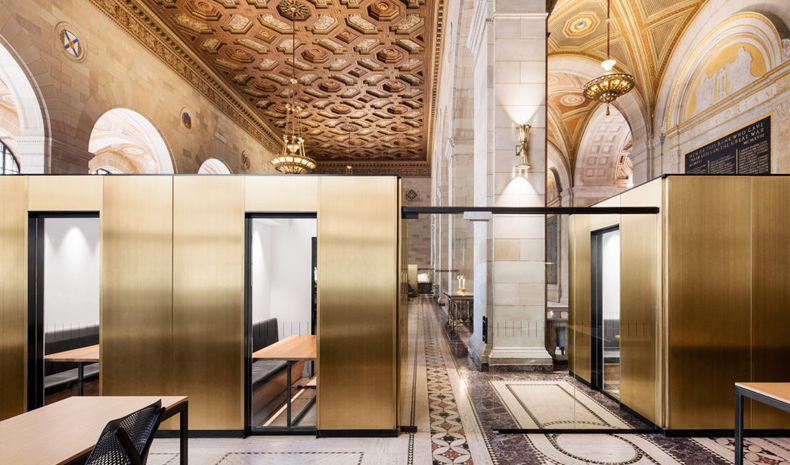 Image source: The Spaces
Commonly, adaptive reuse projects aim to ease the strain on the housing market to create living space for low-income families, young people, and students. However, these projects can also be taken on by wealthy individuals and commercial contractors who seek to have grand, one-of-a-kind spaces.
Inspiring Adaptive Reuse Projects
While some adaptive reuse projects are merely functional, others take the level of creativity and ambition to a whole new level.
Elbphilharmonie Hamburg - Germany
The Elbphilharmonie concert hall took Herzog and de Meuron 16 years to complete, adapting a redbrick cocoa factory into the glorious and glass-laden structure it is today. The old building remains while it is adorned with a 2,200-glass panel crown that is the concert hall itself.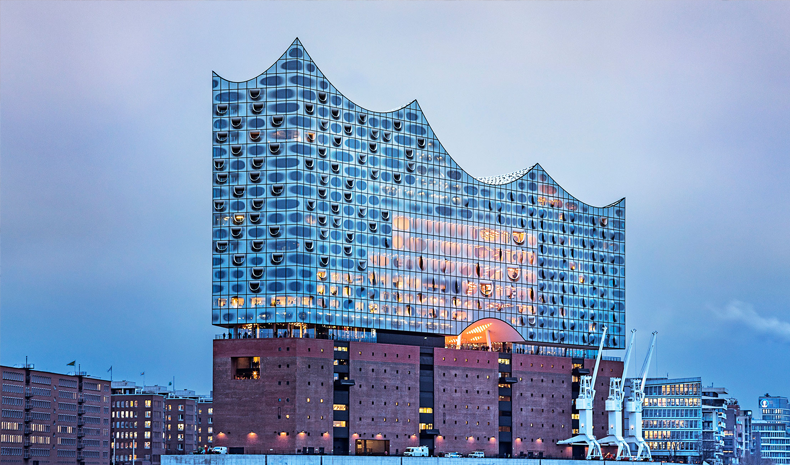 Image source: The Washington Post
Opened in 2017, the Elbphilharmonie is an eye-catching addition to the historic German city of Hamburg. The original warehouse was completed in 1963 and with its new shiny crown, the Elbphilharmonie is the tallest building in the city.
Alila Yangshuo - China
With the beautiful backdrop of the Karst Mountains, Alila Yangshuo, China, is a shining example of why adaptive reuse projects are so valuable. This converted sugar mill was originally built in the 1960s on the banks of the Li River. Beijing-based Vector Architects took charge of the repurposing, converting this industrial structure into a luxury hotel.
Image source: Joe Thomas
The blend of old and new was created using perforated concrete and latticed wood, creating an amazing visual impact from the moment you set eyes upon it. The hollow brickwork that has transformed the old mill was used to represent sugar cubes and guests can enjoy one of 177 rooms, villas, and suites.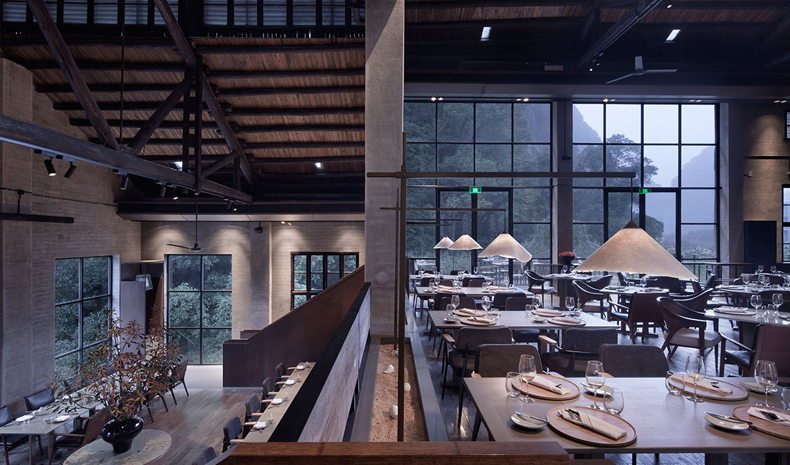 Image source: Yatzer
Hotel guests can stay active and healthy in the swimming pool which is located in the former loading bay of the sugar mill. Other hotel activities include a climbing wall and traditional sugar spinning to keep guests entertained.
Zeitz Museum of Contemporary African Art - South Africa
Adaptive reuse projects can help shine a light on a city's past to future generations who may otherwise be unaware. For example, the Zeitz Museum of Contemporary African Art in Cape Town, South Africa, looks like a modern museum – because it is. But it was also once an industrial Grain Silo Complex until 1990, playing an important role in Cape Town's industrial past.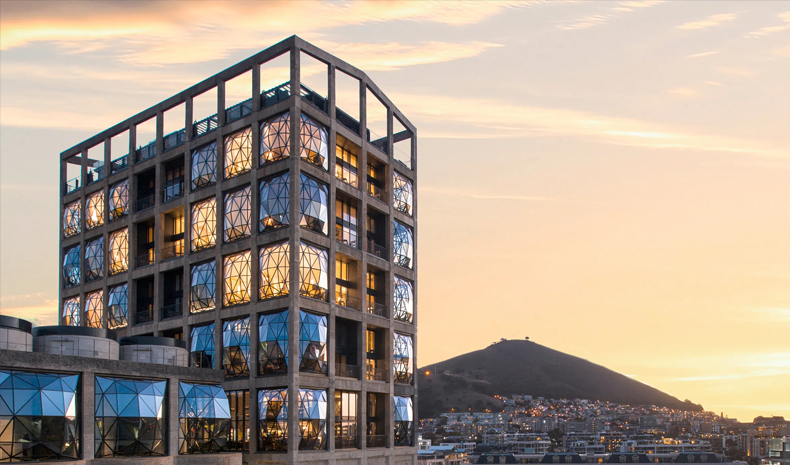 Image source: cntraveler
At one point, this was the tallest building in the South African city and today it is 9,500 square meters of custom-designed space, split over nine floors. The 1920s building sits on Cape Town's waterfront, welcoming visitors to the city with a contrasting and ornate art gallery.
Crosstown Concourse, Memphis - USA
The mall is one of America's greatest institutions and while many are slowly dying and heading towards their own adaptive reuse conversion, the Crosstown Concourse in Memphis is ahead of the times. Originally opened in 1927, the Sears, Roebuck & Company catalog order plant was a huge shopping hotspot when it was first established.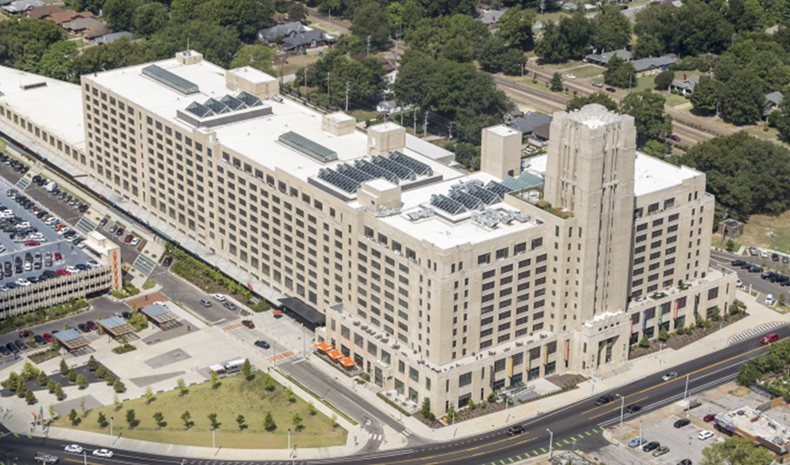 Image source: crosstownconcourse.com
However, like many malls, it struggled to attract enough customers and in 1983 it was finally shut down after years and decades of disrepair and neglect. But, such a culturally significant building couldn't go to waste and it was developed and reused by Crosstown Arts, a duo of a Memphis art history professor and a video artist.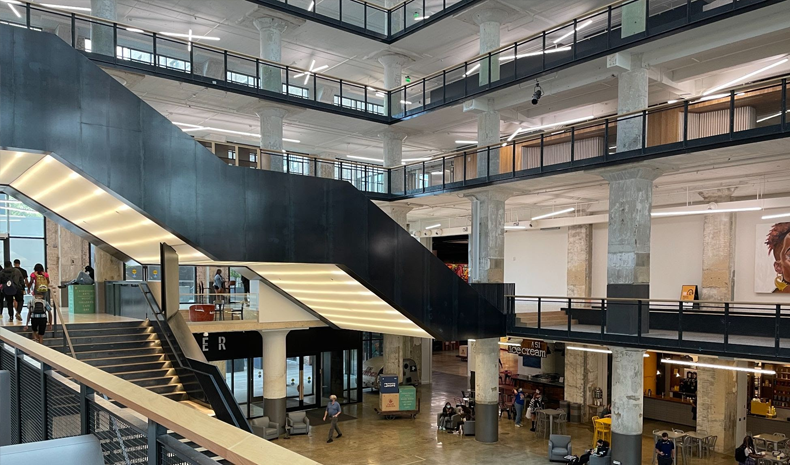 Image source: gettingsmart
Today the Crosstown Concourse is classed as a vertical urban village, offering an array of useful facilities including office space, classrooms, apartments, restaurants, and health care. It is helping to regenerate the community surrounding the once derelict building, proving the invaluable worth of such ventures.
St. Ann's Warehouse, New York - USA
The tobacco industry isn't as popular as it used to be as many people become more conscious about their physical health. While not so popular in today's society, up until recent history people were more than happy to light up a smoke after meals, during their breakfast coffee, or even on the walk home.
Image source: ArchDaily
St. Ann's Warehouse has benefited greatly from the decline of the tobacco industry as it now encourages performances from its repurposed tobacco warehouse. Established in 1860 near the Brooklyn Bridge in the Dumbo neighborhood, this crumbling warehouse was given a new lease of life when the theater company moved in in 2015.
Image source: St. Ann's Warehouse
Renovations included adaptive performance areas, a triangular garden, and a welcoming lobby for its capacity of 700 guests. This new lease of life has ensured that the building that is over 150 years old shall remain part of the community and contribute greatly to the art scene.
The Benefits of Adaptive Reuse Projects
One of the most important reasons for adaptive reuse projects is to bring life back to the community that surrounds these often decaying monoliths. This practice helps to preserve cultural heritage while helping to reduce levels of urban sprawl which can quickly gentrify busy cities and towns.
Just like giving new life to the building itself, these projects also help to bring some verve and spirit back to their areas, often acting as a beacon for the arts.
Building firms may enjoy great success when taking on these types of projects because they typically have lower construction costs and are more sustainable than starting from flat earth. This can also speed up the construction and planning exponentially as there is often little resistance (and plenty of support) to the building being restored.
--
Annie Button
Annie Button is an advertising and design blogger. To read more posts by Annie, check out her blog.