Concrete paving is an aesthetically versatile landscaping option - with a raft of structural and economic benefits:
• Pavers are easy to maintain
• Paving provides part of a sustainable solution to urban drainage (when permeable)
• Paver lifecycle costs are comparable to asphalt surfaces.
But the best thing about block paving is all the fun laying patterns you get to choose from.
This article will help you find some inspiration for your next paving scheme and point out some of the structural principles behind paving patterns. It never hurts to know and sometimes there's more to it than meets the eye.
(That being said, you should seek the advice of an independent engineer before making any decisions about heavily-trafficked areas.)
Herringbone
A longstanding staple, the herringbone pattern has its critics.
Some might say it looks dated. But did you know there are sound structural reasons to install paving in a herringbone pattern?
For slow-moving, multidirectional vehicle traffic, herringbone is one of the strongest configurations of blocks.
The interlocking pattern spreads turning forces evenly, reducing stress on individual paving units. This minimizes the risk of spalling (cracked pavers). Herringbone is perfect for car parks, driveways, and even some industrial applications.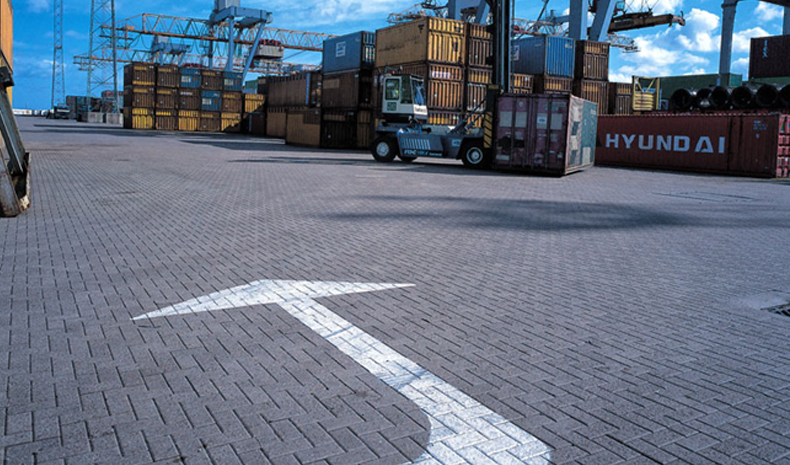 Image Source: AG.UK
Stretcher Bond
Stretcher bond generally has a cleaner aesthetic than herringbone pattern. It lends itself well to a subtle gradation of colors and shades.
Image Source: Media Marshalls
Stretcher bond can also be an economical choice. A good contractor will be able to minimize cuts (and therefore waste) with this pattern.
When the paved area accommodates vehicles, the stretcher bond is strongest with the traffic flowing in a single direction. Note the change in orientation of the pavers going round the bend, in the image above.
As a general rule, the traffic should run over the long side of the paving units. This maximizes the dissipation of forces between blocks. Think of it like ordinary brickwork in the walls of a house. The weight of the roof falls on the long side of the brick.
Offset Stretcher Bond
It's possible to vary the degree of offset between each row of paving.
The structurally strongest configuration has half a block overlap. But sometimes less overlap just looks better!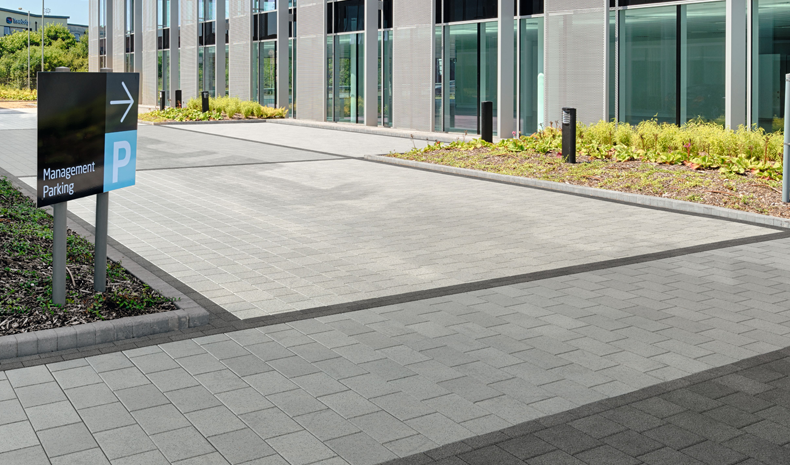 Image Source: Media Marshalls
Broken Bond
Another variation of stretcher bond, broken bond mixes up the block dimensions to achieve a more rustic appearance.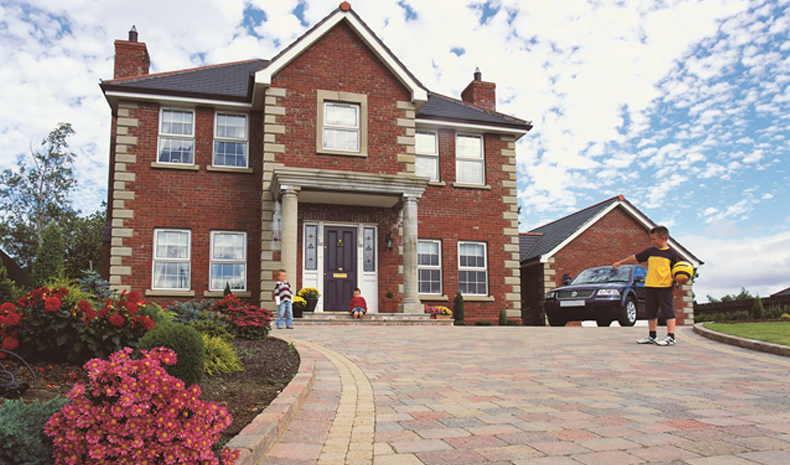 Image Source: Tobermore
Plank Paving
Plank paving (so-called because of its long aspect ratio) has exploded in popularity in recent years. Plank pavers with a granite finish are seen as a good looking, cost-effective alternative to natural stone.
While structurally weaker where heavy traffic is involved - landscapers love the modern aesthetic of planks.
Patterns are typically stretched, or broken bond, with the longer aspect ratio affording more scope to experiment with the degree of offset.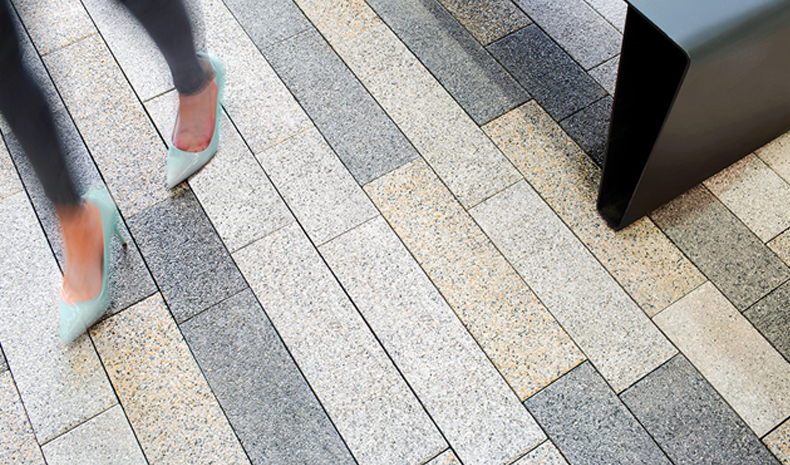 Image Source: AG.UK
Courtyard
Courtyard patterns are typically constructed from pavers that have been rumbled or aged for a rough-hewn vintage appearance. The component blocks come in a special configuration of varied sizes that fit together to form the desired effect.
These patterns often come pre-configured on the bale so the contractor can simply copy the pattern as the individual pavers are installed.
Courtyard patterns are generally only suitable for low-traffic scenarios, owing to the "random" orientation and inconsistent edge-restraint.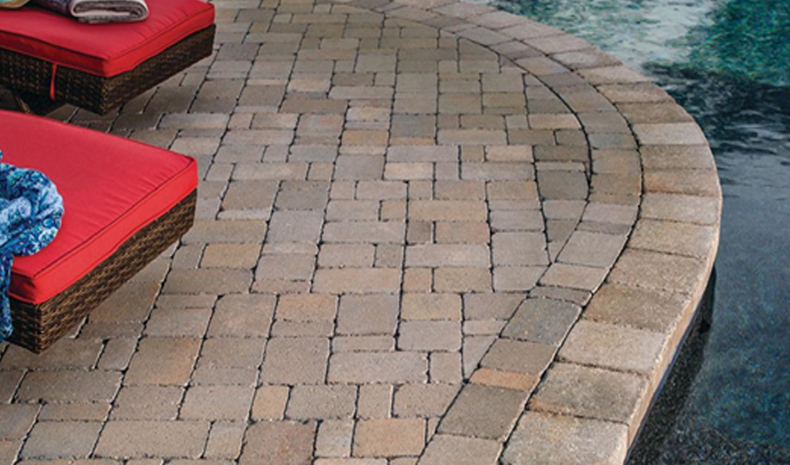 Image Source: Belgard
Stack Bond
Stack bond is structurally weak. There is no horizontal interlock, so this pattern is generally only used in pedestrian applications.
Image Source: Media Marshalls
Some feature banding or mixing up colors adds some visual interest.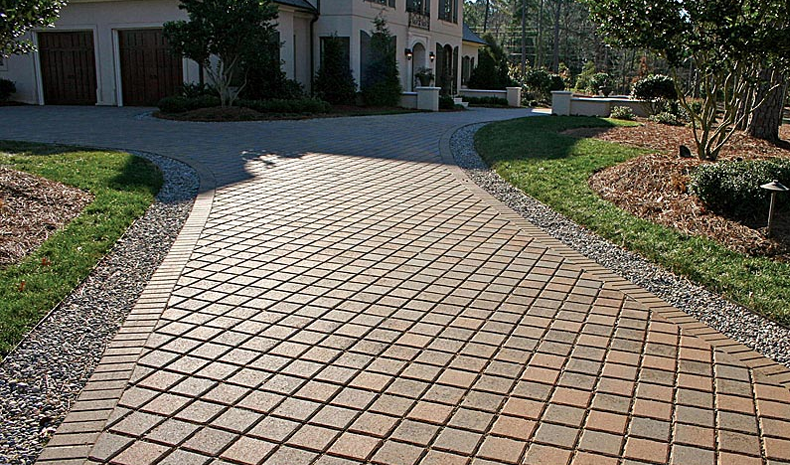 Image Source: Nicolock
Basket Weave
A variation on stack bond, basket weave can be seen in a lot of old towns across Europe (typically in clay rather than concrete paving).
Again, it's best suited for pedestrian-only applications.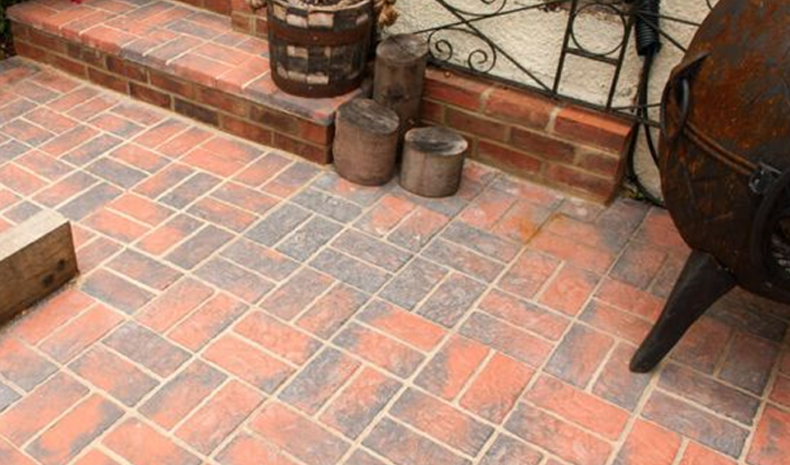 Image Source: Tradingdepot
Circles and Arches
Small paving units can be used to install circle or arc-shaped features in paved areas.
Typically these are delivered pre-configured by the manufacturer, although a skilled contractor should be able to install a circle or arch, given small enough paving units.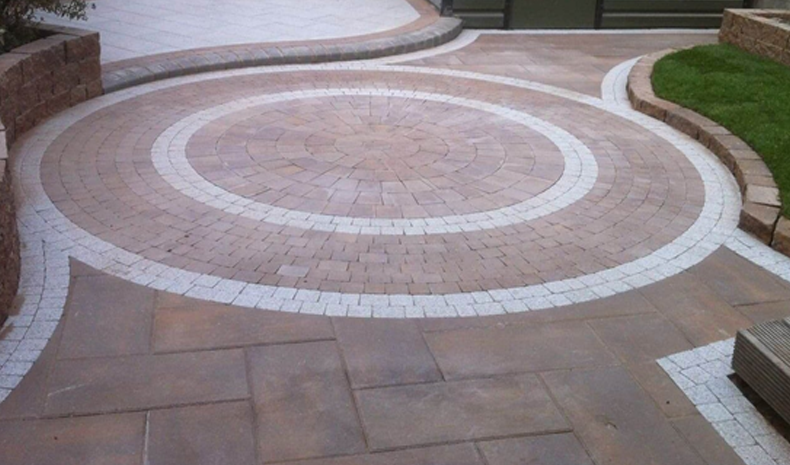 Image Source: Kilsaran
These modern circles are reminiscent of the granite or porphyry sets, seen at old European country houses, and town squares.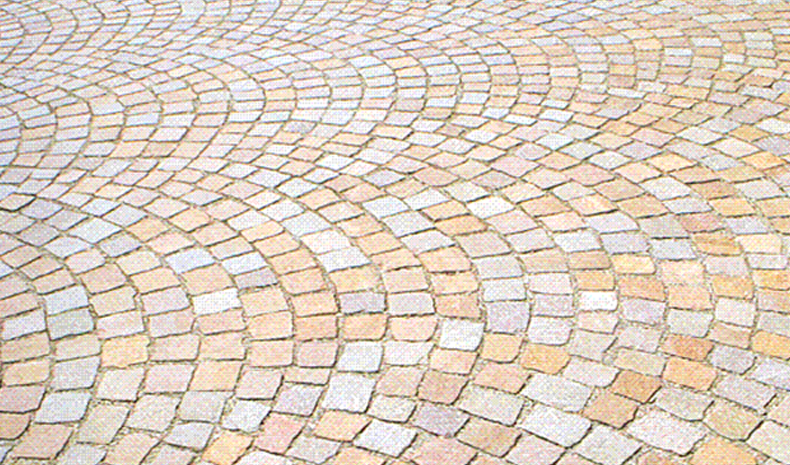 Image Source: Cedstone
Additional Resources for Block Paving Patterns
Hopefully, you've seen some design ideas you like - although this article only scratches the surface of what's possible with paving.
Humans have been paving cities for centuries - no blog post could do all those efforts justice!
If you want more help with your next paving project, you can reach out to one of the awesome paving manufacturers on BIMsmith or download Paving Revit materials for your next project.

--
Peter Martin
BIMsmith is a free cloud platform for architects, designers, and building professionals to research, select, and download building product data. Search, discover, compare, and download free Revit families on BIMsmith Market, or build complete, data-rich Revit wall, floor, ceiling, and roof systems faster with BIMsmith Forge.