The field of architecture is evolving every day. New technologies, sustainability concerns, and social responsibilities have shaped the modern architect and altered the profession's demographics when compared to generations past. Let's take a look at what today's architect looks like, from age to education and everything in between.
With Age, Wisdom
According to the American Institute of Architects (AIA), the average age for American architects is 49.5 and the median age is 42 (jumping from 35 just a few decades ago). The median years of experience is 15. Architecture is one of the few fields where age is considered an asset. Clients seek out experience and expertise. This might explain why many established and talented architects continue working well into their advancing years. Take for instance I.M. Pei or Frank Gehry, both actively designing buildings into their 90s!
An occasional young architect will buck the trends and find early success. Danish architect Bjarke Ingels founded his firm at age 31 to great acclaim, with many critics expressing admiration for his innovative and unconventional work. Jeanne Gang, well known for designing the Aqua Tower in Chicago, was 33 when she founded her firm, Studio Gang.
Credit: Beverly Willis Architecture Foundation
Designing Women: Gender Representation in Architecture
Speaking of Gang, female architects are historically underrepresented in the field. The AIA reports that women account for 41% of architecture graduates in the US, which is promising, yet only 20% of current licensed architects are women. Many organizations, such as the Beverly Willis Architecture Foundation, are aware of the longstanding issue and working to improve gender parity.
Other countries report similar numbers. According to the Royal Institute of British Architects (RIBA), women account for 27% of architects in the UK. Both Europe and Australia report that women make up 31% of their architect populations. In India and Iran, the proportion of women in the profession is much lower, with estimates suggesting that women represent less than 10% of registered architects.
There is good news: some countries, particularly those in Scandinavia, have remarkably high levels of female representation in the field. In Sweden, about 55% of architects are women, while in Norway, the figure is around 50%, and in Denmark around 40%. Emphasis on gender equality, strong social welfare systems, and concentrated efforts in universities to mentor female architecture students have contributed to these strong numbers.
Architects Around the World
In the United States, there are approximately 116,000 licensed architects. Washington D.C. boasts the highest concentration of architects, followed by New York, Los Angeles, Chicago, and other major metropolitan areas.
Globally, Italy, Greece, Portugal, and Spain report the highest number of architects per capita. Yet Monaco, with a population just shy of 40,000, leads the pack. An astounding 112 architects per 10,000 inhabitants, compared to Italy's 57.
Gaining Education and Experience
According to the AIA, 70% of practicing architects in the US hold a professional degree in architecture. Additionally, 26% of practicing architects hold advanced degrees, including master's or doctorates of architecture, urban design, sustainable design, historic preservation, and beyond.
It's worth mentioning here that a similar trend to gender occurs for race and ethnicity: across the board the already disproportionate representation amongst Asian, Hispanic/Latinx, and Black individuals drops significantly from graduation to licensure. Financial barriers, lack of mentorship, and bias in hiring and promotion could all contribute to this discrepancy.
Upon completion of their studies and licensure, architects work on a wide range of projects, including residential, commercial, institutional, educational, healthcare, hospitality, and cultural projects, among others. In the US, the top five project types that architecture firms work on are:
1. Office buildings
2. Multi-family residential buildings
3. Healthcare facilities
4. Higher education facilities
5. K-12 education facilities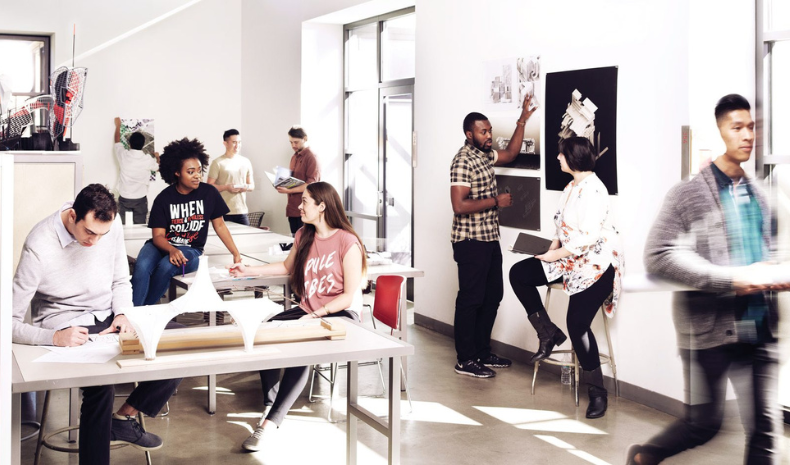 Credit: University of Southern California
Drafting Future Plans
As with countless industries and professions, architecture has plenty of room for improvement in terms of ethnicity, gender, and pay equality. While the numbers are steadily improving, with 74% of US architects identifying as white, and 79% identifying as male, it's clear that more initiatives and programs to foster diversity and representation are critical for the future of the field. Architectural history has proven time and again that individuals operating outside the homogenous majority have created breathtaking, innovative designs that stand the test of time, regardless of their demographics.
Sources:
https://www.archdaily.com/919132/how-many-architects-per-capita-does-each-european-union-country-have

https://newrepublic.com/article/122915/why-are-there-so-many-female-architects-scandinavia

https://www.bls.gov/oes/2020/may/oes171011.htm

https://doi.org/10.1080/10464883.2018.1542831

https://www.aia.org/pages/6360661-membership-demographics

https://www.uia-architectes.org/en/about/about-the-uia/

https://www.aia.org/resources/6151-firm-survey-report

https://www.newyorker.com/magazine/2012/09/10/high-rise

https://studiogang.com/project/aqua-tower

https://www.ncarb.org/nbtn2022