For nearly two decades, the depleted Old Cook County Hospital has sat vacant. Now, two years after the Civic Health Development Group broke ground on the restoration of the site, the old Cook County Hospital is beginning its new life as a hotel and office complex. Skidmore, Owings & Merrill (SOM) transformed the Chicago landmark into a dual-branded Hyatt House/Hyatt Place Hotel, accompanied by medical office space and retail.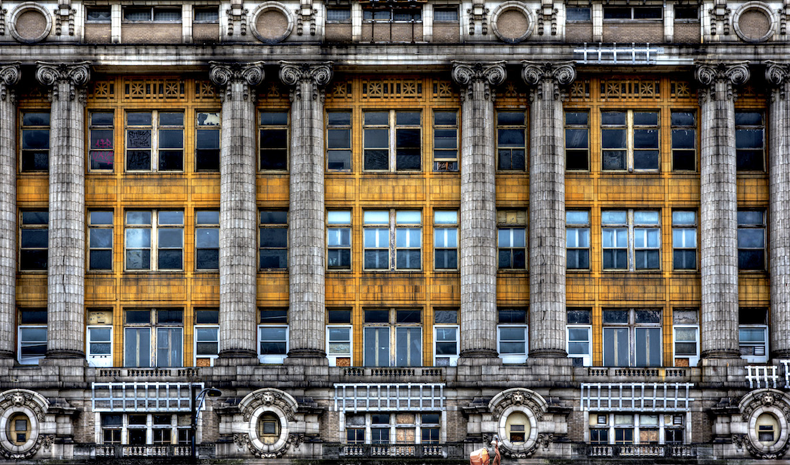 Historic Cook County Hospital (Osbo via Flickr)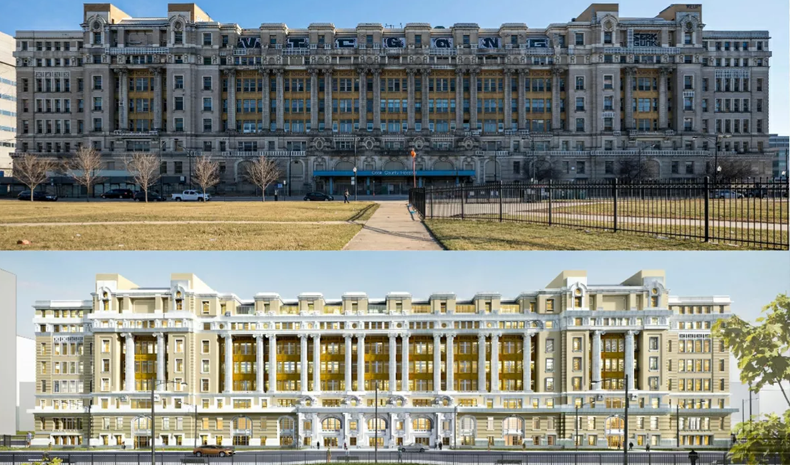 Old Cook County Hospital (Top) and rendering (bottom)
Photo Provided By ArchitectureChicago
Upon completion, the former hospital has been transformed into a 342,000 square foot complex, which includes two Hyatt-branded hotels with a combined 210 rooms. In addition, the complex will have a large suite of medical offices, a museum dedicated to the legacy of the building, a daycare center, a 24-hour fitness facility, and one of the country's only food halls named in honor of a long-dead abdominal surgeon. There is also a 12-stall food court, populated largely by BIPOC-owned vendors. Despite the coronavirus pandemic, the food court is already operational, with additional outdoor seats and some safety-related tweaks.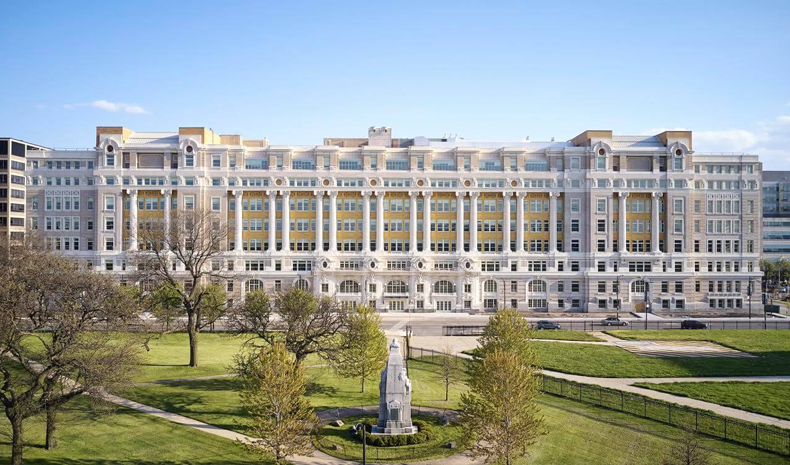 The restored Cook County Hospital, pictured in 2020 (Dave Burk/Courtesy SOM)
Cook County Hospital first opened in 1857 and was used as a teaching hospital by Rush Medical School. The hospital, designed by architect Paul Gerhardt, was rebuilt in 1914. It closed after it was replaced by Stroger Hospital of Cook County in 2002. In addition to partially serving as the inspiration for the television show ER, the building has been featured in numerous films and shows. In 1996, Princess Diana visited the hospital's pioneering AIDS ward while touring Chicago.
The renovation of the Cook County Hospital was brought about under a multi-phase redevelopment plan led by Murphy Development and Walsh Group. In the first 18 months of the restoration, the team worked exclusively on the facade, spending more than $18 million to replace all of the windows and terra cotta pieces on the exterior. All of the building's interior was gutted except the old surgical theaters. The restored Cook County Hospital will anchor the redeveloped areas, which will be known as Harrison Square.
Mauricio Pena/Block Club Chicago
Now, in the building that played an important role in the lives of Chicagoan families throughout the decades, one can now crash for the night in a bed and dine in the Windy City's newest food hall.
--
Dylan Kleintop
BIMsmith is a free cloud platform for architects, designers, and building professionals to research, select, and download building product data. Search, discover, compare, and download free Revit families on BIMsmith Market, or build complete, data-rich Revit wall, floor, ceiling, and roof systems faster with BIMsmith Forge.