Well-designed office spaces don't just create comfortable work settings – they encourage employees to deliver peak performance.
According to research, office design has a powerful impact on employees' job satisfaction levels and work productivity. So the right approach to an office setting is critical to workplace productivity and employee morale.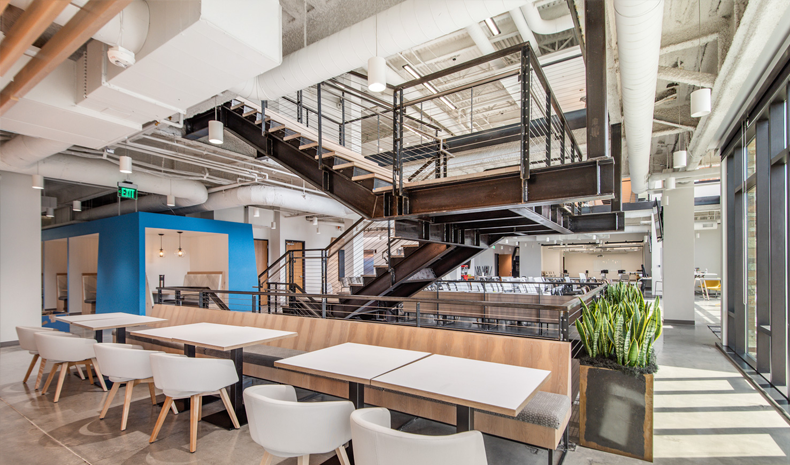 Image source: Woodley Real Estate
Since the beginning of the pandemic, creating a positive and happy work environment has been essential. That's because working professionals tend to spend more time at the office than at home.
It's no wonder that companies around the world are incorporating several changes concerning the design of their offices in order to uphold the physical and psychological well-being of their teams.
Here are five commercial office design ideas for modern workplaces stemming from these trends.
Diverse Seating Options
Comfortable seating options can boost working professionals' productivity, reducing burnout and employee turnover. Uncomfortable seating arrangements at work, on the other hand, can result in discomfort and disruption of "flow", negatively impacting employee happiness and wellbeing.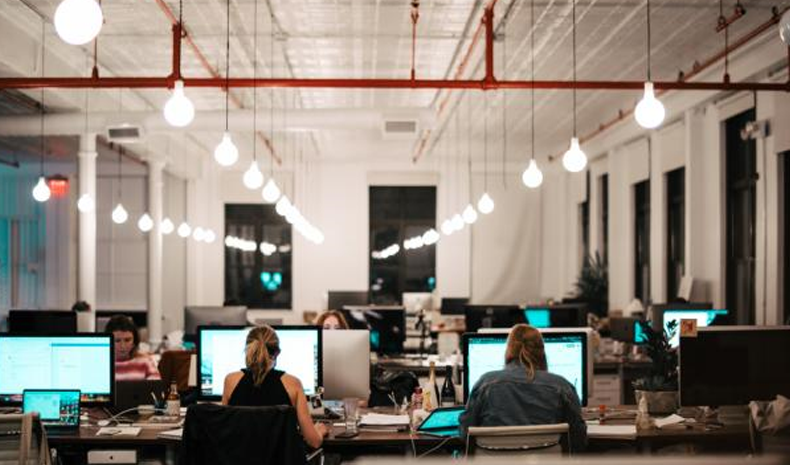 Image source: Unsplash
According to a recent survey, 74.89% of women and 58.05% of men employees were dissatisfied with their office chairs. They expected more comfortable seating from their employers.
But there's no one-size-fits-all solution to seating as each member has unique needs.
That's where deploying a diversity of seating arrangements can help.
A combination of different types of furniture can help you create workspaces that building occupants will love.
Image source: Pinterest
For instance, installing resimercial infrastructure (that blends commercial and residential features) can create a home-like welcoming environment. Incorporating chairs and couches with natural materials and soft fabrics can help maximize physical and emotional comfort in the workplace.
Similarly, installing sit-stand desks can save employees from lower back pain that impacts almost 50% of working adults. Besides, this approach can minimize the risk of obesity and other sedentary lifestyle diseases, thereby ensuring the long-term wellness of your team.
Diverse and Comfort-Focused Lighting Options
A well-lit workspace can boost your team's mood and energy levels.
In fact, research affirms that employees working in well-illuminated workstations are highly productive. On the other hand, poor lighting conditions can lead to eye strain, headaches, fatigue, and stress.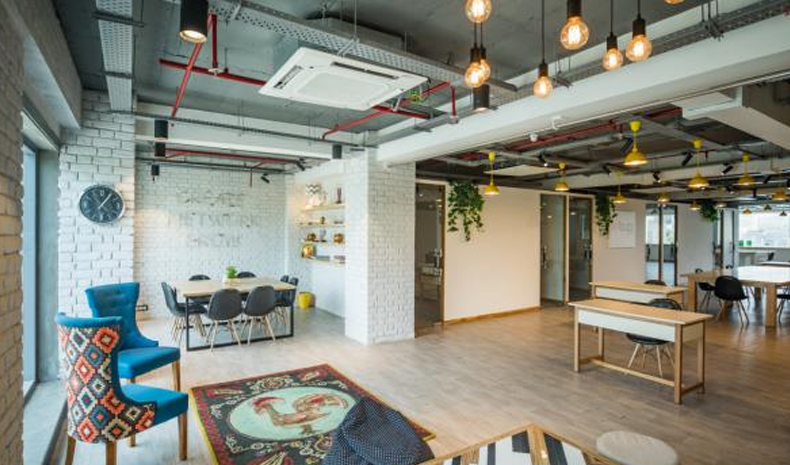 Image source: Unsplash
Commercial lighting experts state that installing LED lighting can create the perfect ambiance for commercial facilities.

LEDs are highly durable and use 60-70% less energy than metal halide lighting and 60% less than fluorescents. Therefore, installing LEDs can be a cost-efficient option while also reducing carbon footprint.
Here are a few LED lighting options to help you create a dynamic space.
• Commercial LED Ceiling Lights: They include fixtures like 2X4 or 2X2 LED Panels or LED troffers. They may also comprise light fixtures meant to retrofit fluorescent fixtures with Magnetic Strip Retrofit Kits or LED tubes.
• Commercial LED Wall Sconces: They add a decorative touch while providing excellent wall or facade lighting.
• LED Emergency Exit Lights: They are high-quality emergency lights used to ensure indoor requirements for safety.
• LED Commercial Kitchen Lighting: They are appropriate for use in a food preparation or kitchen facility in workspaces.
Safety-First Technology
Technology is pivotal for creating smart and safe office environments, especially in light of the recent pandemic.
For example, modern access security technology like revolving doors and turnstiles can minimize cross-contamination by eliminating door handles.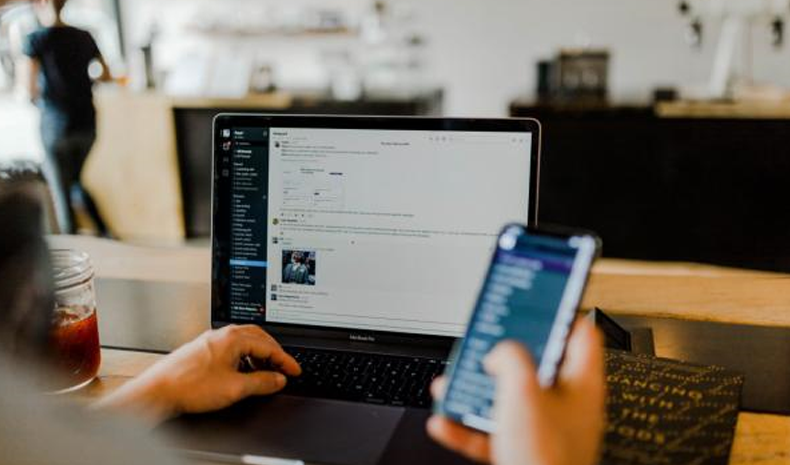 Image source: Unsplash
Here are a few safety-first technologies growing in popularity:
• Contactless Sensor Switches: Businesses are moving to office spaces with automated sensor switches. This is helping them limit the number of surfaces employees have to share.
• Virtual Communication Software: Since the pandemic, businesses have been investing in virtual communication software. Implement software like Slack and Zoom to conduct seamless meetings.
• Voice Recognition Devices and Apps: Businesses are implementing voice recognition devices like Siri, Alexa, and Google across their facilities to perform touchless tasks throughout the day
Nature-Inspired Biophilic Comforts
Biophilic elements, such as plants, wallpapers, furniture made from natural rocks, and more are a growing workstation focus.
Image source: Unsplash
Nature-inspired elements encourage productivity while also adding a dose of creativity. Studies reveal that employees who keep plants around their desks experience less stress and anxiety than others.
Besides plants, here are a few more ways to bring in the greenery.
• Change Fabrics: Incorporate fabric designs that replicate nature. For instance, use curtains, couch pillow covers, and others with floral prints.
• Customize Your Wallpapers: Use colors such as greens, blues, and browns mimicking nature to design wallpapers.
• Green Flooring Plan: Change your flooring plan. Incorporate materials like wood, stones, and others to create a nature-like environment.
Intentional Relaxation Space
More than ever, research shows that work-related burnout can lead to exceptionally high turnover rates.
In fact, a survey revealed that around 52% of professionals experienced burnout in 2021. The "Great Resignation" emerged as a massive challenge during that phase.
Image source: Unsplash
Relaxation rooms can help create a happy, relaxing, and positive culture in the office, enabling employees to work stress-free.
Here are a few tips for creating relaxation rooms in workspaces.
• Incorporate Fun Indoor Games: Create a mini playroom. Create a setup for games like table tennis, chess, and more. This can encourage team bonding and lead to a happy environment.
• Invest in Sleeping Pods: Invest in nap pods to enable employees to relax and take a quick nap after tiring meetings and work activities.
• Build a Meditation Room: Meditation can help employees remain stress-free while improving their concentration. So, allot a room where they can meditate, rejuvenating their mind, body, and soul.
• Create a Movie Hall: Deploy projection screens to allow your employees to watch movies or their favorite shows once in a while.
Find Comfort in Office Design
The post-pandemic phase has shifted employees' perspectives of an ideal office workspace. They often want a workspace that doesn't feel like one. Comfort, convenience, and modern technology have become the most crucial elements for the perfect office design.
Whether you want to reinvent your workspace or move to a new office, keep the shared office design ideas in mind. Following these trends and best practices can boost your team's efficiency, work satisfaction, and productivity levels.
BIMsmith is a free cloud platform for architects, designers, and building professionals to research, select, and download building product data. Search, discover, compare, and download free Revit families on BIMsmith Market, or build complete, data-rich Revit wall, floor, ceiling, and roof systems faster with BIMsmith Forge.